's Farida asked Hallieabout on tonight's episode, but some viewers didn't think it was entirely appropriate.
Hallie, who is the  at 18 to enter, previously took the brave step to address something personal.
She began: 'Hey, guys. I just have something to say. Yesterday I felt like I wasn't being 100% authentic in myself.
'I thought I'd let everyone know I'm trans if you didn't know already. I just thought I'd make that loud and clear. I'm a trans woman if you didn't know.'
She was showered with praise by her housemates for opening up and has welcomed questions from them all.
Farida, 50, decided to ask Hallie if the people who fancied her would be considered gay. Hallie calmly responded by explaining she is a woman, so the men wouldn't be gay.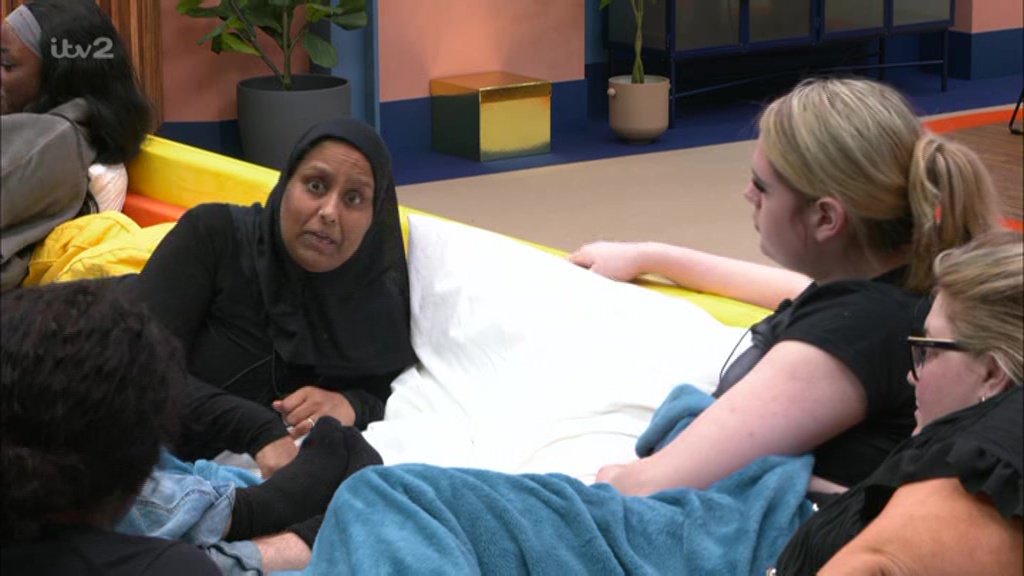 She later spoke to fellow housemate Zak about the dialogue, and at that moment Farida walked over.
'I didn't take it to offence don't worry,' Hallie told her.
'I just know that people ask questions and they don't mean offence by it. They just want to know. They just don't know how to word it correctly.'
The scene has caused some reaction on social media with many people taking to X, formerly Twitter, to share their opinion on the conversation.
'I definitely understand Hallie's annoyance at Farida's questions. She handled the whole situation very well. ,' wrote one person.
Another added: 'Farida those questions to Hallie were so direct and personal. It's like going up to someone asking "Are you gay?" her questions were way too personal to ask out loud like that. I don't think she is very aware in how she behaves.'
Another viewer sympathised with Hallie: 'Farida's coming at this well-intentioned but imagine being Hallie and having to chat about all this first thing in the morning confined to a bed .'
'Does Farida not understand Hallie is a woman, I dunno I feel this questions are a bit wild tbh,' remarked one viewer.
While other people pointed out the importance of these conversations taking place.
'It's so important to remember that so many people don't have experience of other cultures, communities or backgrounds,' they began.
'What may sound ignorant is just someone not sure how to word their inquisitiveness. Conversation is so important — its so nice to see both sides of it on .'
Another person praised Hallie's mature response: 'So much respect to Hallie for having a mature convo with Farida and not go off at someone who's trying to learn but saying the wrong thing.'
'I don't think Farida meant to be offensive, but at the same time though Hallie said she's happy to answer any questions, she is still allowed to be frustrated,' penned one person.
Big Brother continues tomorrow at 9pm on ITV2 and ITVX.