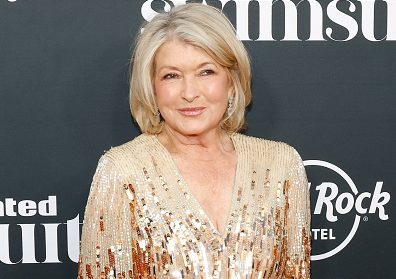 doesn't think she looks too different to what she did as a teenager.
The TV host and businesswoman, 81, for nearly four decades after releasing her first cookbook back in 1982.
She then went on to start a magazine, front two TV shows and later a variety of business ventures.
In recent years she's gained plenty of attention for driving fans crazy withand .
Now the octogenarian has said that despite her age, she doesn't think she's changed much since she was 17.
At a recent red carpet event in New York, Martha donned a white sequin suit, however her outfit choice was met with some criticism.
After being faced with a question about dressing her age, Martha hit back.
'Dressing for whose age?' she questioned.
'I don't think about age. I think people are more and more and more [fabulous] than they've ever been in their senior years, and I applaud every one of them."

Do you believe age should dictate how someone dresses? Comment Now
'I've dressed the same since I was 17. If you look at my pictures on my Instagram, I look pretty much the same,' she added when speaking to .
Earlier this year, Martha became the oldest person in history to feature on the cover of Sports Illustrated's annual swimsuit issue.
At the time she told it was a 'once in a lifetime opportunity'
'It should have been 30 years ago. That would have been great. It was not a goal I set for myself, but once asked, I thought to myself, let's do it!
'It's important to stand up to challenges, whether they're beauty challenges or intellectual challenges, even philanthropic challenges.'
She added that 'to be able to stand up and do it was so fun' and the shoot felt like 'an accomplishment'.