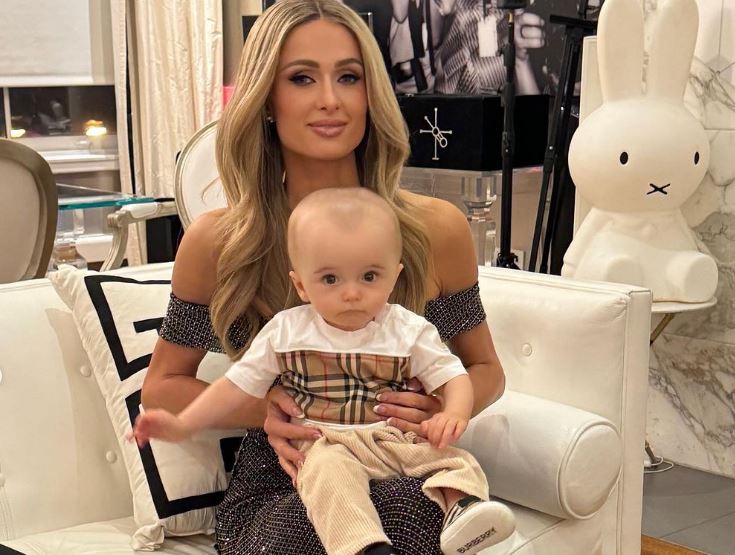 Paris Hilton became so emotional after fans reached out in support following cruel comments targeted at her son about his head.
The Simple Life star via a surrogate, and shared the news of his arrival in January.
However, the 42-year-old when she proudly posted a string of photos with the little one – after trolls attacked the adorable tot and the size of his head.
In the wake of the negativity, a follower put together a sweet video of Paris and Phoenix together, as well as moments the mom-of-one had proudly spoken of their bond in interviews.
Taking to Instagram, the Stars Are Blind singer re-posted the footage, thanking those who had offered their support to her family.
Alongside the brief clip, she penned: 'Thank you for making this beautiful video. Made me cry. So kind and thoughtful of you to make this and show me their is kindness in this world [sic].'
Las week, she as she cuddled her son during their first trip to New York together.
The DJ was then forced to speak out after the post was flooded with nasty comments mocking Phoenix's appearance.
'Living life in the spotlight, comments are inevitable, but targeting my child, or anyone else's for that matter, is unacceptable,' Paris began a lengthy statement. 'This hurts my heart more deeply than words can describe.
'I've worked hard to cultivate an environment that is all about love, respect and acceptance, and I expect the same in return.
'If I don't post my baby, people assume I'm not a great mother and I do post him, there are some people who are cruel and hateful.
'I'm a proud working mom and my baby is perfectly healthy, adorable and angelic.'
'I've dreamt of being a mom for as long as I can remember,' she continued. 'Phoenix is my world and has been the biggest blessing of my life.
'Every day with him is a reminder of what truly matters. It's hard to fathom that there are people in the world who would target such innocence.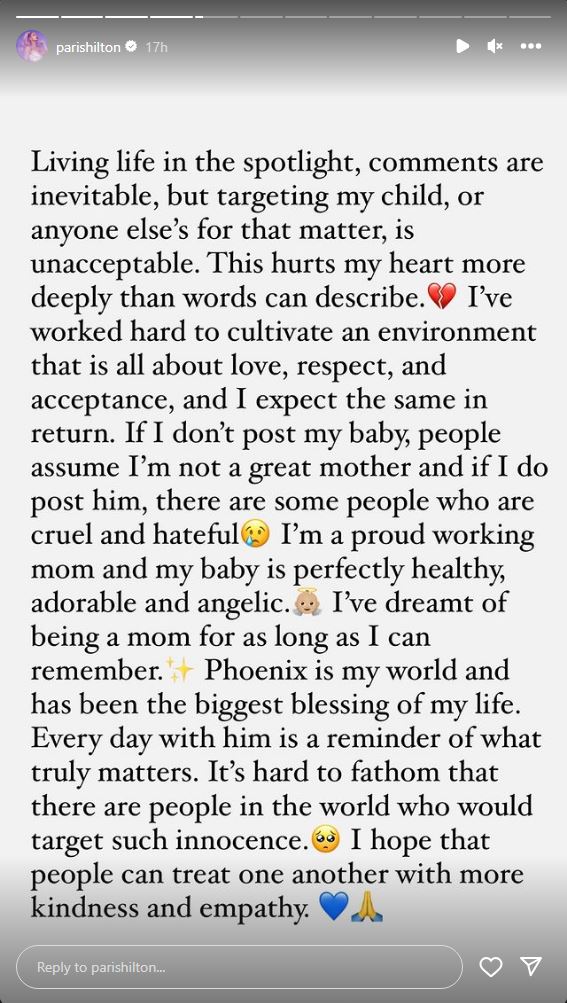 'I hope people can treat one another with more kindness and empathy.'
As well as this, Paris condemned the cruel criticism on TikTok, insisting that he is 'perfectly healthy'.
Sliding into the comments of a post defending her family, the businesswoman added: 'There are some sick people in this world. My angel is perfectly healthy.
'And yes, of course he has been to a doctor, he just has a large brain.'