An awkward blunder left viewers giggling as an X-rated word appeared .
Broadcaster Kimberley Leonard had been presenting Monday's Sky News at One, but viewers were left distracted by what was going on behind her.
The slip-up happened as she delivered a report on of the road on motorways, as she switched to a different page on her tablet.
While she did so, her tablet was projected onto a large screen in the background, so viewers could see her scrolling through the Sky News feed.
Just moments after she clicked onto the correct page, she didn't quite realise what ad popped up behind her.
Above the story was placed an ad for comedy production 'S**t-Faced Shakespeare', which Kimberley avoided bringing more attention to as she swiped tabs seconds later.
However, it didn't go amiss with viewers.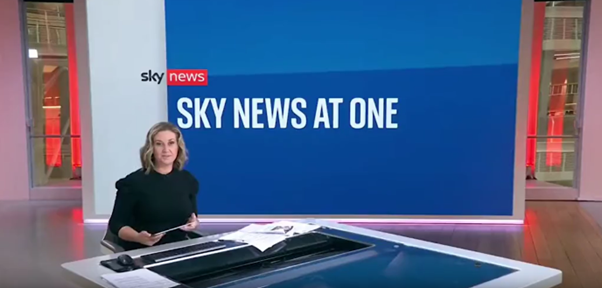 One wrote, which the theatre company's Twitter account reshared: 'Maybe don't show your website on telly at lunchtime, if you've accepted "S**t-Faced Shakespeare" as an adevrtiser. They will be delighted though. Instant viral.'
The official S**t-Faced Twitter account added: 'Thanks @KimberleyeLeo tickets on the door and cheque in the post.. .'
'*snorts very loudly* Glorious. Best of luck to @s**tfacedshake and @lsqtheatre: definitely worth paying for that web advert,' another said.
'That will make you lose your appetite,' someone else said.
A fourth joked: 'Accept all cookies? "Yeah, what's the worst that could happen?"'
'You can imagine the laughter and screaming in her earpiece,' another laughed.
The X-rated blunder came hours before without realising.
Melissa Reddy made a gob-smacking blunder during a discussion about Manchester United goalkeeper 's behaviour.
She said: 'He feels that in Onana, he has signed a big personality. We've already seen glimpses of that.
'Him b*****king his defenders when they've made a mistake.
'So he is calm and assured that both players will drive United to the next level.'
After what was certain to be a double take or two from the public watching the post-match debrief, concerned news reader Vicky Gomersall then responded: 'Just going to apologise there for anyone who was offended by the use of your language there, Melissa.'