Actor posted adorable snaps of his son and co-star Colin Farrell before success at the on Sunday. 
The Irish actor, 30, picked up the best supporting actor prize for his role in the black-comedy/drama at the award ceremony after his co-star gong.
Shortly before celebrating the gong, the acclaimed actor posed with his tiny tot Brando, who was held in the arms of Colin for a picture that went straight to social media along with the caption: 'Uncle Col'. 
Barry, also known for roles in Marvel's Eternals, The Green Knight and Mammal, welcomed his son last August with his girlfriend Alyson Kierans.
Barry donned a red suit for the occasion while his fellow Irishman Colin opted for a classic black tux with a crisp white shirt.
Accepting the award, the actor joked he 'should have planned this, really' before thanking his co-stars and Ireland.
During his speech, he also dedicated the accolade to children from the area he comes from.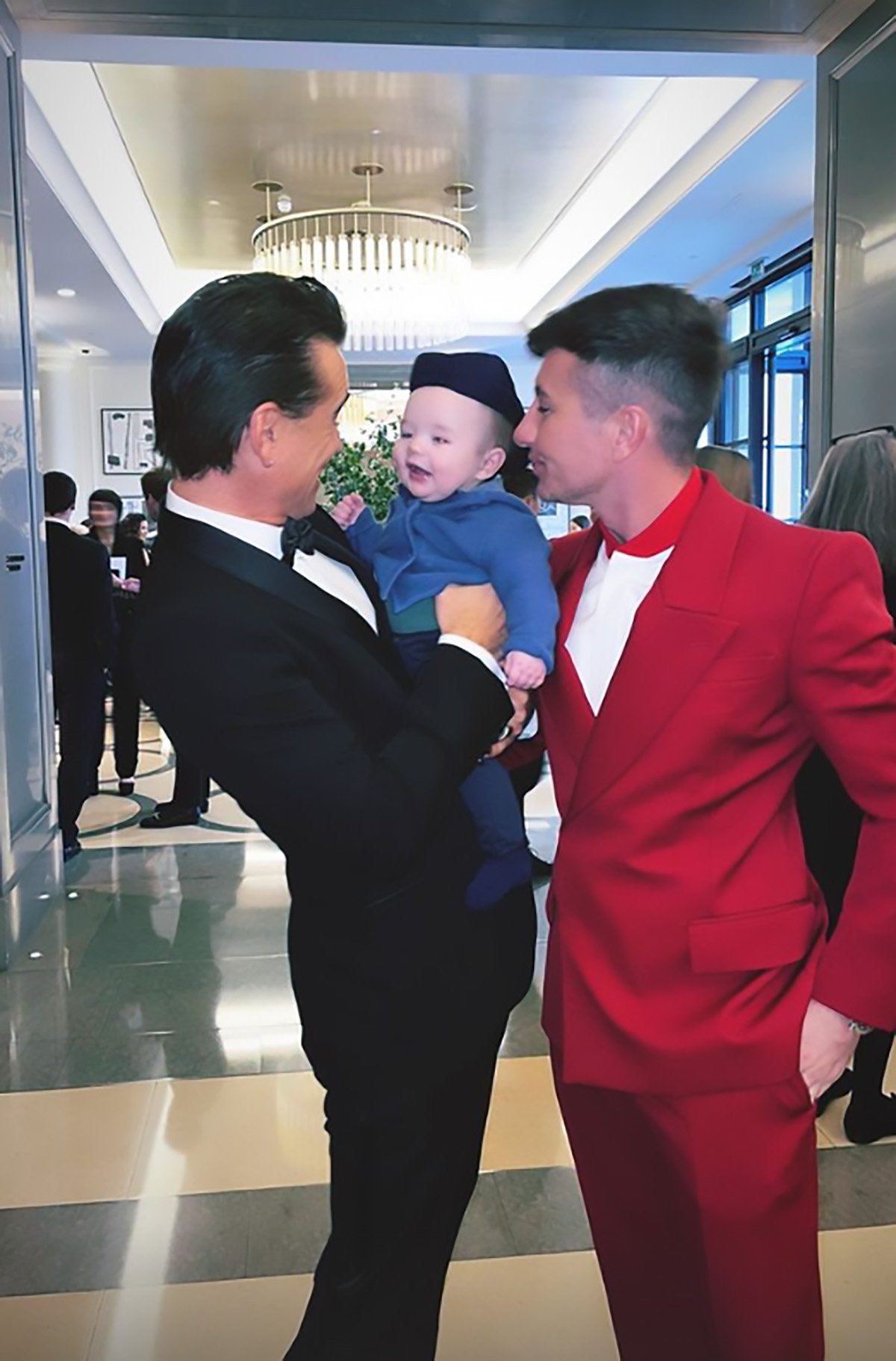 Reflecting on what it meant to receive the award for a film that was so close to home, Barry told the PA news agency in the Bafta winner's room: 'It encourages the arts at home and we are an island of storytelling and great actors and poets and writers.
'And this helps the industry massively at home and encourages people to send the scripts in and go for what they want to do.'
He added that he planned to celebrate his win with his son by ordering room service after the ceremony and that he was going to keep the award under a picture of his mother.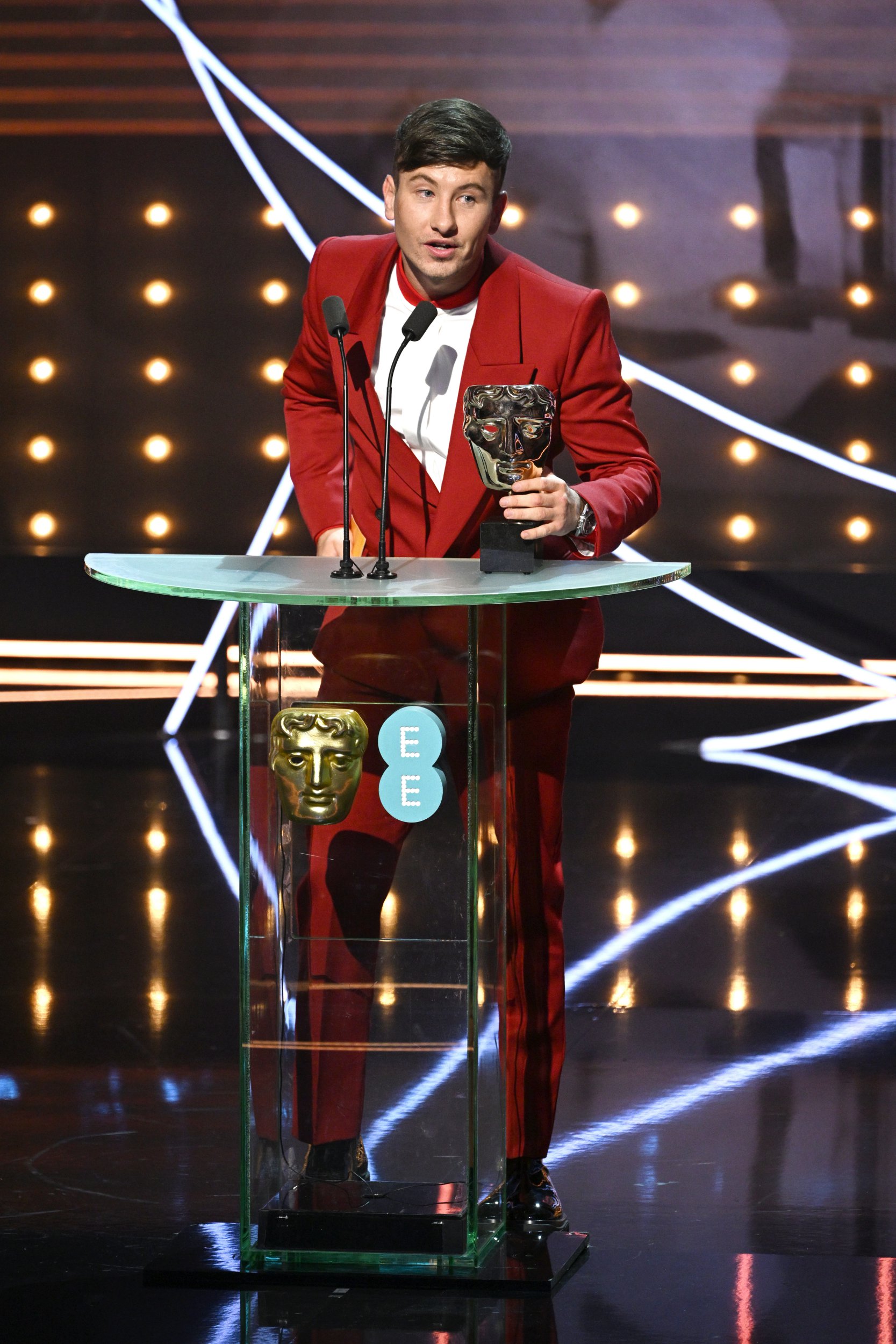 What did you make of this year's Bafta recipients?
Comment Now
The star also revealed that he felt the Bafta award success for The Banshees Of Inisherin would encourage artists in Ireland to 'send the scripts in and go for what they want to do'.
On the night, the film won big and dominated alongside the German language film, All Quiet On The Western Front.
After receiving an award for outstanding British film, director and writer Martin McDonagh said: 'I know every Irish person in the cast and crew are going "best what?"'
He also thanked the stand-in donkey, who he said is British and never made it on screen because she was 'too tubby', as well as giving a final nod to the cast and crew of the wildly successful project.
Baftas 2023 full winners list
Best adapted screenplay
All Quiet On The Western Front
Best supporting actress
Kerry Condon - The Banshees Of Inisherin
Best supporting actor
Barry Keoghan - The Banshees Of Inisherin
Best film not in the English language
All Quiet On The Western Front
Best cinematography
All Quiet On The Western Front
Outstanding debut by a British writer, director or producer
Charlotte Wells - Aftersun
Animated film
Pinocchio
Best original screenplay
The Banshees Of Inisherin
Best original score
All Quiet On The Western Front
Best documentary
Navalny
Best sound
All Quiet On The Western Front
British short animation
The Boy, The Mole, The Fox And The Horse by Charlie Mackesy
Outstanding British film
The Banshees Of Inisherin
Best director
Edward Berger - All Quiet On The Western Front
Best leading actor
Austin Butler - Elvis
Best leading actress
Cate Blanchett - Tar
Rising star
Emma Mackey
Best film
All Quiet On The Western Front