The girlfriend of Down Under's Luke Jones has claimed the sexual misconduct incident that led to him losing his job was simply 'acting'.
In this week's episode of the reality series, after producers and crew members were forced to step in after he while n**ed.n**ed.
After briefly locking himself in her room despite many people urging him to leave, he then stormed off and locked himself in his own room.
The next day he was fired after captain Jason Chambers had been alerted to what had unfolded.
While Luke is , the woman believed to be his girlfriend has slammed a fan for questioning Luke's actions.
Sharing a screenshot on social media of an interaction with fitness influencer Diana Maldonado, the fan captioned the Twitter post: 'Y'all Luke's girlfriend said he was "just acting" WHAT?!.'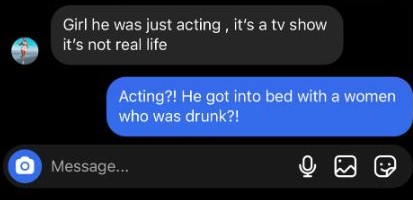 In the message exchange, the fan got in contact with Diana, writing: 'The fact you're with this man shows you condone his behaviour.'
In response the influencer, who had shared a photo of her kissing the reality star, wrote that Luke was 'just acting', adding that Below Deck was 'a TV show and not real life'.
The conversation ended with the fan concluding: 'Acting!? He got into bed with a woman who was drunk.'
During the episode, the captain escorted Luke from his cabin on the night when the incident unfolded and sent him to a nearby hotel.
The next morning, Jason gathered the rest of the crew and told them he would be terminating the bosun's employment because of his actions.
'Our cabin is our safety zone. That door is our boundary. That door is not to be opened unless it's consensual. To walk into someone's room without consent, indecent, is my limit,' he told them.
After arriving back and being fired, Luke said that he 'don't really know what happened', which he said was 'eating me up a little bit'.
The incident also contributed to the firing of another crew member, Laura Bileskalne, who had claimed Luke being let go was 'unfair' as his actions were 'meant as a joke'.
'I don't think he meant anything bad. He wouldn't rape you or anything,' she told Margot.
'He's a sexual person, I'm a sexual person, you're a sexual person. We're joking. That thing was probably like, "Hahaha", we're all drunk.'
Laura's unwanted advances towards Adam Kodra also played a part in her termination after she attempted to give him a massage in his bunk despite him asking her to leave.
After the scenes aired on Instagram.
'My sincere apologies to Adam, I did not realise I made him feel uncomfortable and no one should be put in that position,' she wrote in a post.
'And to Margot to not been able to empathise. I was 29 when the show was filmed, 30 was my life-changer. I am 31 now and I am watching it as all of you, an entertainment show.'
Since the episode has aired, both Adam and Laura have set their social media accounts to private.
Metro.co.uk has contacted Hayu for comment.
Below Deck Down Under streams on Peacock in the US on Mondays, and on hayu in the UK on the same day.
Victim Support
Victim Support offers support to survivors of rape and sexual abuse. You can contact them on 0333 300 6389.