The upcoming season of Bondi Rescue will cover real-life drownings and deaths to serve as a 'warning' for water safety.
The factual television programme follows the daily lives and routines of the Waverley Council professional lifeguards who patrol Bondi Beach in Sydney.
The 17th season of the show, which first began nearly two decades ago in 2006, will land on screens this week but viewers have been warned about sensitive subject material
Speaking about the latest season, producer Ciaran Flannery discussed including drownings, explaining: 'Sadly, not everyone survives. Fortunately, we've had scenarios where people have been rescued, and in one instance, a very young baby.
'There's extensive consultation with the families, the police, the NSW Ambulance service. There's constant dialogue about whether you cover a story.
He continued to : 'In many instances, it's in the interests of some families to serve the wider interests of the community. If you do show these stories, it's as a warning. It's about being ethical and not just chasing drama.'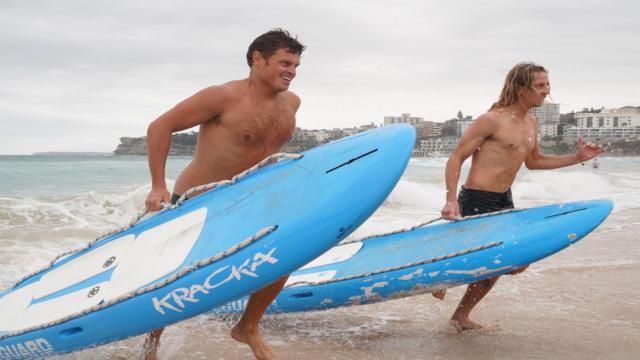 In 2016, on the same beach, Hugh Jackman from deadly waves.
A witness told The Sunday Telegraph at the time: 'He stopped and helped this bloke stand up and he also helped his son. The swell was pretty nasty. It was a beautiful day but the swell was up.'
Despite one witness saying the Wolverine actor was 'calm' throughout the ordeal, he was too shaken to talk to reporters afterwards.
Has Bondi Rescue gone too far by including drowning deaths?
Comment Now
First broadcast in 2006, Bondi Rescue has featured numerous celebrities over the years including David Hasselhoff and Zac Efron.
Paris Hilton, Rowan Atkinson, Snoop Dogg and Russell Crowe have also made appearances.
Bondi Rescue premieres Friday, April 14 at 7:30pm on Channel 10.