is one of the most successful – and funny – sitcoms in TV history, with the character of sarcastic, witty and lovable most often quoted as fans' favourite.
Following the on Saturday night, many have been taking comfort in his Emmy-nominated performance across 10 seasons of the show.
From 1994 until 2004, Perry, alongside castmates Jennifer Aniston, Lisa Kudrow, Courteney Cox, David Schwimmer and Matt LeBlanc, with the exploits of a group of 20-something pals in New York City.
'Matthew was an incredibly gifted actor and an indelible part of the Warner Bros. Television Group family,' the company said in a statement following the announcement of his death.
'The impact of his comedic genius was felt around the world, and in the hearts of so many. This is a heartbreaking day, and we , his loved ones, and .'
, here we take a look at Chandler Bing's most iconic quotes and memorable moments on Friends – and an actor who couldn't *be* any funnier.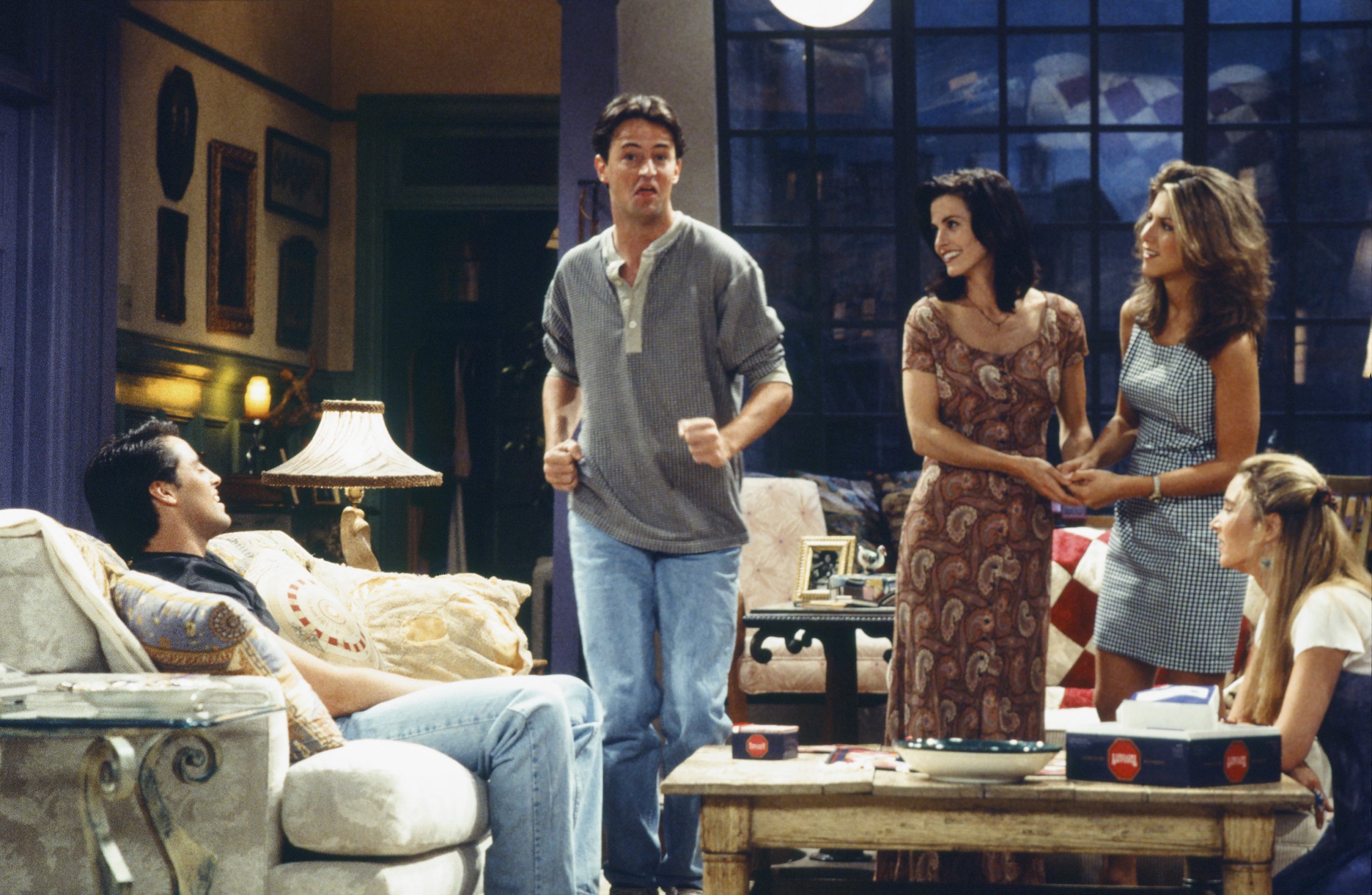 All of Chandler Bing's best moments and funniest quotes
With 236 episodes of material to choose from, we are spoiled for choice when it comes to Perry's .
Alongside his fantastic one-liners, Chandler also gets into some entertaining situations that go beyond just a witty remark.
Here are our top picks of his best one-off quotes and iconic moments on the show…
'Once I was a wooden boy'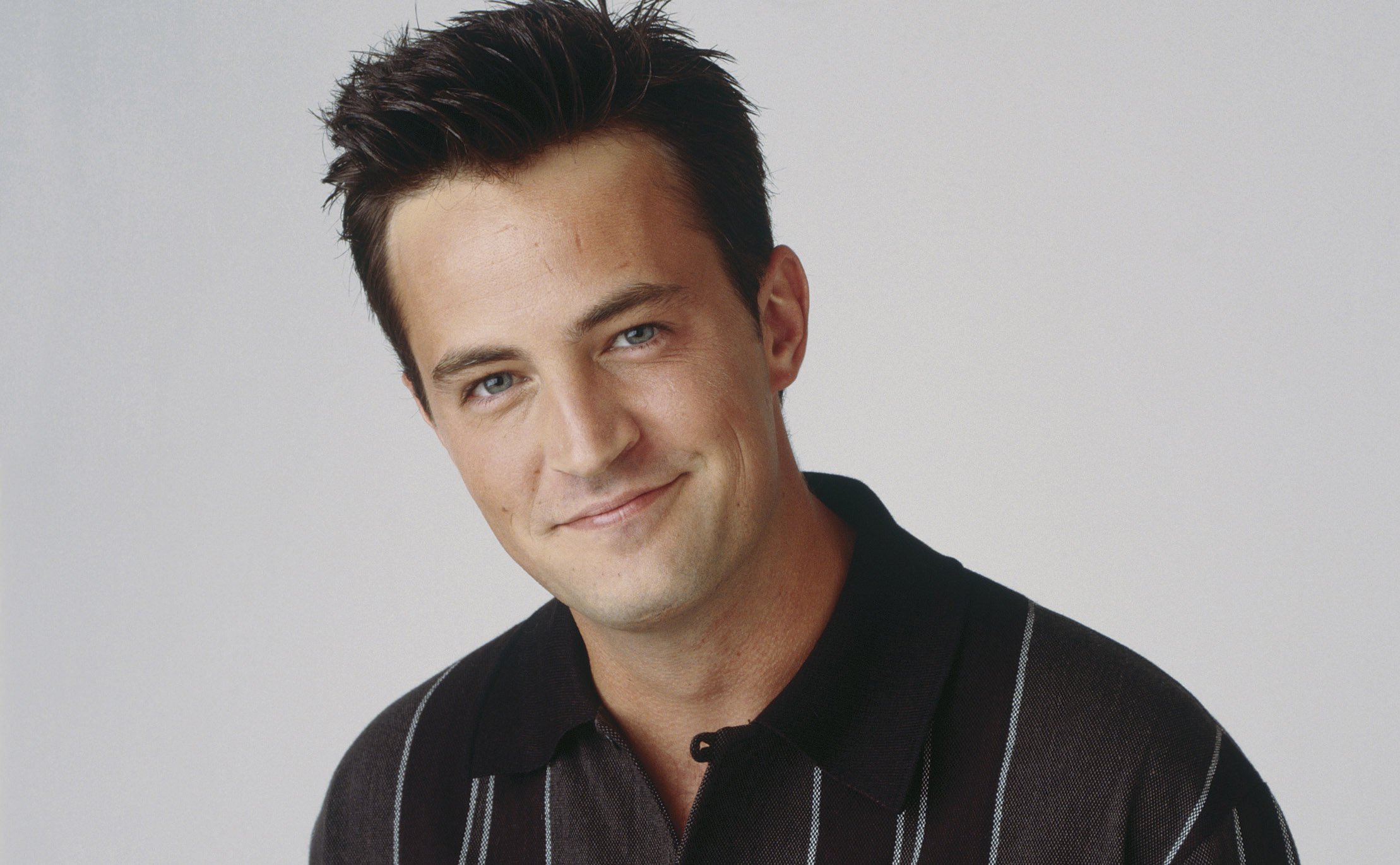 In the first ever episode of Friends, Rachel (Aniston) is getting to know the gang and asks Joey (LeBlanc) if she would have seen him in anything, as a working actor.
'Unless you happened to catch the Wee One's production of Pinocchio at the Little Theater in the Park,' points out Monica (Cox) as the gang begins to tease him.
This culminates in Chandler poking fun at his performance, quipping: 'Look Geppetto, I'm a real live boy!'
He then dances out the door, singing, 'Once I was a wooden boy, a little wooden boy!'.
'Can – open. Worms – EVERYWHERE.'
Chandler and Joey are having breakfast together in season two when Chandler finds out that Joey uses his toothbrush, which he is horrified by.
Joey then argues: 'That was only because I used the red one to unclog the drain!'
'MINE is the red one!' hits back a disgusted Chandler, before adding: 'Oh God! Can – open. Worms – EVERYWHERE.'
'I'm hopeless and awkward and desperate for love!'
In season three, Chandler is sort of seeing ex-girlfriend Janice (Maggie Wheeler) again and – in a turn of events – suddenly decides that he does want to be with her, rather than constantly trying to break up.
After suggesting taking a trip with her parents, and saying he'd be okay with them moving in together, a freaked-out Janice heads to the door to leave, leading to Chandler's brilliant plea of: 'Oh no no, don't go! I've scared you. I've said too much. I'm hopeless and awkward and desperate for love!'
Following that rather relatable confession, he then calmly picks up the phone to leave a message on Janice's answering machine in which he casually apologises 'in advance for having chased you down the street' – before doing just that.
'You get me, you kill me!'
In a classic season three episode, Joey dresses up in jeans, a white T-shirt and a tool belt and gets very into a spate of DIY in his flat with Chandler.
However, things don't exactly go perfectly as Joey decides to build an entertainment unit, which involves Chandler's bedroom door being sawn in half and the finished piece being too long to actually fit where it's supposed to.
Even more scarily, Joey almost drills through Chandler's head at one point, as he rests against his wall holding a book with his eyes closed before Joey's drill comes through it about six inches away.
'Oh sorry! Did I get you?' Joey asks when Chandler storms out to confront him.
'No you didn't "get me". It's an electric drill – you get me, you kill me!' Chandler points out.
'My wallet's too small for my fifties and my diamond shoes are too tight!'
Following Rachel and Ross (Schwimmer) finally kissing in season two, he is torn between his childhood crush and current girlfriend Julie.
Ahead of helping him by trying to print out a list of their flaws to sort out who he should pick (always a dangerous idea), Chandler can't resist a quip at Ross's expense.
'What am I gonna do, I mean, this is like, a complete nightmare!' Ross complains as he debates who to pick.
With his usual trademark sarcasm, Chandler replies: 'I know, this must be so hard. "Oh no, two women love me! They're both gorgeous and sexy. My wallet's too small for my fifties, and my diamond shoes are too tight!"'
'Gum would be perfection' – S1, The One With the Blackout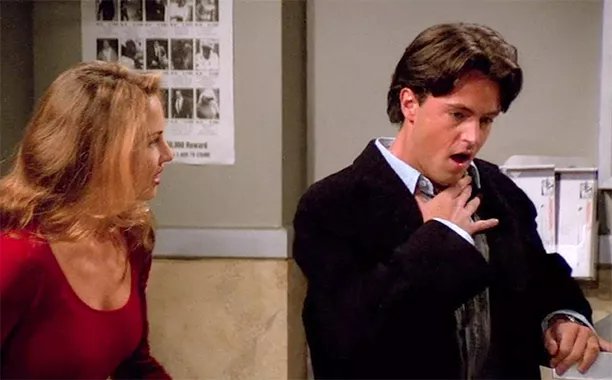 During a blackout in season one, Chandler gets stuck in a bank vestibule with Victoria's Secret model Jill Goodacre (playing herself).
Struggling with what to say and how to remain cool, the audience is treated to his internal monologue as he agonises over his actions.
After making a very obvious attempt at speaking 'subtly' while calling Joey to tell him what's happened on Jill's phone, he then tells the model of her earlier offer: 'On second thought, gum would be perfection.'
He then, naturally, chokes on it.
Julia Roberts strands near-n**ed.n**ed Chandler in bathroom stall – S2, The One After the Superbowl Part 2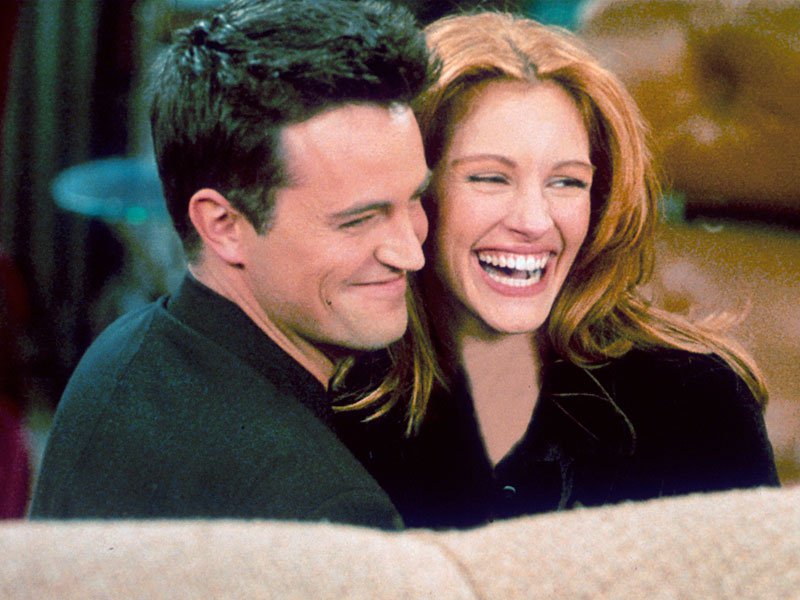 The moral of this story is to not upset Julia Roberts.
The Pretty Woman actress , who he embarrassed by lifting her skirt in front of loads of their pals.
Still haunted by the experience, she pretends to be interested in him and then when they go to a meal with the rest of the cast, gets him to remove all his clothes in the bathroom – which she then promptly steals.
As she explains what she's doing and why, Chandler exclaims: 'That was in the fourth grade! How could you still be upset about that?'
'Well, why don't you call me in 20 years and tell me if you're still upset about this?' she hits back.
'Could I be wearing any more clothes?' – S3, The One Where No One's Ready
With a little help from best friend Joey, this is one of the most iconic moments in the entirety of Friends' decade-long run.
When he and Chandler get into a fight about one of Monica's chairs in her apartment, Chandler sits on Joey after he took his place when he went to the toilet.
Ross chivvies him off to change for the black-tie event they're all going too and when Chandler returns, Joey does take leave the chair – but he takes the cushions (or 'essence of the chair') with him.
To get back at him, Chandler then steals Joey's underwear with Joey threatening to 'do the exact opposite to you'.

What's your favourite Chandler Bing moment from Friends? Comment Now
Much to Chandler's confidence that he's bluffing, Joey then returns wearing all of Chandler's wardrobe – ties, trousers, shorts, shirts etc.
'Okay buddy boy, here it is. You hide my clothes? I'm wearing everything you own.'
With Chandler complaining that it's 'so not the opposite' of what he did, Joey then quips: 'Look at me, I'm Chandler. Could I BE wearing any more clothes? Maybe if I wasn't going… commando.'
Continuing to wind him up, Joey adds: 'I tell you, it's hot with all this stuff on, I'd better not do any – I don't know – lunges!'
Both LeBlanc's delivery and Perry's perfect reactions make this one of the best Friends scenes of all time.
No one knows what Chandler's job is – S4, The One With the Embryos
An ongoing job throughout most of Friends' run is that nobody knows what Chandler's job actually is.
After getting into a fight with Rachel and Monica over their pet duck and chick, Joey and Chandler take them on in a fiercely competitive quiz created and run by Ross.
The prize on the line is Monica and Rachel's apartment, widely considered the best.
As both sides show off impressively detailed knowledge about the other (Monica remembers Chandler has 'the bejesus scared out of him' by Michael Flatley's Lord of the Dance).
The quiz also shares the classic 'Ms Chanandler Bong' revelation when it comes to the name on the TV guide delivered weekly.
However, when the game moves to the lightning round to find a winner, the girls are stumped by Chandler's job.
Coming up with it involving numbers, processing and him carrying a briefcase, Rachel's best guess is 'transponster' – which wins the boys their apartment.
Chandler flies to Yemen to escape Janice – S4, The One With All the Rugby
To be honest, pretty much any time Chandler became involved with Janice and then tried to break up with her is a highlight from Friends.
However, this instance perhaps wins for the sheer effort (and cost) Chandler goes to in order to break up with her without just simply saying he's not interested.
Janice comes to the airport with him and all of his belongings, and when Chandler is unable to fake buying a plane ticket he is forced to drop $2,100 on a real ticket.
Claiming that he'll be gone 'until we find an energy source to replace fuel', Janice vows to write to him everyday via the address he's given her: 15 Yemen Road, Yemen.
When he tries to sneak back out the gate and she catches him, vowing to stay until she's watched him take off, a shocked Chandler responds: 'Well then, I guess I'm going to Yemen.'
Chandler enjoys a bubble bath interrupted by everyone – S8, The One Where Chandler Takes a Bath
A later standout moment for Chandler on Friends comes in season eight when he steals Monica's lavishly prepared bubble bath after struggling to admit the times when he likes to get in touch with his more feminine side.
However, although Monica does allow him to stay in her bath (despite calling it 'completely unacceptable bath decorum'), she steals his boat.
Chandler is then interrupted by every single one of the Friends cast, with Phoebe (Kudrow) talking about confronting Joey over his mystery crush, Joey admitting he likes Rachel (and telling Chandler to 'rearrange his bubbles') and then Rachel and Ross revealing to the others that they are expecting a baby girl.
Chandler gets the final line of Friends – S10, The Last One Part 2
After an almost-unprecedented run in TV, Friends finally wrapped up with its main characters all off to do different things.
Chandler and Monica were headed to the suburbs to raise their twin babies, Jack and Erica, and moving out of the iconic apartment that served as the show's main set.
As the furniture is cleared, they all gather together to reminisce and leave their keys on the side.
With the gang agreeing to get some coffee at Rachel's suggestion, Perry demonstrates his perfect delivery and responds: 'Sure. Where?'
Chandler's dancing – all seasons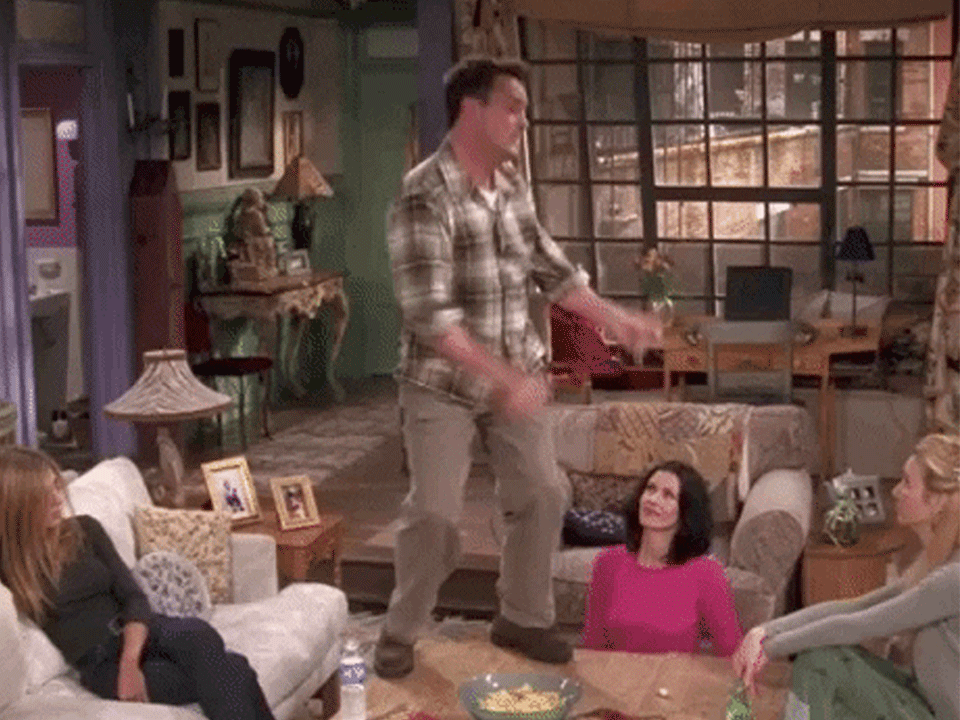 We couldn't leave off without special mention going to Chandler's instantly recognisable dance moves.
Whether he's dancing on the coffee table in Monica's apartment in celebration, struggling on the dance floor at their wedding, being interrupted in his kitchen by Ross or mocked by Monica for his singular style, Matthew Perry came up with one of the most unique dance vocabularies onscreen.