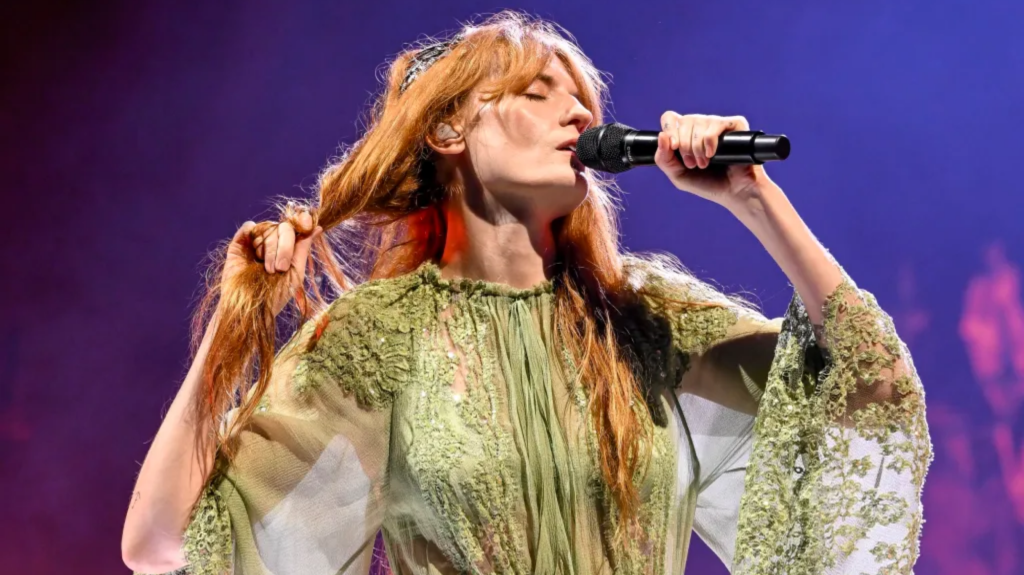 has revealed that she underwent 'life-saving' surgery recently, which forced her to cancel a string of shows.
The Florence And The Machine star, 36, explained to worried fans that she is not yet 'strong enough' to detail her ordeal.
However, she promisedon September 1 in .
Her announcement comes six days after she revealed that, 'on medical advice', she was unable to perform with her band at Zurich Open Air Festival and Rock en Seine. 
Florence wrote in a heartfelt message: 'I'm so sorry that I had to cancel the last couple of shows.
'My feet are fine, I had to have emergency surgery for reasons I don't really feel strong enough to go into yet, but it saved my life.
'And I will be back to close out the Dance Fever tour in Lisbon and Malaga (maybe not jumping so much but you can do that for me).'
She concluded: 'Suffice to say I wish the songs were less accurate in their predictions.
'But creativity is a way of coping, mythology is way of making sense.
'And the dark fairytale of Dance Fever, with all its strange prophecies, will provide me with much-needed strength and catharsis right now.'
The You Got The Love hitmaker's Instagram post was met with an outpouring of love from her adoring fans.
'We're just relieved that you're ok — health first, always. Ready to send off the era in style as we dance ourselves to death! 💃🏻', one wrote.
'I'm sending you all the love that there is and all the hugs! Take all the time you need! We love you so so much and our love for you will never fit into words 💖', another added sweetly.
'We love you and we will dance ourselves out of breath for you ❣️ see you in Malaga ❣️', another promised.
Florence's update comes after she was last November after
The cancellation came just hours before she was due to take to the stage at London's O2 Arena.
'I'm so sorry to say that after an X ray it seems I was dancing on a broken foot last night', the star wrote on Instagram at the time.
'It is not in my nature to postpone a show, and certainly not a UK tour, but I'm in pain and as dancers know, dancing on an injury is not a good idea. And have been told not to perform to avoid further damage.'
Advising fans on the next steps, she continued: 'Please hang on to your . We are working our hardest to reschedule these dates for next year and we will let you know as soon as possible.'
She added that her Dance Fever tour has been her 'favourite show we have ever put on', saying she loves the 'communion' with audiences and seeing their 'beautiful faces shining.'

Florence signed off: 'I love you so much, and I'm so sorry to anyone who is disappointed. My heart is aching. I can't wait to be back on my feet and back in your arms. X x'.