George Clooney looked every inch the man in love as he accompanied wife Amal to a glamorous awards ceremony in Venice. 
The couple are among the stars who have this week and rocked up at the DVF Awards in the city of romance on Thursday evening. 
After arriving at the venue, George, 62, and Amal, 45, took a moment to bask in the sunset and were seen embracing outside with the former ER actor gazing lovingly at his spouse, who looked stunning in a cream lace gown.
George, who looked dapper in a black suit with his shirt slightly unbuttoned, was ever the gentleman and took charge of leading Amal by hand. Once inside, the couple were seen mingling with other guests including fashion designer and host Diane Von Furstenberg, who gave Amal a warm embrace as they chatted away.
It was a big night for lawyer Amal as she was being honoured with the prestigious DVF Leadership Award alongside four other women for her human rights activism.
Detailing her incredible accolades, a bio for the legal eagle on the DVF website reads: 'Amal Clooney is an award-winning human rights lawyer who has spent the past two decades defending victims of injustice around the world. She represents clients before international courts, including the International Criminal Court, the International Court of Justice and the European Court of Human Rights.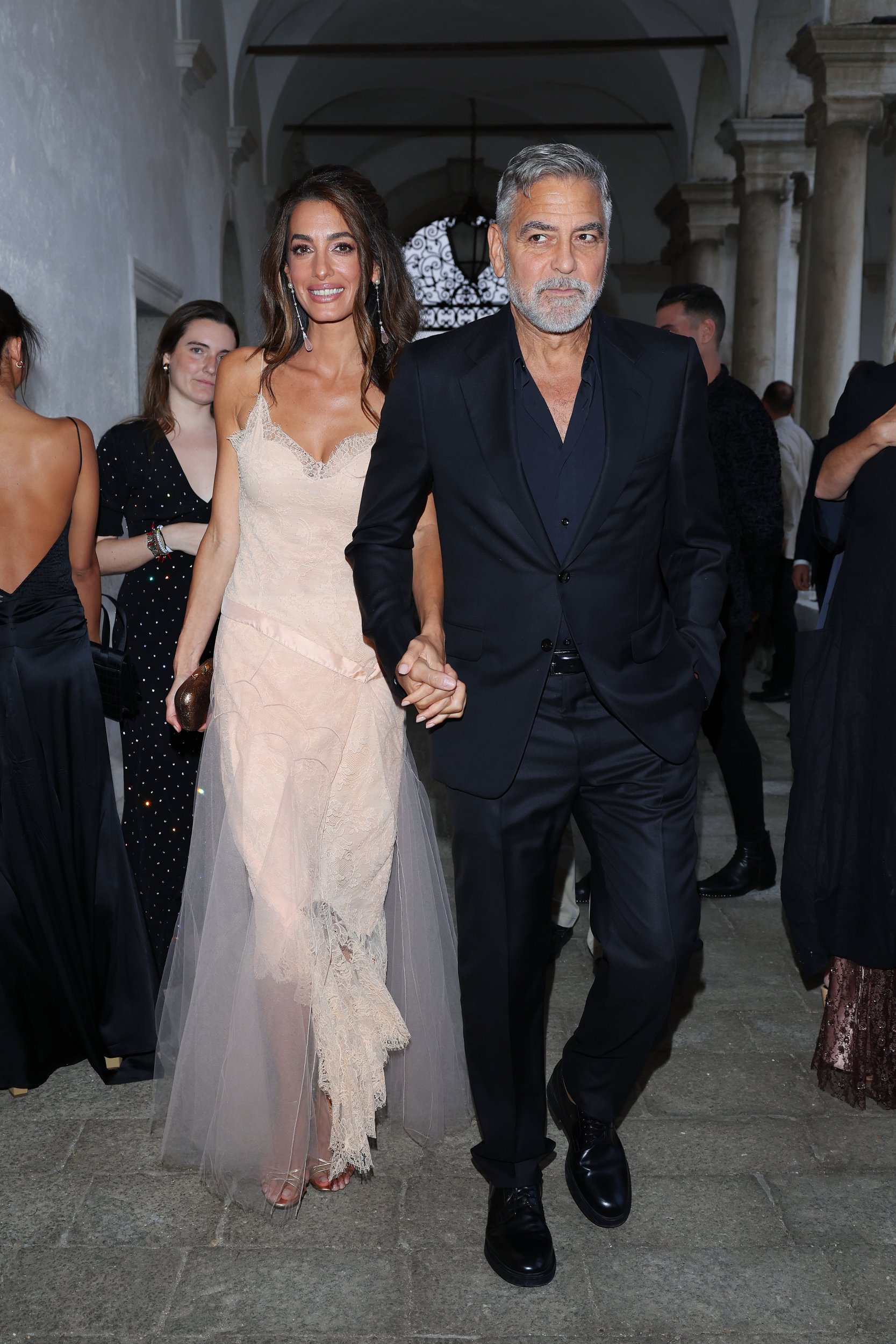 'Amal has represented high-profile political prisoners and survivors of mass atrocities, such as the Yazidi women and girls enslaved by ISIS, civilians attacked by Sudanese militia and government forces in Darfur, and female activists imprisoned around the globe.
'Her track record in securing freedom for unjustly detained journalists around the world is unmatched. She is currently serving on the Task Force on Accountability for Crimes Committed in Ukraine, to support justice for victims of war crimes and other human rights abuses.'
George and Amal's arrival in Venice has raised eyebrows in light of the Sag-Aftra strikes, which has seen actors and writers defend their right to fair pay.
The Ocean's Eleven star did release a statement supporting the strikes earlier this summer, stating that the industry needs to change in order for it to survive.
He and Amal – who married in 2014 – have been enjoying their time in Venice so far, enjoying date nights at the canal-side eatery, Ristorante Da Ivo, and strolls around town.