An engineer has told the court that Gwyneth Paltrow's version of events in her 2016 ski crash is 'consistent with the laws of physics'.
by Dr Terry Sanderson, who alleged that she crashed into him on the slopes in Deer Valley Park, Utah, in 2016 – leaving him with broken ribs and permanent brain injury.
The 50-year-old has denied all claims and is countersuing the retired optometrist, 76, arguing that and suffered minor injuries.
Earlier today, biochemical engineer Dr Irving Scher took the stand at the Park City District Court and disputed expert evidence previously heard in the courtroom, claiming the analysis had been miscalculated.
He wrote out several calculations and drew diagrams for the jury, before showing them an animation of Paltrow's version of events.
Dr Scher said calculations by Dr Richard Boehne, which were heard last week, had been 'thrown off' by an incorrect velocity, suggesting that Sanderson's injuries would have been 'much worse' with the correct measurements.
'Ms Paltrow's version of events is consistent with the laws of physics in how people turn and rotate,' he told the court.
'Dr Boehne cannot say with any accuracy that Ms Paltrow landed on Mr Sanderson. His calculations are wrong.
'I believe Ms Paltrow's version is possible.'
This comes after Dr Boehne claimed that Paltrow causing the incident is the 'only scenario' that could have led to Sanderson's injuries.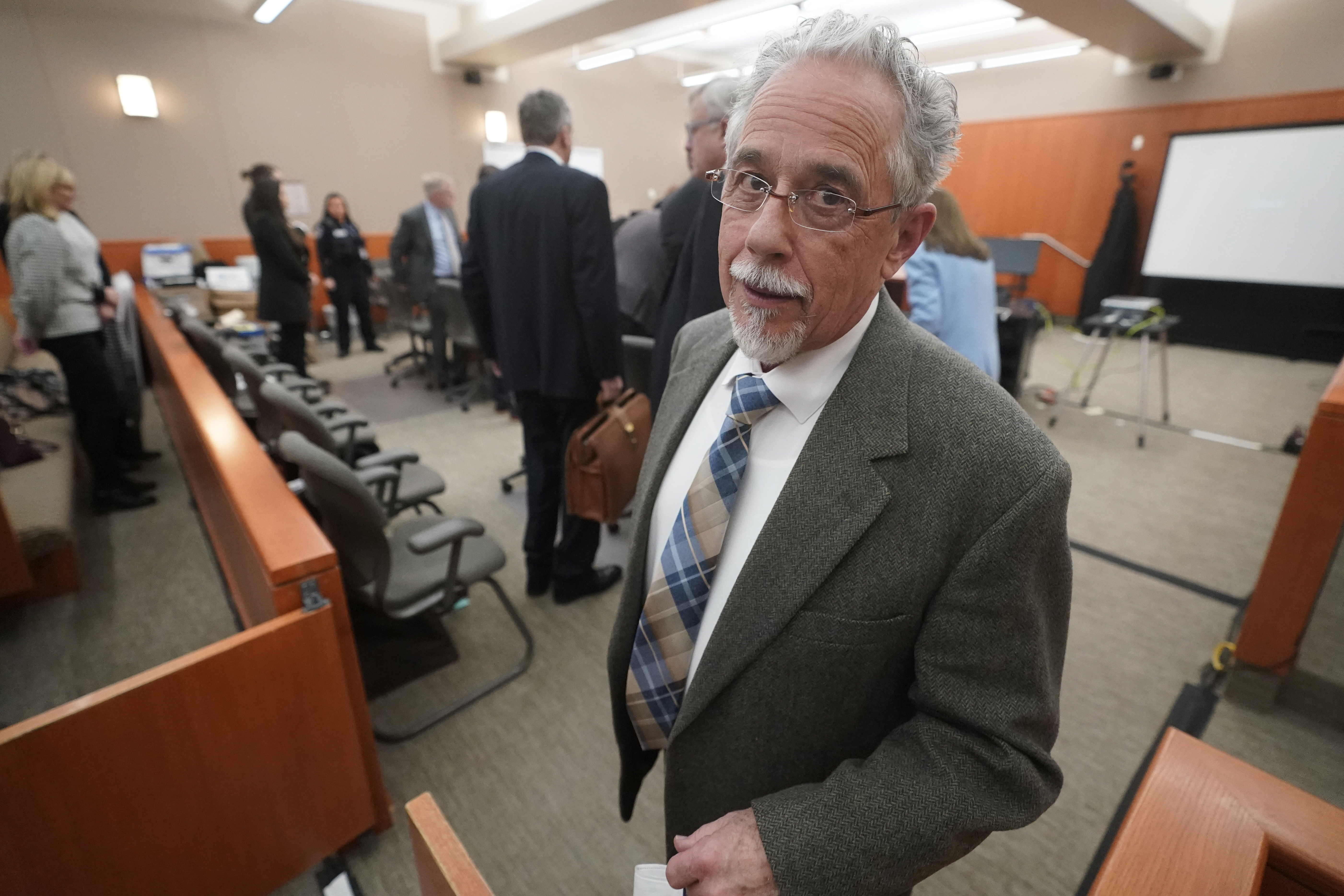 'Dr Boehne cannot say that Ms Paltrow's version of events is impossible…,' Dr Scher added. 'It is the only version out of the two that matches with the laws of physics.'
, claiming that she slammed into him while she was on a beginner run with a ski instructor, before skiing away and leaving him lying in the snow.
In turn, Paltrow argued that she was hit from behind by another skier, seeking $1 in damages and for her legal fees to be paid.
The trial began last week in Utah, with proceedings streaming live on YouTube.
Paltrow took the stand on Friday and on the slopes, telling the court: 'I was not engaging in any risky behavior. I would not engage in risky behavior with or without my children being there.
'I was confused at first and I didn't know exactly what was happening. It's a very strange thing to happen on a ski slope. I froze and I would say I got very upset a couple of seconds later.
'[I thought], Is this a practical joke? Is someone doing something perverted? My mind was going very quickly and trying to ascertain what was happening.'
She also denied 'bolting' from the scene after the collision.
Describing the accident on day five of the trial, Sanderson told the jury: 'Everything was great and then I heard nothing I've heard before at a ski resort – it was a blood-curdling scream.
'It was like someone was out of control and was going to hit a tree and die. Someone is out of control and they're really seriously out of control.
'I got hit in my back so hard … it felt like a serious smack. I've never been hit that hard and I'm flying.
'The ground was coming up, no-one was in front of me … it was quite a ways to the ground. I said, "You've got to protect your face". That was the last thing I remember.
'Everything was black.'
The trial continues.
Follow Metro on Snapchat
You can follow our new , the go-to place for all things pop culture.
Keep up with the latest Showbiz exclusives by following .
And football fans can indulge in all the transfer gossip and more on .