Much like the rest of the UK, celebrated a first on Sunday – some sunshine.
The former A Place In The Sun presenter, 49, commented on the particularly grey summer Britain's had this year, raving in a new post about the fact the 'sun is out at last'.
Plenty of the doting dad's 212,000 Instagram followers took to the comment section to say the same thing about Jonnie's newest photo, noting that the TV star 'looked amazing'.
Dad-of-three Jonnie announced in November he could only have 'months to live' after lung spread to his brain and .
Jonnie had clearly caught the sun in his latest snap, which he captioned: 'Sun is out at last so we can finally enjoy our @armadillosun bean bags. Aaaand relax…'
One person wrote beneath his photo: 'It's lovely to see him looking well,' while another Instagrammer added, 'You are looking amazing. I mean… you always look good. But in recent days you have looked happy and energised.'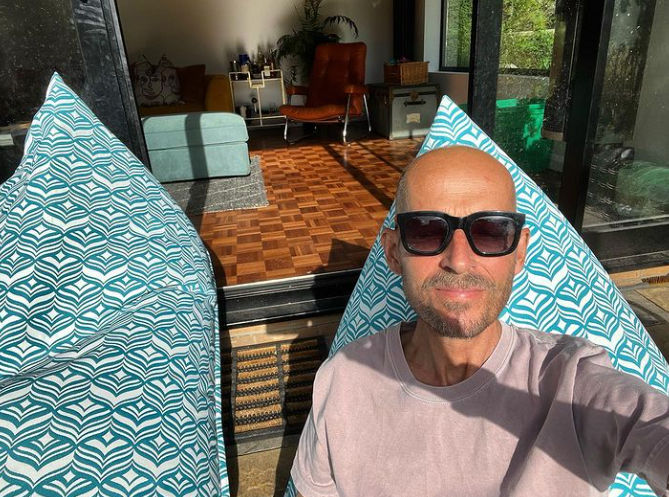 'Such an inspiration, you really look good at the moment, I hope you're feeling good too,' another person wrote.
Other comments included: 'Looking mighty good Jonnie' and 'Looking good, Jonnie! Enjoy the sun and beanbags.'
Earlier this weekend, Jonnie – who shares sons Rex, four, and two-year-old twins Rafa and Cormac with his wife Jessica Holmes – .
Alongside his former Escape to the Country colleague Nicki Chapman, Jonnie made an appearance at Saturday night's First Time Buyer Magazine Awards.
The evening saw the 'prestigious' Jonnie Irwin Legacy Award being honoured to SO Resi Education for their work in teaching the next generation of first-time buyers about how to get on the property ladder.
Speaking fondly of the evening, Jonnie said: 'Congratulations to all the winners at the @firsttimebuyermag Awards yesterday there was some very impressive winners and runners up.'
'We also raised an incredible amount of money for our nominated charity @stoswaldsuk with a couple of super generous individual bids- you know who you are and thankyou so much,' he added.
'Well done to Lynda Clarke and all of the team and props to the legend @nickichappers for another sterling job as ever. X'
Nicki commented on Jonnie's post with a similar sentiment, writing: 'A brilliant day & room full of incredible people helping first time buyers get on that property ladder!
'We all know how tough that can be – especially at the moment. Lovely to catch up Jonnie – big hugs to all the fam too.'