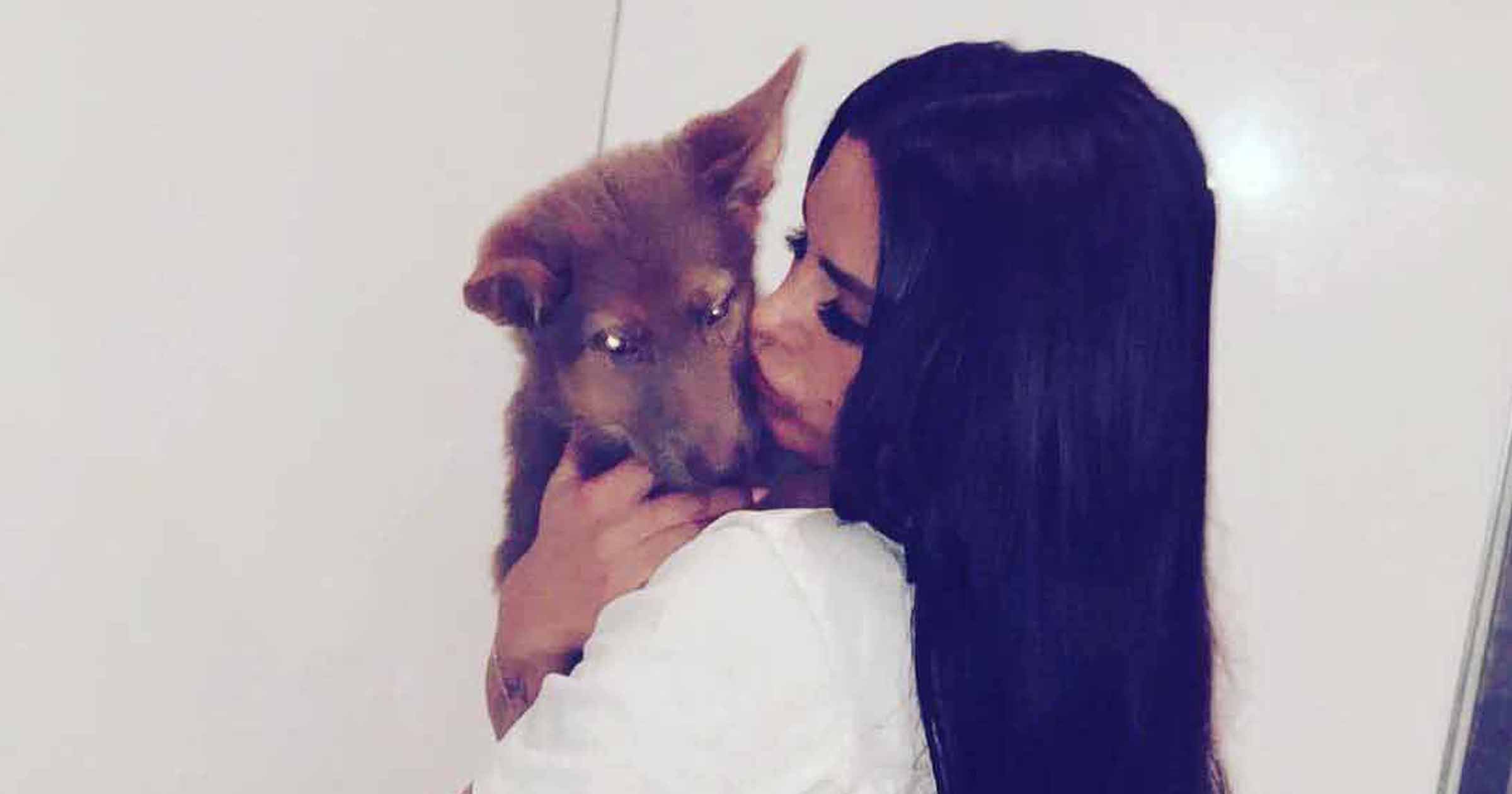 has added another puppy to her current pack of six – making it seven – after the deaths of several of her former beloved pooches.
She has previously been criticised for a history of , with a petition to attracting over 36,000 signatures in the past.
However, she in August and has now revealed that a seventh dog has joined the family after she took in a black Labrador.
Seemingly acknowledging past comments, she asked: 'What difference is another one?'
The glamour model, 45, revealed how she had been begged by a friend to take on a puppy they'd been given by someone else but couldn't house.
'Fifteen minutes before I've come on here, I get a phone call from a friend across the road: "Kate, someone's just given me a puppy, they can't have it, can you have it?"' she told her sister Sophie on .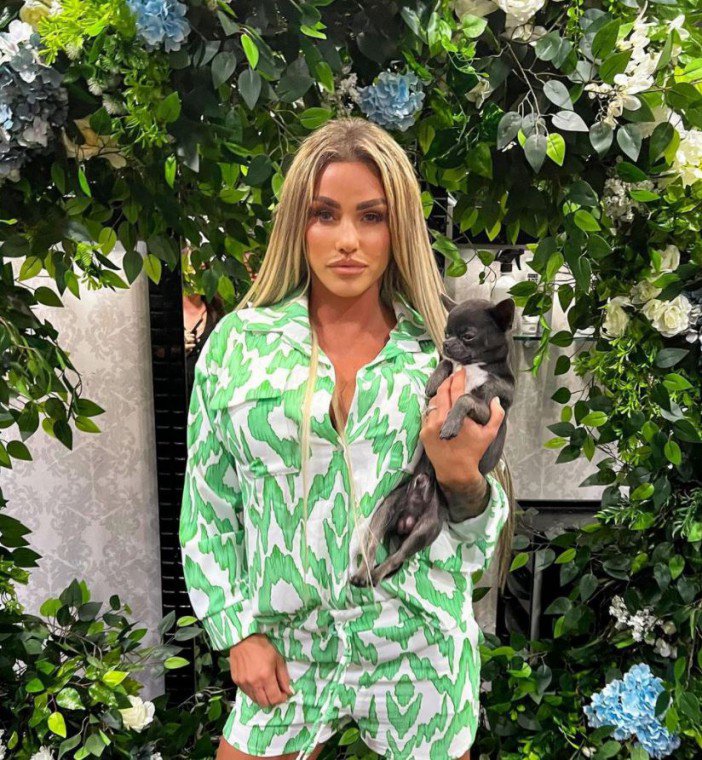 The mum-of-five explained that she'd asked the breed and said she 'really can't have any more dogs' before softening and telling her pal to 'just bring it over'.
She continued: 'So I've got a nine-week-old Labrador puppy. They had puppies, sold it to someone and they got it for their kid who has got autism but the kid's going absolutely mad with it.
'They have had it three weeks – the puppy must be 12 weeks, sorry. Tiny it is.
'I said, "Bring it around," so I have rescued a dog.'
When her sister asked her why she had adopted 'another one', Katie argued: 'I couldn't say no, it turned up and needs a home, so I've rescued a black Labrador pup.'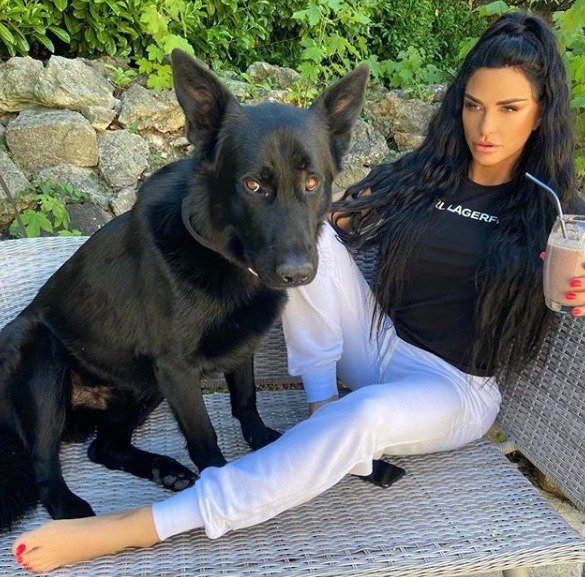 However, she admitted that it was taking some getting used to, for both her and her other pets.
'The dogs are all going crazy and it's a little girl and I don't normally have little girls because of their periods because it's mess, but I couldn't say no.

Have your say in the comments belowComment Now
'It's a rescue and they asked me because they know I've got the land and the animals, so now I've added another dog to the six dogs and just like a kid, I am like, 'What difference is another one?'
'So I've got two puppies to train at the moment.'
The star owns Chihuahua Captain and Pomeranian/Chihuahua mix breed Batman, having previously slammed in October, as well as Chihuahuas Buddy and Colin and French Bulldog Precious.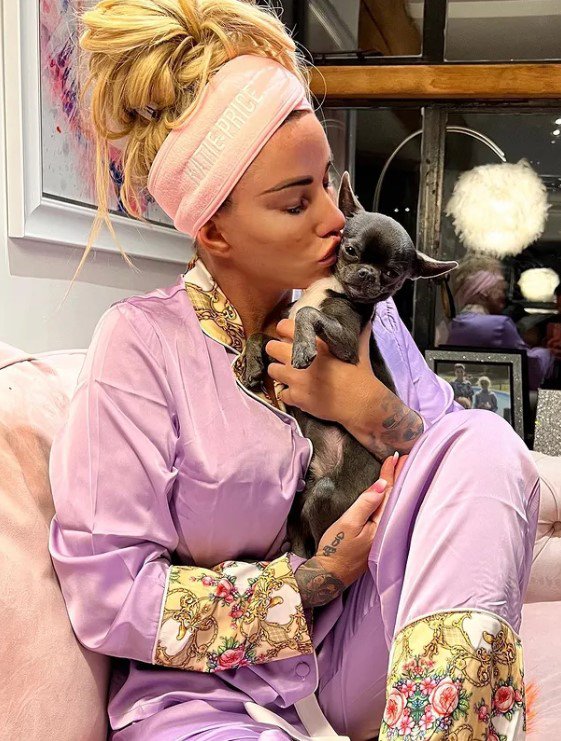 She bought other new addition Tank after her protection dog Blade was run over earlier this year, which sparked the online petition to stop her from owning any more animals.
The dog was hit by a car after he escaped from the star's home in East Sussex and accidentally made his way onto the busy A24.
Shortly afterwards, Katie caught heat for appearing to smack Tank in a TikTok live video, with animal protection charity Peta calling her .
Blade's death came just seven months after the model's other dog  and Ki**ed on the same main road.
Her Alsatian Queenie was the year before Sharon's death after she was given to Katie as a present from her ex Kieran Hayler for her 38th birthday.
Another Alsatian, Sparkle, was also Ki**ed on the A24 in 2020 and her French Bulldog Rolo was  just months later.
Rolo had been purchased as a gift to her daughter Princess to help her cope with the loss of Sparkle.
Two other pets, a horse and a chameleon named Marvin, have also died in the care of Katie and her family.