fans are desperately awaiting her , and they're already sharing their bizarre predictions of what she may do in the limelight.
The California Girls singer will be taking to the stage tomorrow, Sunday, May 7, in front of 20,000 members of the public and invited guests filling out the grounds of .
Celebrating the  III and Queen Consort Camilla, Take That and Lionel Richie will also be performing.
And after Katy, 38, today, wearing a humongous pink hat, people have high – and hilarious – hopes for her performance tomorrow.
Having previously hinted she'll be giving fans 'what they deserve', we've been left waiting on the edges of our seats.
She told : 'I always dreamt really big and I never put limits on my dreams, but it's wild when you don't put bowling bumpers on your dreams how big they can actually go…
'I really believe in making it happen and putting that hard work behind it and really swinging until you get that lucky moment.'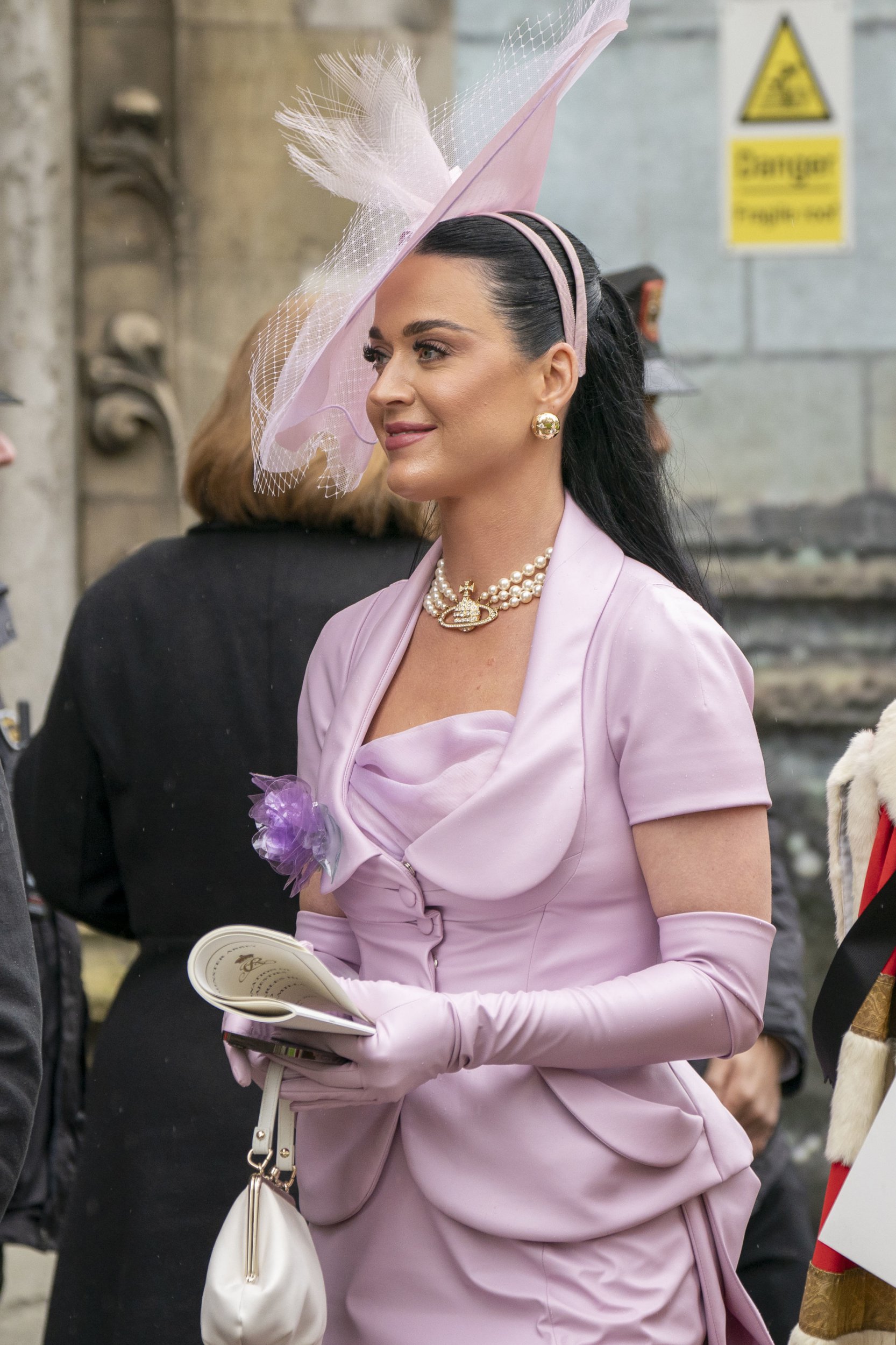 She added: 'I'm gonna give them what they deserve very soon.'
And with that tease, fans are sharing their wild predictions.
'Changing the lyrics to California Gurls to Coronation Gurls with a bra made of crowns,' one person penned.
Another joked: 'Free suggestion for when Katy Perry sings at the coronation: a version of California Girls where California Girls is always replaced with Camilla Parker-Bowles.'
Others however, are desperate for Katy to sing another of her hits.
Coronation of King Charles III latest
The historic Coronation of Their Majesties King Charles III and Queen Camilla will take place in Westminster Abbey today (May 6).
For all the latest royal updates, visit .
'Prayer circle that Prince Louis is at the coronation concert tomorrow evening i want to see him dancing to Katy Perry singing the Just Eat song,' someone wrote.
Another added: 'But seriously though I need Katy Perry to perform her Just Eat track at the concert.'
Referring to the lyrics in Katy's hit Firework, one fan joked: 'Now I'm waiting for Katy Perry to ask King Charles III if ever feels like a plastic bag floating in the wind?'
'When does Katy Perry zipline in with "Baby you're a firework?"' someone else asked.
While Katy may be performing on stage tomorrow, she certainly stole the show today, as she was spotted looking around for her seat.
The world was gripped as she was seen peeking out from under her giant hat and wandering around the packed Westminster Abbey trying to find her place.
'Katy Perry not finding her seat is so me,' cackled one viewer while someone else said they were 'obsessed with Katy Perry trying to find her seat. And yes she looks stunning.'
'The way she's trying to look for her seat with that hat, it's adorable and funny at the same time,' one of her loyal fans noted with others were more concerned who would be sitting behind her and that hat.
After basically breaking the internet as the viral meme made rounds on social media, Katy reassured fans: 'don't worry guys i found my seat.'
Ahead of the two day spectacle, Perry confirmed she would be staying in Windsor Castle, teasing that she will be sharing 'a lot' of images from inside her weekend.
The Coronation Concert airs on BBC One and iPlayer from 8pm this Sunday.