has revealed she went a little 'too hard' at a concert on Friday night, which resulted in an awkward .
The 27-year-old model was clearly having a whale of a time at country singer Chris Stapleton's concert at Nashville's Nissan Stadium, posting some videos and a few pictures from her VIP side-of-the-stage spot.
However, it appeared her choice of footwear wasn't quite up to all the jumping and dancing along she did to the music, as she revealed one of her vintage heels had snapped during the course of the evening.
'Went too hard. My vintage [sic] couldn't handle it,' she wrote alongside a picture of the offending gold stiletto boot, which she wore with flared jeans and a white cropped tank top.
However, despite this setback, Kendall appeared to not let it ruin her evening, sharing photos of herself backstage with a drink in hand while Tennessee Whiskey singer Chris did his thing onstage.
She also shared a clip of him performing from a different angle, higher up in the stadium, following the shoe incident.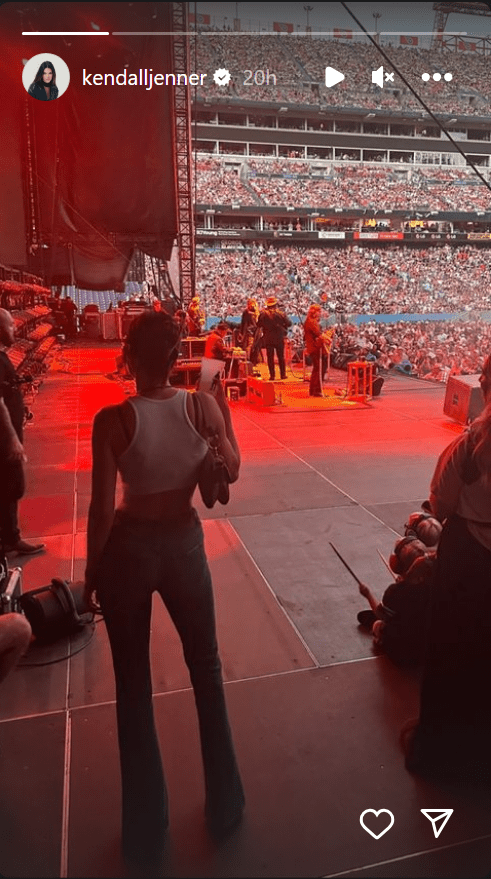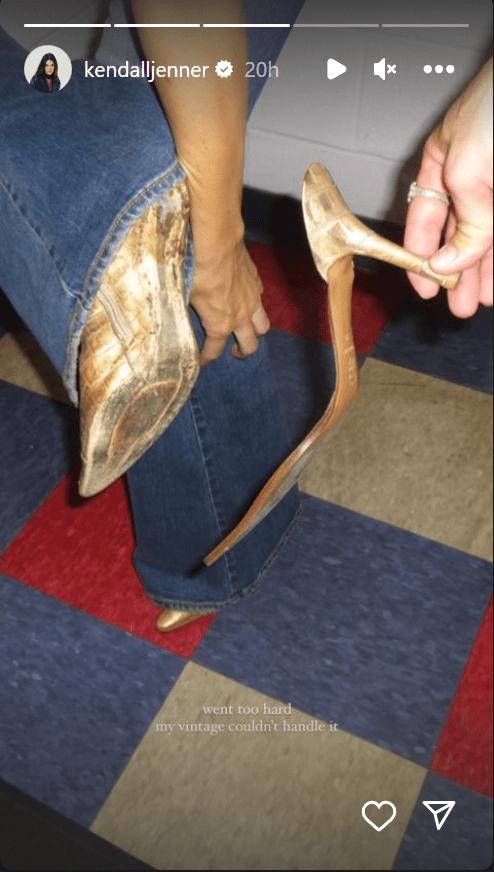 Kendall is rumoured to have struck up a romance with – real name Benito Antonio Martínez Ocasio – of late, with the couple being pictured together on .
The pair have regularly been spotted out and about together in New York and California, and appeared to be getting in April, where Bad Bunny was headlining.
However, Kendall was the butt of the joke at the ESPY awards earlier in July thanks to .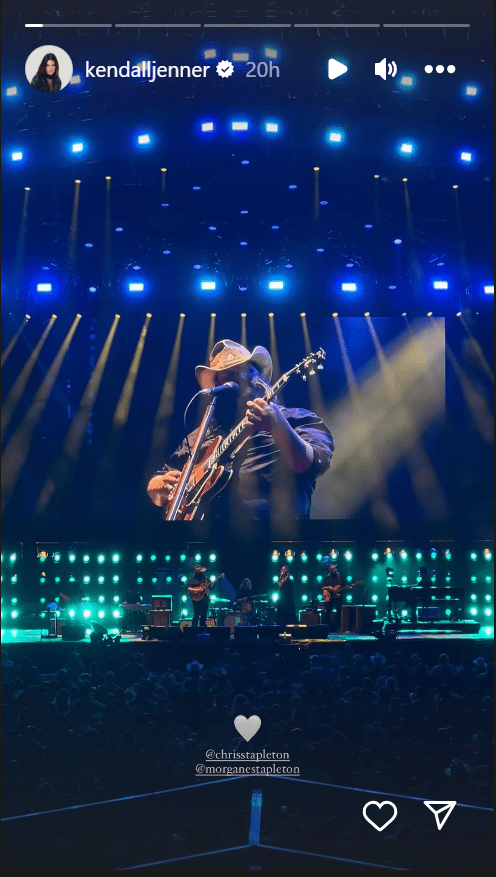 Have you ever broken a shoe while out?Comment Now
The Kardashians cast member has notoriously been linked to five NBA players in the past having most recently – shooting guard for the Phoenix Suns.
Before Devin, 26, the star was paired with Jordan Clarkson, Blake Griffin, Ben Simmons and Kyle Kuzma.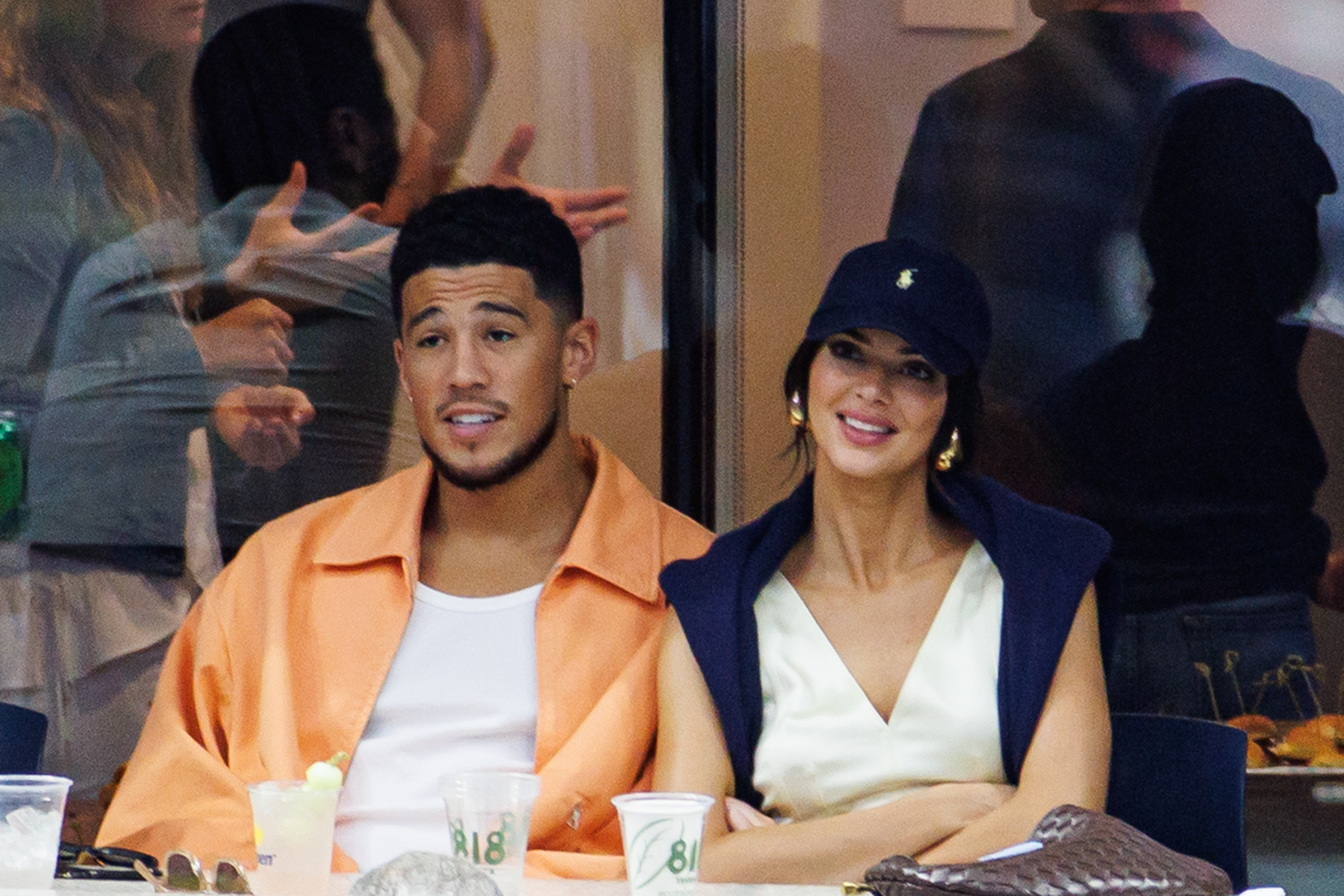 Sports analyst Pat McAfee presented the award show and couldn't help but mentioned the supermodel as he gave his address to the crowd.
He playfully suggested: 'Kendall Jenner's Starting Five would win the NBA championship every single year.'
His line earned him a round of laughs and prompted him to continue saying: 'You know it, you know it… if they're in the bubble your a** is getting smoked.'
Big sister Kim Kardashian also made the same joke with her T-shirt during a TikTokwith daughter North, 10, in June.
Filming herself for the video sharing app, the 42-year-old star made fun of her younger sibling sporting the garment that showed Kendall's face in the middle of her five basketballer exes.
Alongside the image, the t-shirt carried red lettering that read: 'Kendall Starting Five'.