A judge is set to made against .
It comes after lawsuits made by two men in the HBO documentary Leaving Neverland were brought back from dismissal.
Wade Robson and James Safechuck alleged Jackson assaulted them when they were children and that his companies, MJJ Productions and MJJ Ventures, facilitated the conduct.
Allegations against Jackson – – were dismissed in 2021 but, on Friday (August 18), the 2nd District Court of Appeal reversed a ruling from a Los Angeles Superior Court judge dismissing the suits from Robson and Safechuck.
This means that they will be able to proceed with claims that a pair of corporations owned by the singer – dubbed the King of Pop – had a legal duty to protect them from alleged sexual abuse by Jackson.
As reported by , the justices found that it would be 'perverse' to find that the corporations should be excused from a responsibility to oversee the safety of the plaintiffs because they're solely owned by Jackson.
Jackson's estate has continued to deny claims that he abused either of the men, whom Jackson met on video shoots.
The suits were originally filed in 2013 and this marks the second time they have been revived after being dismissed.
Both cases were previously thrown out in 2017 after it was determined that they exceeded the statute of limitations.
They were brought back three years later, however, when California enacted a law that extended the age by which people can file sexual assault claims against third parties.
Robson, 40, initially launched legal action after claiming he met Jackson at the age of five.
He has alleged that he was molested by the late star, beginning when he was left alone with the singer at his Neverland property.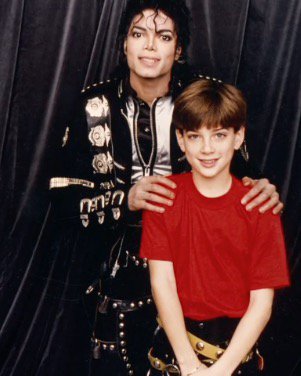 Meanwhile, Safechuck, 45, filed a separate lawsuit in 2014, alleging that he met the Thriller hitmaker at the age of nine and Jackson gave him gifts before sexually abusing him.
Their shocking allegations were then detailed in 2019 doc Leaving Neverland, the director of which against Jackson.
After the late musician's nephew,  in a biopic about his life, filmmaker Dan Reed has said he believes the upcoming film will celebrate a man who 'raped children'. 
Writing for , Reed questioned why the movie was going ahead, given the abuse allegations against Jackson over the years.
The Jackson estate has remained adamant throughout it all that he is innocent, previously emphasising that Robson actually testified at Jackson's 2005 criminal trial that he had not been abused.
Safechuck said the same to authorities, with Jackson later acquitted.
The men's cases were combined for oral argument and may also be tried together.