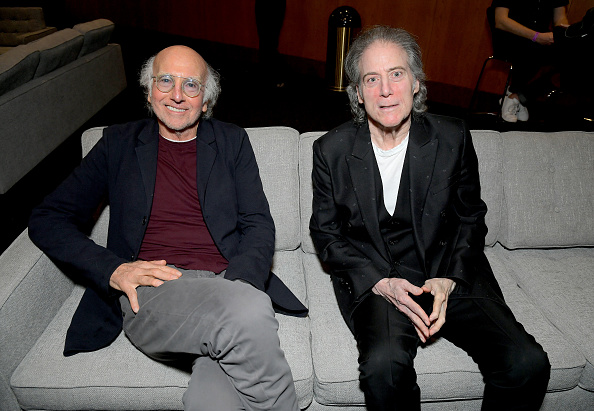 has admitted he disliked when the pair initially met, long before
The now-firm friendship between the pair had a very rocky start when they were flung together at a summer camp.
The men, who were born three days apart in Brooklyn Jewish Hospital, were just 12 when they became aware of each other.
'I disliked him intensely. He was cocky, he was arrogant,' Richard recalled.
'When we played baseball, I tried to hit him with the ball: we were arch-rivals. I couldn't wait for the camp to be over just to get away from Larry. I'm sure he felt the same way.'
It wasn't until a decade later that the pair were able to get to know each other properly whilst working on New York's stand-up comedy scene.
Larry and Richard, both now 76, got on much better this time and quickly became close buddies.
The actors will once again star together on sitcom Curb Your Enthusiasm, which began in 2000, as fictionalised version of themselves.
Fans can expect to see Richard in half of the episodes of the upcoming 12th season. He was only able to star in one episode last series due to health issues after being diagnosed with Parkinson's disease.
While speaking to he shared what we can expect.
'Larry never does the show unless he thinks it's going to be better than the last.
'At least on paper, and with the guest stars and the cast, he has the best year ever, but he'll be the judge because he edits it,' he teased.
Curb Your Enthusiasm is available to watch on Amazon Prime Video, Sky Atlantic and NOW TV.