is worlds away from her Mean Girls icon Janis Iain as she turns into for ' TV series reboot of .
We caught up with Lizzy, 40, to hear about working with an intimacy coordinator for the steamy series, what she took home with her from the Mean Girls set and bizarre fan encounters with middle-aged woman about their sex lives.
What did you think when you first read the script for Fatal Attraction?
I thought it was very compelling, I wasn't sure what to expect, I thought it could go in any number of directions and I was pleased to see how carefully calibrated it was and considered especially some of the legal stuff which can drag a bit in some shows. I found it very compelling.
Was there anything you were nervous about, or had any reservations filming, like the intimate scenes?
I think at this point, it's so part of the job. It's a little daunting to take on something that's so iconic but beyond that it's just another day at the office.
What was working with an intimacy coordinator like?
That is a new non-negotiable thing. I think that for actors like Josh [Jackson] and myself who have been doing scenes like that since well before intimacy coordinators, at first it's like adding a new step to a process that you can feel like you have actually down pretty well. So it's a period of adjustment.
Our intimacy coordinator on this was amazing and it just requires a lot more conversation around things. But I know a lot of actors that find it frustrating and find the transition into this new way of doing things frustrating, but it's important to remember that it's not for the people on the poster of the movie, it's for the people who don't feel like they can stand up for themselves or slow things down even or they just want to be a team player.
You know, it takes a while for anybody to find their voice on set and if one of the first things you're doing is coming in and doing an intimate scene, the idea of having an advocate in your corner who can stop anything that makes you feel uncomfortable, it's almost crazy to think that we did it without that person for so long.
Were there any other ways you and Joshua made each other feel comfortable on set?
I mean, we're pros at this, we know the right level of joking around required to make a super weird situation slightly less weird.
Do you have any pre-shoot rituals before filming?
I don't have any rituals. I find that, like any universal rituals that apply to every show, I think it all comes from me, it all comes down to who I'm working with, how comfortable I feel with them, how comfortable I feel trying things. And then there's just a few quiet moments in your trailer before you go out there to centre yourself. That's sort of all it requires at this point.
Tell me about the bunny boiler scene, were you nervous to film it?
I think there's a certain expectation for things to happen to a bunny and Fatal Attraction. And you'll have to just wait and see if those things occur.
Did you feel any pressure stepping into the role because the 1987 film was so iconic?
Obviously, when people have strong feelings about a film, often times I'm a member of the audience who would be adding to the chorus of like, why go back to something that was so great and worked so well the first time around. So I completely understand that that's a lot of people's knee jerk reactions to hearing that something is being rebooted or revisited in any way.
I actually think with Fatal Attraction, specifically, there's more to explore in this story that they didn't have time to explore in the film and the culture wasn't particularly interested in exploring at the time.
I know that Glenn Close paid a lot of very careful attention to Alex's mental illnesses and what she was going through and there wasn't a lot of room for that, you can completely miss that when you watch the film. We take the time to really get into all of that and so of all the things to go back to, there's something that made sense about this one.
What do you think of a Mean Girls' revival?
I think it's great. I saw the play,, and there's a movie of that. I mean, I love a movie musical so I'm thrilled.
Would you want to see it as a TV adaptation?
It seems like the next logical step in the progression. I don't know what else. So it's been a movie, a play, now another movie. Maybe it'll be like an ice skating show. What else could they do?
Can you ice skate?
I could learn, I could get there!
Would you be keen to reprise your role if you could?
I mean, I don't know what that really looks like. It's such a teen movie, it's such a high school movie. I don't know what the middle-aged version of those characters, that would ultimately be satisfying for people. Which is not to say like, I think maybe people are doing cameos in the movies and that'll be like… But I don't know… I sit here like talking about a reboot of Fatal Attraction.
But when something is so loved, we sometimes want to go back to it over and over again. And I don't know. I don't know if everybody's like… I like what they're doing with the musical, it was great.
I like they're doing a film of the musical that feels like its own totally different animal. But I don't know if anybody needs to see Janice Ian at age 40. Like, what does that look like?
Did you ever steal anything from the Mean Girls set?
I have one of her pairs of pants [trousers]. And like that "Rubbish" shirt. I have no idea where it is. It's got to be somewhere. But yeah, just some clothes.
What do you think is the biggest misconception about you?
I don't really know. I don't know what people's conceptions are of me, quite honestly, I don't really pay much attention to it. I have to assume there's probably a lot because I don't give that much away. So it's safe to assume that at least 50% of what anybody's saying about me could be a misconception.
Have you had any weird fan encounters?
There was a period of time when I was doing the show Masters of Sex where women like my parents age, women wanted to talk to me in detail about their sex lives. That was an interesting time.
I kind of loved it. It's like these women really want to talk about this and they feel safe talking to me about it because they think of this character on TV, which I'm not. But I don't know, I thought it was great to be that person for them. That was an honour.
What's been your favourite role to play?
I couldn't pick one which makes me feel full of gratitude. There's at least six that I think are parts that I can't imagine not being a part of. I'll give Mean Girls number one, Party Down was a huge, a huge show for me in my life. I really love Cloverfield, I loved Masters of Sex. I love Fleishmen is in Trouble, I have been fortunate.
What are you watching at the moment?
Succession! 
I loved The Last Of Us. 
Episode three of The Last of Us, the Nick Offerman episode, I thought was so beautiful, just like so powerfully executed in every way, everybody was so amazing. It's like there's no better episode three this year.
And then Succession's like "hold my beer".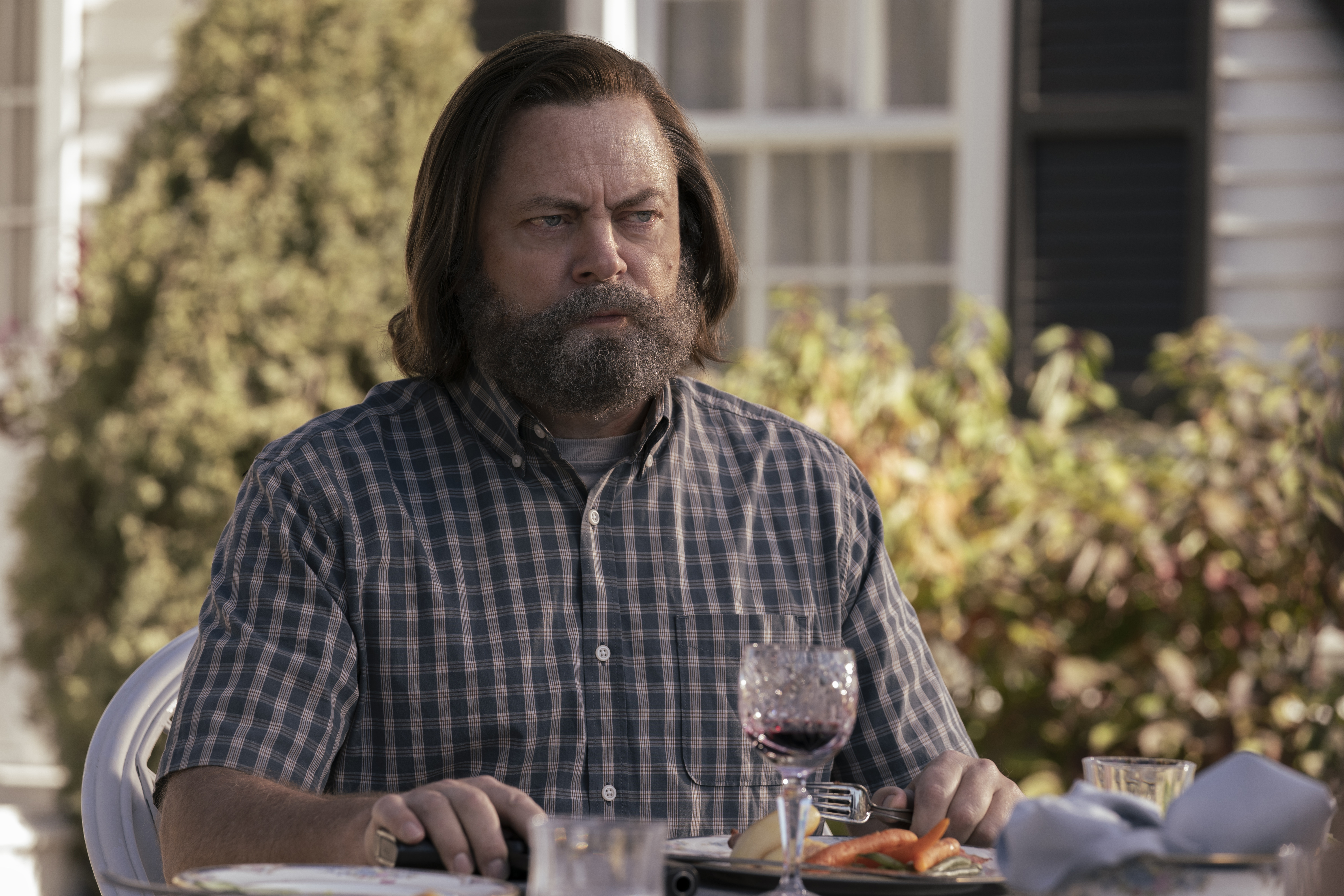 Would you want to star in Succession, or any other TV show if you could?
I would actually not want to, I mean Succession is over now, but I wouldn't want to be on that show. I purely enjoyed being a viewer of that. I don't want to see how that sausage is made. I just want to consume the sausage. But the Last of Us that would be a fun show, I think that show is awesome.
Who would be your dream cast to star alongside?
The list is so long. I mean 100 people long, but then honestly like, while it's really fun to work with people who you so admire, I think my favourites I already know and love. I don't have one, I really don't, I'm so bad at picking favourites of anything, there's too many.
Would you ever do a reality programme like Strictly Come Dancing?
My in-laws, I can't tell you how happy they would be if I said Strictly – I'm not saying Strictly! I'd be too scared to do the Bake Off. But the one I would want to do is Taskmaster.
What's your most controversial food opinion?
I like if my coffee gets cold like it has now, I almost prefer it. Not an iced coffee, but a coffee that has turned cold.
Do you have any regrets? What's your biggest?
Of course, everybody has regrets. But I try to look at what you learn, what one can learn from situations instead of wasting time on regrets.
Fatal Attraction premieres on Paramount Plus in the UK on Monday, May 1.