has dipped her toes into acting with a blink-and-you'll miss it cameo on Midsomer Murders and fans aren't impressed.
The star, 42, appeared as the 'Queen of Daytime' in a mystic mystery on the popular drama, which taking part in.
Fans were speculating what role would be, with some suggesting she might even be the victim or the murderer.
With such build-up and the episode being her small cameo in the episode The Witches of Angel's Rise left fans wanting more.
Holly can be seen sitting on a throne as the guest of honour at a psychic convention as the show aired on Sunday (August 27).
DS Winter announced: 'It's the Queen of Daytime', with his partner quickly responding: 'Gloria Hunniford?'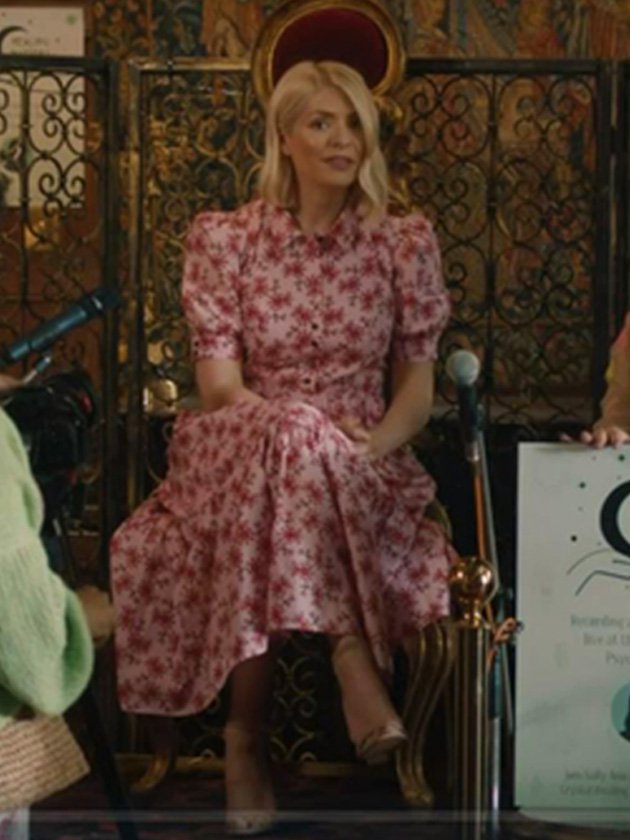 Unfortunately for Holly, her first-ever acting stint has not gone down well with fans who accused the show of 'forced' dialogue.
'How much did Holly Willoughby get paid for appearing for 2 seconds 🤔🤷🏼‍♀️🤦🏼‍♀️ #MidsomerMurders?!?!', said one viewer.
Another took a swipe at the Queen of Daytime title and said: 'Ah yes, top quality realistic not-at-all-forced dialogue there ITV.'
A third joked: 'How much did Holly Willoughby pay the #MidsomerMurders writers to get that line in 😂.'
'Is that the Queen of Daytime? As if anyone would say that,' dismissed someone else.
Others were simply unimpressed by how little she seemed to be in the show, expecting a much larger part for the presenter.
Did you enjoy Holly Willoughby's Midsomer Murders cameo?Comment Now
One asked if 'that's it' after her first appearance, which just saw her perched on a throne at a distance.
Later in the episode, Holly reappeared ready to say her lines.
Well line, singular, which was an exciting: 'Excuse me.'
This only added to viewers' outrage, as one said Holly did 'sod-all', while another ranted: 'So a walking part and spoke no more than two words.'
Some fans were more supportive, with one viewer saying: '"Is that the Queen of Daytime?" Yes. Yes it is! 😍.'
Holly herself had been honest and called it a 'blink and you'll miss it' appearance in her promotion on Instagram as she shared a behind-the-scenes sneaky peak.
Catch up with Midsomer Murders on ITVX.