Good Morning Britain correspondent Noel Phillips experienced major embarrassment after he was turned away from Sir 's annual Oscars party on Monday.
The US reporter took to the champagne-coloured carpet to interview the biggest names in the industry, and while he certainly looked the part his charm couldn't get him into thee party of the night.
'We're going to try and see if we can get into the party,' he said while facing the camera.
'Apparently Emma Watson and Donatella Versace and a few famous people are in there. Let's see if we can gatecrash the party.'
As he approached the entrance, the security guard held stood in front of him and held up his hands.
'Sir, the party is over. No entry, please,' he said.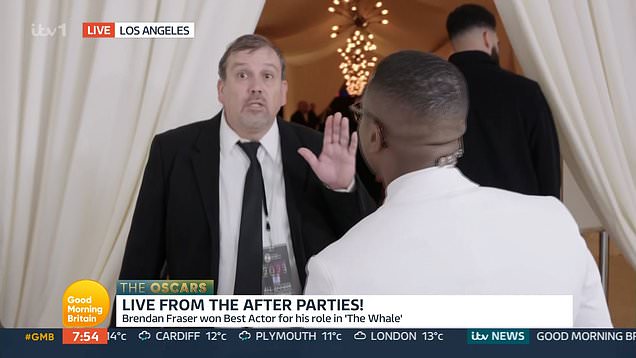 'Oh, but Elton said we can come in?' Noel replied
However, the guard was having none of it and said 'the parties over.'
Ouch!
Noel turned back to the camera and added: 'We did try, guys. We did try.'
Sympathising with her colleague, host Susanna Reid said: 'Looks like someone's about to close the curtains behind you there, Noel. What a shame. You did your best.'
Sunday's elite bash didn't shy away from awkward moments after fans cringed at
The Notting Hill star was stopped for a chat by , who was interviewing attendees for ABC, and seemed totally disinterested in the runway star's questions.
Trying her hardest to push through, Ashley asked the Oscar's veteran: 'What are you wearing?
However, Hugh simply replied: 'My suit.'
Good Morning Britain airs weekdays at 6am on ITV.