legend Rey Mysterio suffered an apparent head injury on SmackDown as his match got cut short.
The masked luchador was facing Santos Escobar in the final of the Title Invitational on Friday night with a shot the champion Austin Theory hanging in the balance.
The two found themselves in action on opposite sides of the ring, but the ending left fans concerned.
Rey and Santos were working well together and putting on a very entertaining show, but after an ad break viewers saw a doctor checking on the Hall of Famer following a Suicide Dive from his opponent.
Referee Jessika Carr brought the match to an abrupt end, ruling Santos the winner with his mentor unable to continue.
Rey was able to get to his feet and shared a moment of respect with Santos, who then stared down Theory with the latter watching the action in a skybox.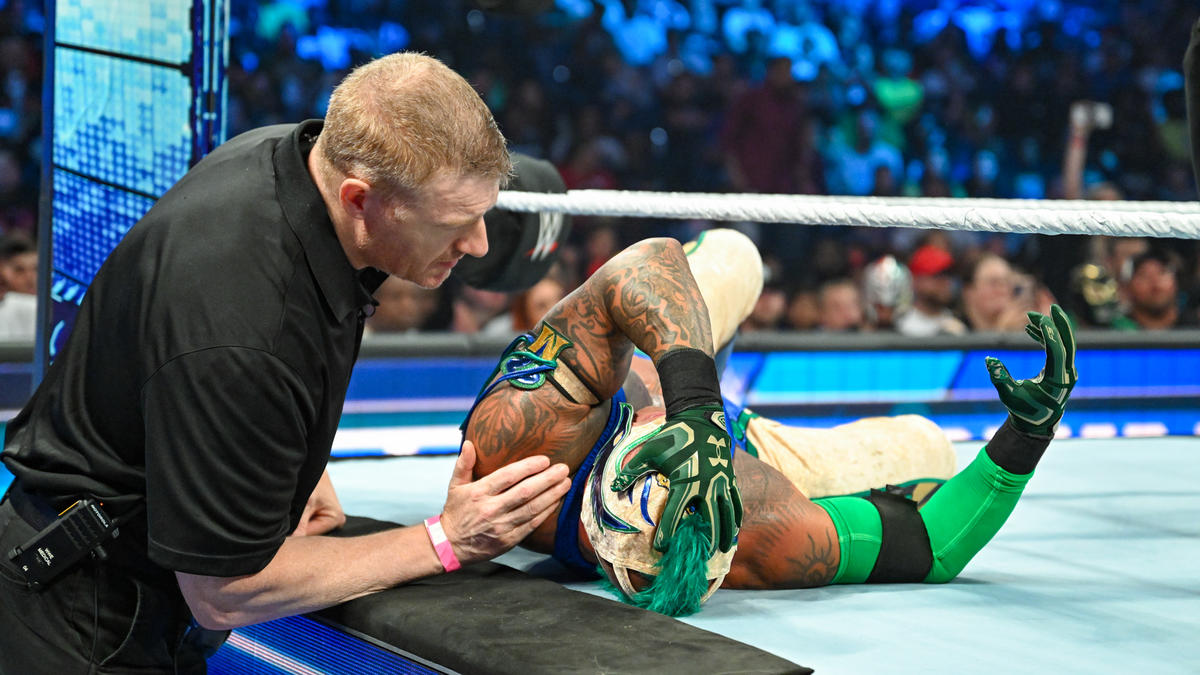 According to reports from PWInsider and Fightful's Sean Ross Sapp, the injury was a legitimate one, with the medical staff and referee reacting quickly to make sure he was safe.
It's said the end result was the same, with the original plan being for Santos to win via pinfall and progress to a title match with Theory.
Fans have understandably responded with concern for the 48-year-old star, and have flooded social media with well wishes and messages of support.
'Wishing a speedy recovery to Rey Mysterio 🙏🏾,' tweeted one viewer, while another added: 'Prayers for Rey Mysterio man.'
A third person wrote: 'Oh no, wishing a quick recovery for Rey Mysterio. #SmackDown'
And someone else said: 'Praying that Rey Mysterio is ok. He's truly one of the best of all time and the fact that he's still competing at this rate is so incredible.'
Rey is yet to publicly address the injury following the show.
WWE SmackDown airs Friday nights at 1am on TNT Sports 1.