'had the best time' playing with 'amazing musicians' at a series of concerts to honour the late Jeff Beck, including .
Member of the legendary Rolling Stones, Wood, 75, has played with some incredible artists over the years and took to the stage at the Royal Albert Hall in tribute to his friend and one time bandmate Jeff Beck.
English guitarist and winner Beck after contracting bacterial meningitis.
On Monday and Tuesday this week, the music icon was given a musical send off by his contemporaries, including ZZ Top's Billy Gibbons and Sir Rod Stewart.
Wood posted some behind the scenes pictures on Instagram, including a group selfie in which Depp, 59, can be seen sporting a Rastafarian-style rainbow hat and a tie-dye blue and white scarf.
Wood wrote: 'More backstage hi-jinx! I had the best time playing with these amazing musicians in Jeff's honour. Much love to everyone who was there.'
Guitarist Eric Claption and Beck's widow Sandra Beck had announced A Tribute To Jeff Beck to honour his memory and artistry, which Wood added there was 'so much love' at.
Spirits were high, if Wood's pictures are anything to go by, as he posed nose-to-nose with former bandmate and vocalist for The Jeff Beck Group, Sir Rod Stewart.
Coming off the back of a Cannes Film Festival premiere for French film Jeanne Du Barry, Depp attended the tribute and appeared on stage on Monday, singing songs like Remember (Walkin' In The Sand) by The Shangri-Las alongside Wood, Irish singer Imelda May and Gibbons.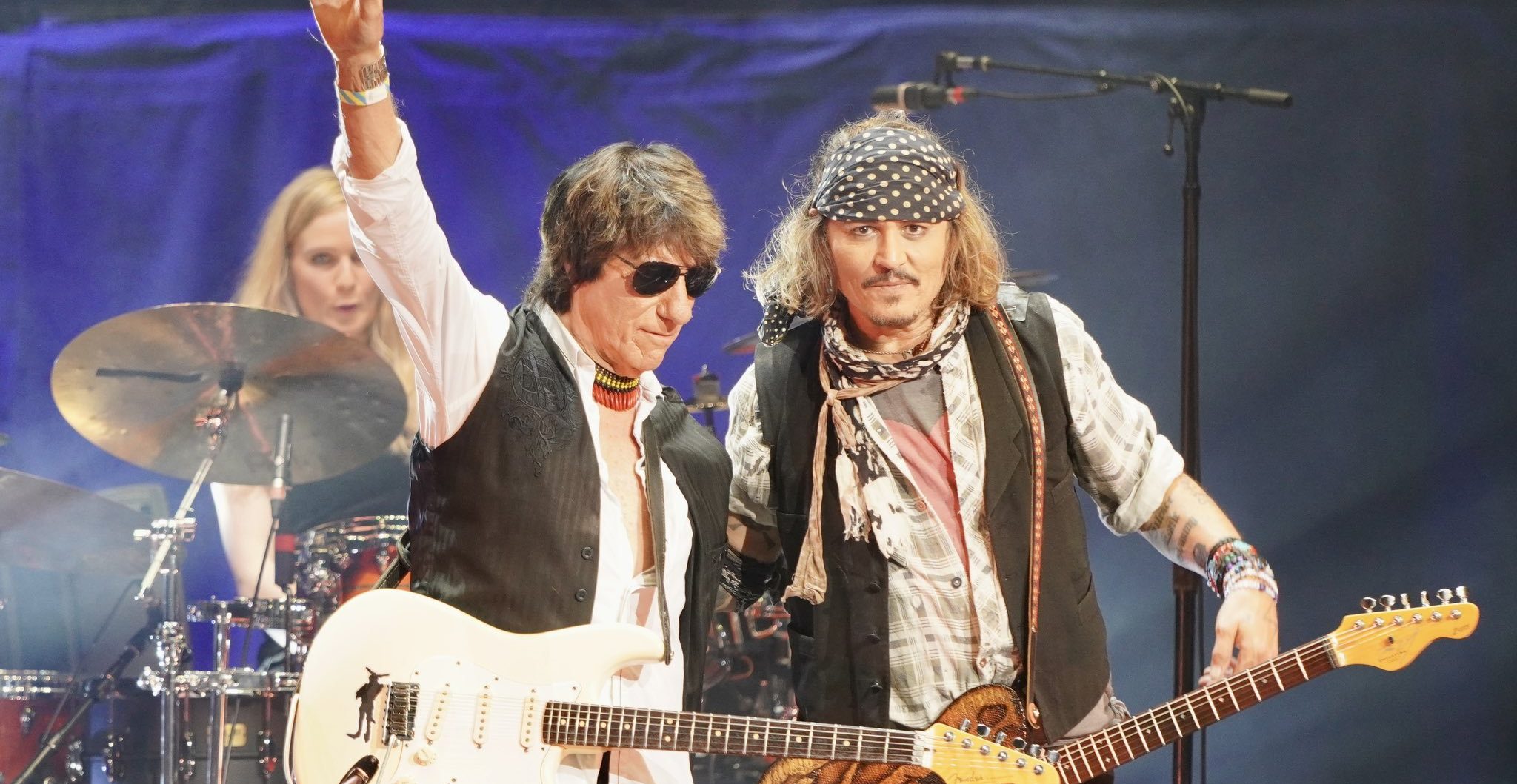 The Edward Scissorhands actor met Beck back in 2016 and began
In 2022, Beck released the full length album, titled 18, with Depp and the pair played a number of live gigs together, including at the Royal Albert Hall.
This wasn't the only musical outing for Depp, who has also played with Alice Cooper's Hollywood Vampires, which was named after Cooper's star studded drinking club from the 70s.
The 59-year-old appears to be returning to normality after his messy divorce and subsequent legal losses and wins against ex-wife Amber Heard, 37,
He was awarded 10.3 million dollars (£8.43 million) for damage to his reputation after Heard wrote an op-ed discussing abuse she had suffered, never explicitly naming the Fantastic Beasts actor.
Aquaman actress Heard, later sought to appeal against the verdict before she made the 'very difficult decision' to settle her multimillion-dollar US defamation case against Depp.