Ant and Dec's became during the beloved Ring My Bell game.
The segment has become a real fan favourite, as and cut to Ring doorbells across the country, belonging to the studio audience.
Once the audience member has recognised their doorbell and shouted, 'Ding dong, that's my doorbell,' a neighbour has to run to the door, usually carrying a specified household item, and exclaim: 'Ring my bell!'
For the final game of the series, Ant and Dec went big, encouraging viewers to bring chairs, dirty laundry, and even ironing boards to their neighbours' doors.
However, madness ensued when one elderly lady showed up to a house at the wrong time.
Later revealing to that her name was Cynthia, the sweet old woman had absolutely no idea what was going on, having seemingly just popped round to her neighbour's house for a catch-up.
She didn't realise that she was live on primetime ITV, or that she had stumbled into a game, leaving everyone in stitches.
Oh, and she definitely didn't have any dirty laundry with her!
'What's your name? What's your name?', Ant repeatedly asked, trying to talk to the winner behind, who bagged herself and the audience member £500.
Of course, Cynthia thought he was talking to her, and kept sticking her head up to the camera and stating her name.
'It is chaos!', Ant laughed.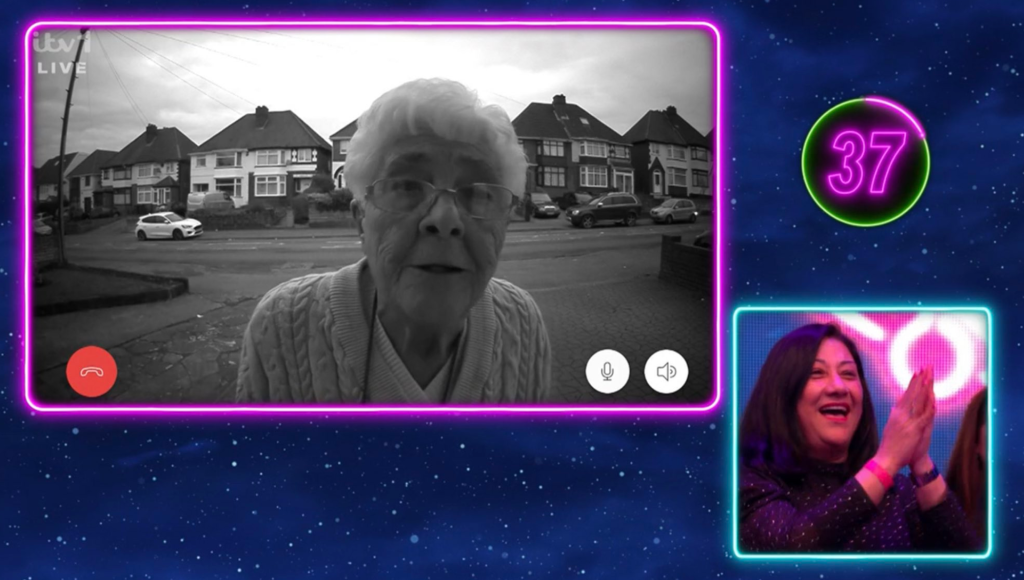 'Ok, Cynthia, if you could just move out the way, darling… Cynthia! Cynthia, darling,' he kept saying, but poor Cynthia was baffled.
'Not you! Not you! Not you!', Dec said, struggling to hold back his laughter as they tried to get the attention of the woman behind, while Cynthia failed to remove herself from the spotlight.
The presenters did have to move on, after failing to figure out the name or door number of the actual winner.
Ant assured she'd get the prize money, though, and made it clear that Cynthia would not, in fact, get anything.
Even when the game ended, Cynthia was still there on the doorstep, standing and waving at the camera.
Honestly, it was comedy gold – and viewers were obsessed.
'Think Cynthia was there by accident but that's the funniest TV moment of the year', one person tweeted.
'Oh my god ring my bell is so chaotic', another wrote.
'Crying at Cynthia', one viewer wrote, as others hailed her a 'national treasure'.
'Cynthia is a LEGEND!! Live TV is just brilliant!', another chuckled.
'GIVE CYNTHIA £500!!!!!!! NOW', one individual demanded.
Well, it just goes to show that anything really can happen when TV is live!
Ant and Dec's Saturday Night Takeaway continues Saturday at 7pm on ITV and ITVX.