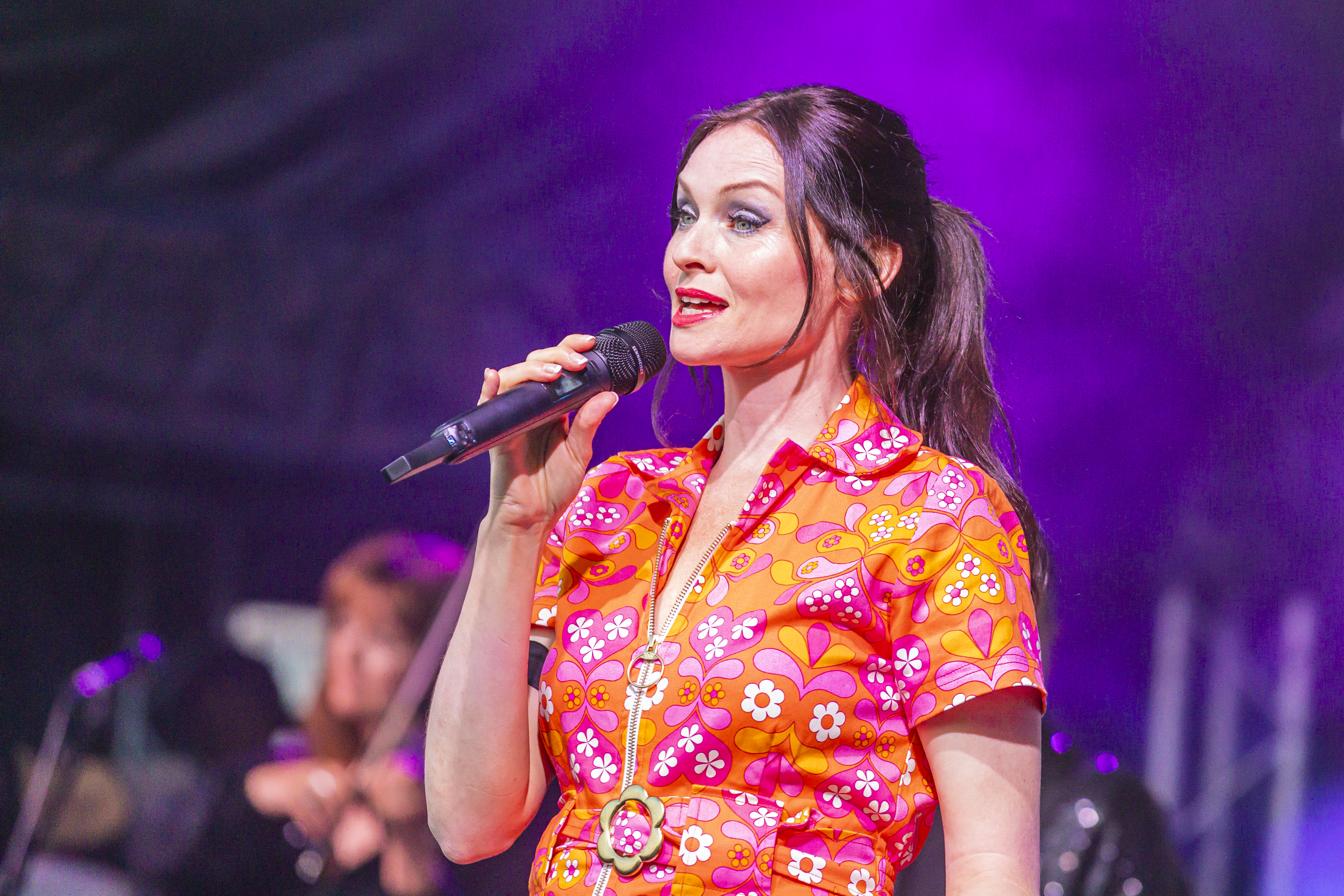 has been in the game for over 25 years and despite the arrival of five little ones, she's never taken her finger off the pulse.
The Murder On The Dancefloor singer, 43, Sonny, Kit, Ray, Jesse and youngest son Mickey with her husband and The Feeling's bassist Richard Jones.
Performing up and down the country, the star revealed she worked her music and admitted things were sometimes more difficult than they seemed.
She explained how she managed to keep all her plates spinning as she geared up to embark on another string of gigs following a packed-out festival season.
Speaking exclusively to Metro.co.uk ahead of her set at Cumbria's , the singer revealed what it was really like being a mum on tour.
Sophie shared: 'I've been feeling my own way, really. My next April so I've been a singer with a child for the majority of it now.
'But it's definitely something I think about a lot. I find it endlessly fascinating to hear how people's careers have been affected by being a mother.
'I suppose it's a little bit of the juggle and the compartmentalisation you have to do and feeling a bit torn sometimes and I think it's ongoing and some weeks I get to the end of it and I think, "Oh, I, I got it pretty good".'
The star went on to outline the hardships attached to being a musician and a mum: 'Other weeks I think, "Ah, I neglected my work a bit or I wasn't doing enough to make sure the kids feel like they've got everything they need".
'I think it's just a lot of solidarity – both the women that are in my band were also mums too, so I suppose there's lots of conversations that overlap.
'I'm lucky that I can shape my work a bit more around my kids. I think there's much harder jobs to have than being a musician, but it still comes with its own challenges.
'I run my own gig really. If I decide I want to bring my kids with me on the tour bus, then that's what happens. If I say I'm going to take that week off because it's half term, I can do that.
'The quandary is when you're basically running your own business, it's in you that you want to keep going – particularly if you adore what you do – and every musician I know finds turning down work really hard.'
Sophie teased details about her upcoming winter extravaganza she's called the Christmas Kitchen Tour.
'So, it's basically having a party with my songs, some covers that I'd done during the lockdown discos and just trying to have a really good party all together under one roof.
'I just thought Christmas is a pretty ripe time for parties and fun, so I just want to make it festive and cosy and have everybody leave with a bit of a spring in their step.
'I do take it really seriously that people come to see me. I just want to put as much as I can into it to make sure that people feel they made the right choice by spending their evening with me.'
Sophie Ellis-Bextor can't understand how musicians hate their most popular songs: 'Why would you not want that?'
Sophie Ellis-Bextor sheds light on rumours she could represent UK at Eurovision 2024