couldn't help but proudly kiss boyfriend as their budding romance heated up over the weekend.
The Cruel singer, 33, started dating the tight end, 34, last month and in the stands at his games since then.
She was back in the crowd to cheer her beau on at Arrowhead Stadium on Sunday and – which was clearly a good luck charm as the Chiefs beat the Los Angeles Chargers 31-17.
Chariah Gordon, girlfriend of wide receiver Mecole Hardman Jr, gave us all a sweet glimpse into their celebrations on Instagram, .
In one snap, the Grammy-winner posed beside the Super Bowl champion and hooked an arm around Chariah's shoulders as they smiled for the camera.
Another showed her reaching up to place a kiss on Travis' cheek, decked out in his team's colors.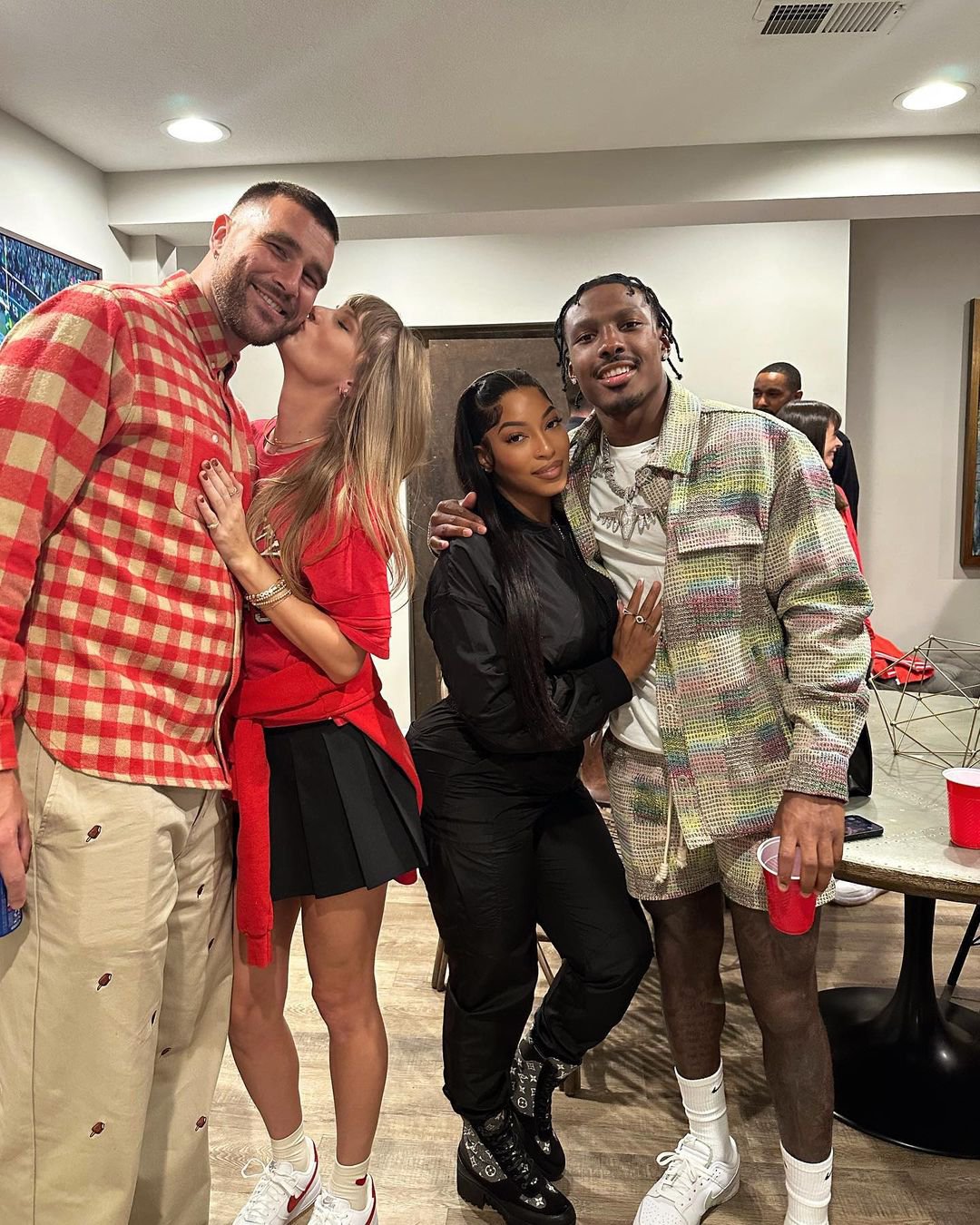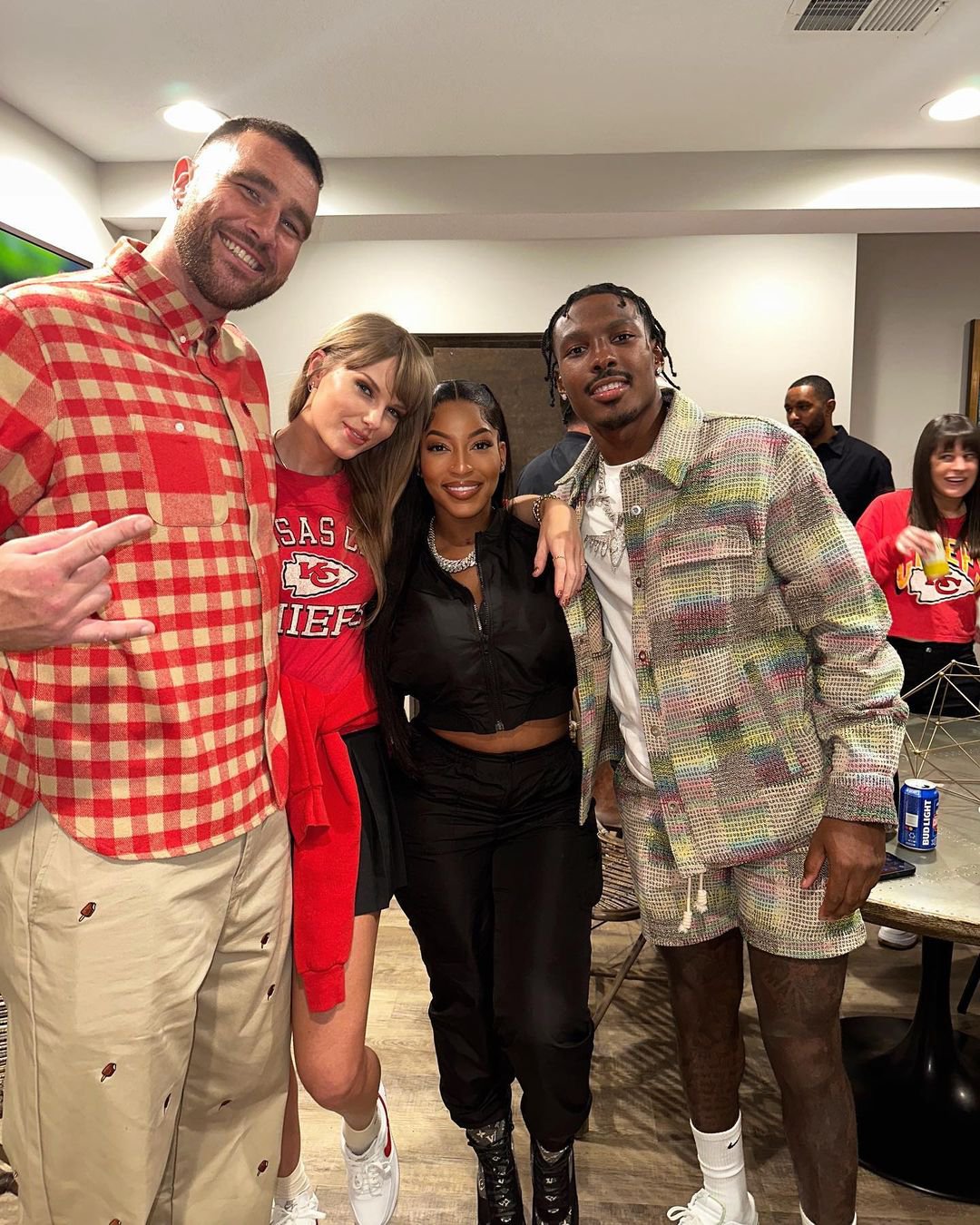 The last photo in the carousel saw Taylor and Chariah cozying up as they relaxed after the match.
Unsurprisingly, Swifties were living for the images and flooded the comments section with praise.
'This upload just broke the internet,' one penned.
'Now this is iconic,' another agreed.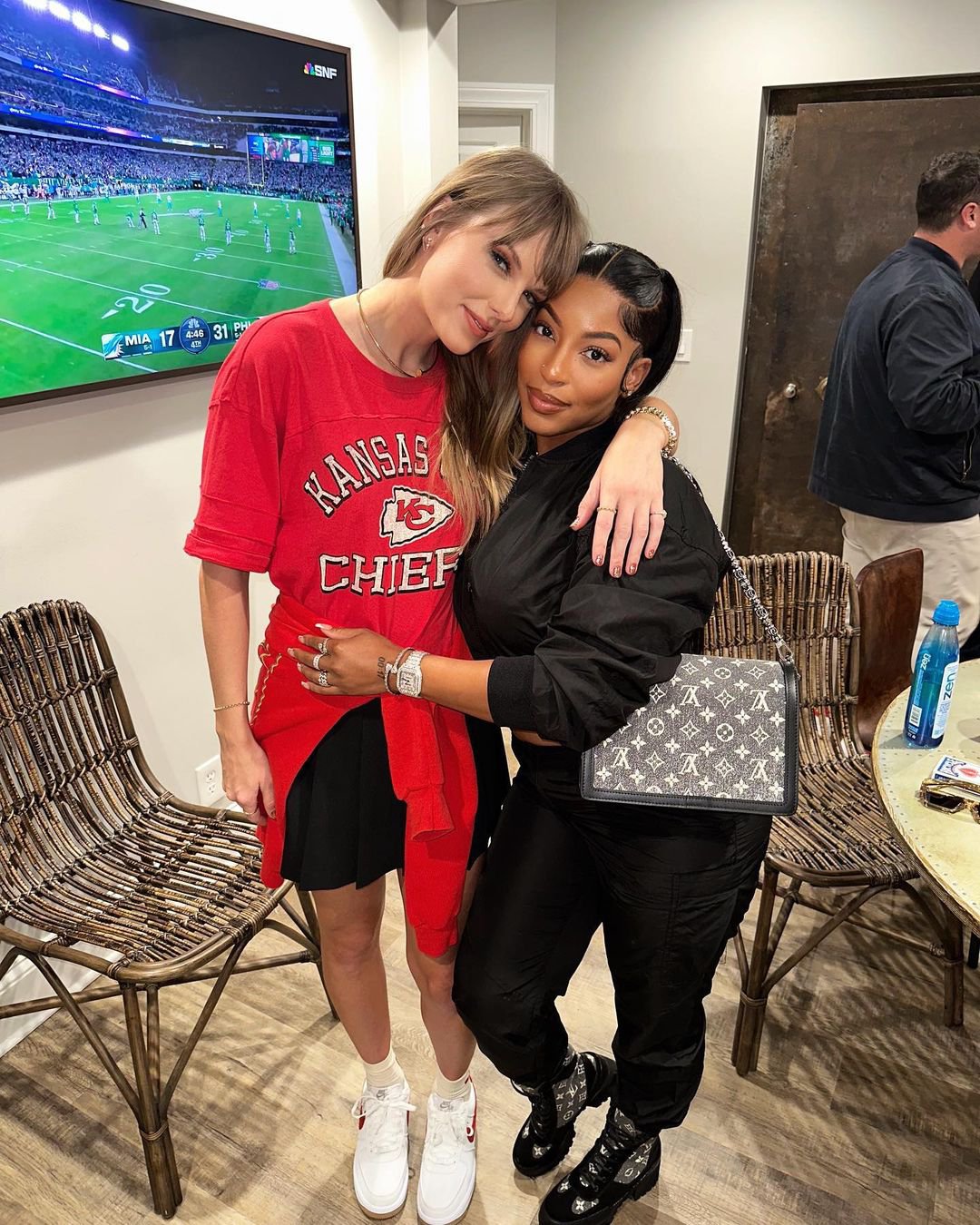 A follower wrote: 'It's giving OUR MAN OUR MANNNNN for both yall.'
As an Instagram user yelled: 'TWO QUEENS AND THEIR KENS WHOSE JOBS ARE BALL.'
Taylor and Travis were first romantically linked a few weeks ago, and have made countless headlines ever since.
The Shake It Off musician has almost become a permanent fixture at Chiefs games– and was previously joined by fellow A-Listers Blake Lively, Ryan Reynolds and Hugh Jackman for a match in New York.
While NFL ratings have been soaring thanks to her presence, Kelly Clarkson was recently forced to address comments that the coverage is 'taking over' the NFL for those who are just interested in the sport.
'It's not hilarious how it is literally taking over the NFL for people that like watching sports now,' she said on her chat show.
'It's like you're watching Housewives while you're watching. They're just talking about gossip things and you're like, so what about the play?'
Taking to Instagram shortly after, Kelly insisted that she has no issues with Taylor and Travis, and is just wanting to 'watch football'.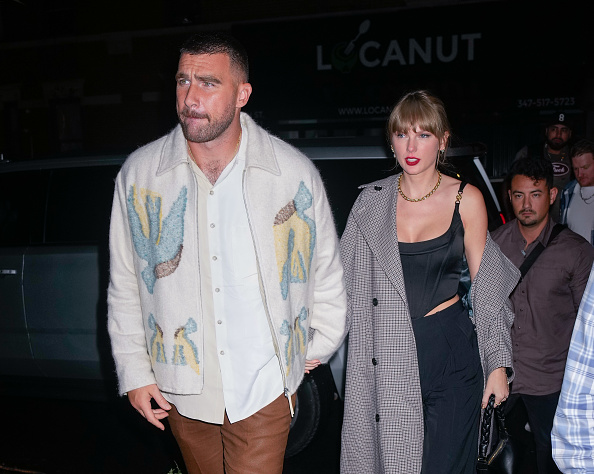 'Just a quick public service announcement everybody since this seems to be breaking news,' she began in a statement.
'Do not fall to fall prey to clickbait, trash reporters twisting the facts again. I did not bash anyone's romance.'
'I am pro romance. Yay romance [clapping hands emoji] Did y'all even watch what I actually said on my show? I just said I want to watch football when I tune in to watch football. Seems an appropriate request. Okay, carry on, and GO COWBOYS!'
Noted.