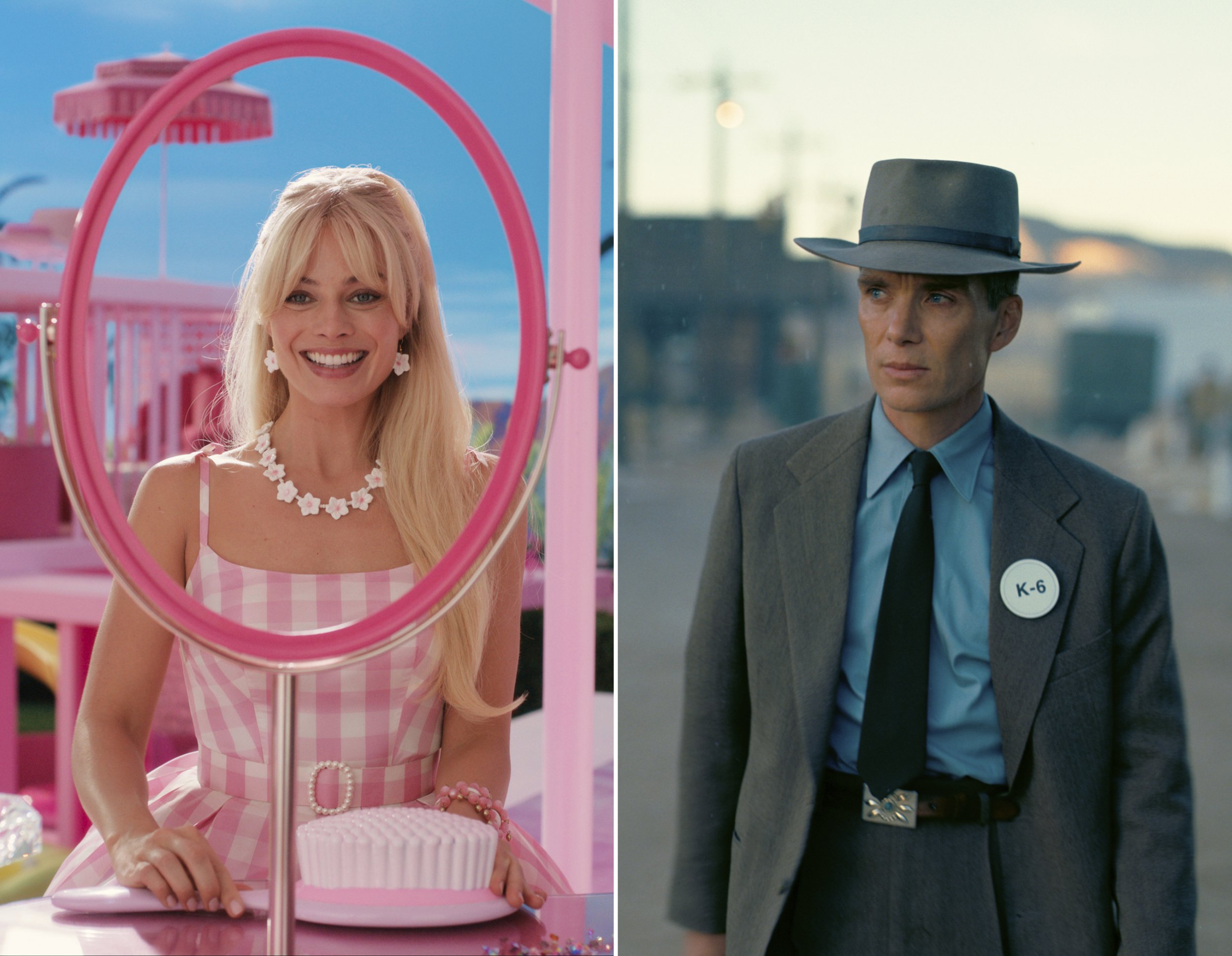 It's the film world's equivalent of 'The Dress' debate: which do you see first this weekend, or ? 
And I believe I have the solution.
While there have been plenty of releases to get excited about this year, '' is, without a doubt, the cinematic event of 2023.
For the uninitiated, the bonkers portmanteau refers to Barbie and Oppenheimer, two movies which surely couldn't seem any more different, yet share one key thing – their 21 July release date.
And yet each film more than deserves its own hype.
Christopher Nolan's Oppenheimer, his longest and possibly most ambitious movie yet, sees star as the WW2 physicist who invented the atomic bomb. The fact it will make for intense viewing, to say the least, should not come as a surprise.
Ambitious in entirely different ways, 's fuschia-hued flick sees as 'stereotypical Barbie' and as the blonde-haired, perma-tanned leading Ken. There are musical numbers, Helen Mirren as a fourth wall-breaking narrator and a soundtrack jam-packed with pop hits. Could it get any better?
Together though, the two films – Barbenheimer, if you will – have a power far greater.
Greta and Margot have already posed with their Oppenheimer tickets, Cillian can't wait to see Barbie and even Tom Cruise, who features in neither, has been asked what his plan is (he's seeing Oppenheimer on Friday, and Barbie on Saturday).
Box office experts are predicting the biggest weekend opening figures since pre-pandemic and it's thanks to the same question on everyone's lips. The fact that nobody is asking which film you will see, but rather what order you'll watch them in.
Some moviegoers have even admitted to purchasing back-to-back tickets, in a five-hour-long double bill.
It's something I've pre booked for today – and I know I have chosen the correct order for viewing the masterpieces.
The short answer is: Barbie followed by Oppenheimer, with a break of an hour and a half (just enough time for dinner) in between. Watching the heavier of the two films second may seem like the 'wrong' way around but, quite simply, it's not.
Let's recap Oppenheimer, first. The three hour and nine second film sees Cillian Murphy give 'the performance of his life' as the titular scientist, who changed the course of history and geopolitics with the invention of the world's first weapons of mass destruction.
The film includes a recreation of the first ever detonation of an atomic bomb at the Trinity test site in the New Mexico desert in 1945. Just weeks later, the US dropped bombs on the Japanese cities of Hiroshima and Nagasaki.
The film will cover these events as well as the decades that followed, when Oppenheimer struggled mentally with the world-altering impact of his work – and the world faced a terrifying new reality.
'Some people leave the movie absolutely devastated. They can't speak,' Nolan said, of the film's early screenings.
'It is an intense experience, because it's an intense story. I showed it to a filmmaker recently who said it's kind of a horror movie. I don't disagree,' he added.
Barbie will be a real struggle if you still have pins, needles and a sense of moral panic from seeing Oppenheimer first
Greta Gerwig is an Oscar-nominee, but she's not a magician – and if you decide to see Oppenheimer first, expecting Barbie to lift you out of an emotional black hole that big is simply too much to ask.
Oppenheimer is a film that will need, deserve and demand to be thought about in depth afterwards. Fully immersing yourself in Barbie Land straight away would take mental compartmentalisation on extreme levels.
Also, unless you want to stay awake until the early hours, any sensible double bill needs to begin in the afternoon.
Do you want to come out of the cinema after Oppenheimer and be met with gleaming sunshine and the sound of people enjoying Friday after-work drinks? Then pop back into the cinema for another two hours in bubblegum-pink Barbie-core fantasyland? Didn't think so.
You want to emerge in total darkness and go home (then, possibly spiral into panic about the state of the world, but I take no responsibility if that happens).
Barbie on the other hand is built for a weekend afternoon. Gerwig's stunning recreation of Barbie's Dreamhouse – featured in Architectural Digest, no less – screams summertime. Critics have heaped praise on the which 'dares you to laugh and cry', while calling for Ryan Gosling to receive an Oscar nomination.
The musical numbers look suitably fantastical, the soundtrack has been overseen by Oscar winner Mark Ronson and includes contributions from pop's finest; Dua Lipa (whose song is already in the UK charts), Charli XCX, Sam Smith, Lizzo and Billie Eilish.
Basically, if you see Barbie first, you can emerge into the light with a pop banger firmly lodged in your mind as you join friends for a drink. It'll lighten the load before Oppenheimer.
This doesn't make Barbie a lesser film, far from it. Oppenheimer isn't automatically 'better' or more deserving of acclaim just because it's a WW2 biopic.
Barbie will deserve to be thought about after, too. Except, it also deserves your full attention in the cinema.

Which film will you be seeing first? Have your say in the comments belowComment Now
It'll be a real struggle if you still have pins, needles and a sense of moral panic from seeing Oppenheimer first.
Depending on when you read this, I could be part way through either film, breaking in between or done with both.
But going into the mammoth cinema session, I feel confident in my decision and honestly, just so delighted to be watching new movies from two of my favourite directors back-to-back. We often hear about 'event television' but this is event cinema – Twitter may be in its final days, but I can't wait to discuss the films and see all of the memes after.
And hey, if I need a pick-me-up next week, I can always book in for another screening of Barbie, right?
Do you have a story you'd like to share? Get in touch by emailing [email protected]. 
Share your views in the comments below.