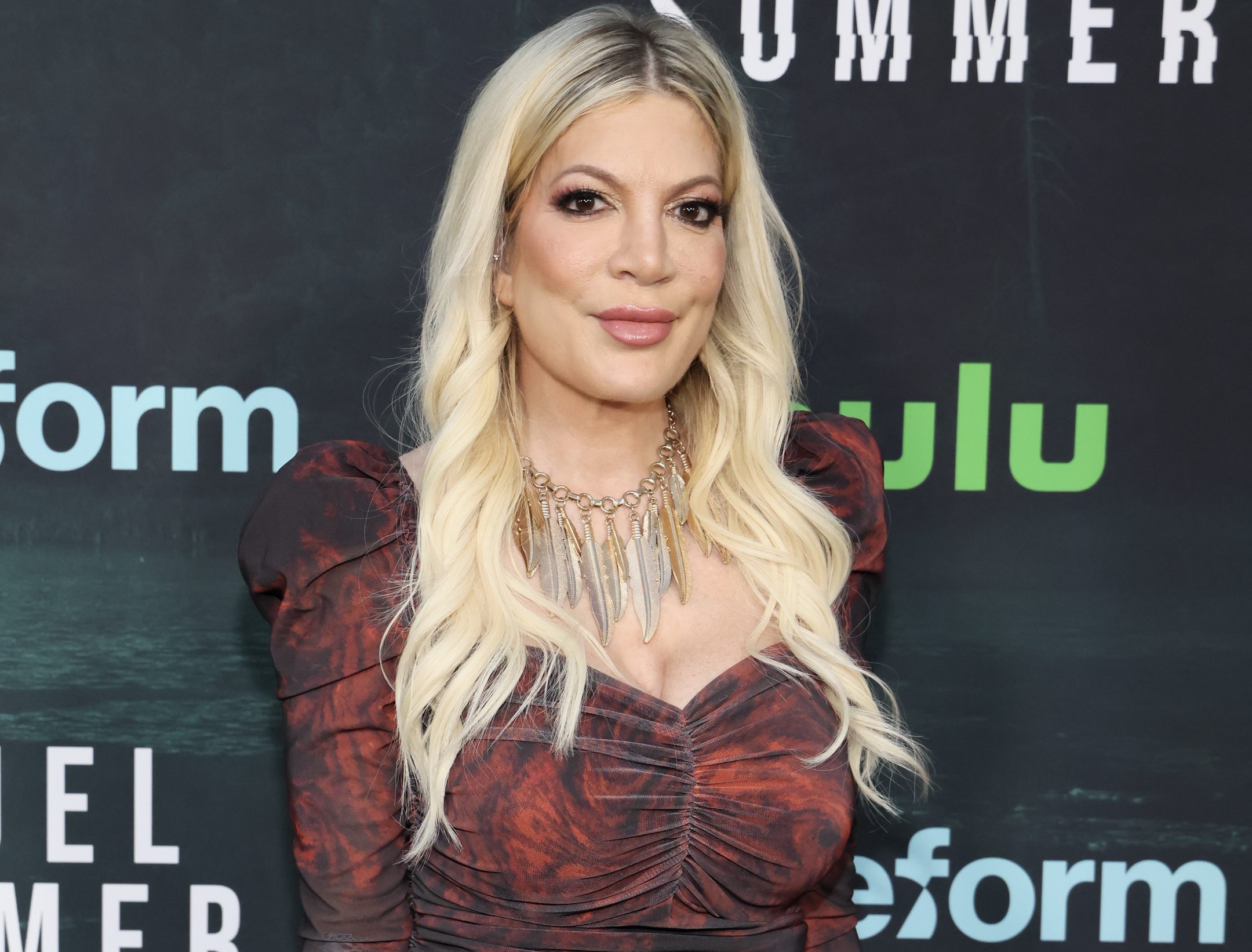 Tori Spelling is said to be staying in an RV with her five children after they were forced to temporarily leave their home, it has been claimed.
The Beverly Hills: 90210 actress had had a tough few months, , after 18 years together.
New pictures emerged of the 50-year-old with her brood, Liam, Stella, Hattie, Finn and Beau, as they relaxed in front of the RV, which was parked up in California.
In photos obtained by , the matriarch could be seen organizing her children in front of the vehicle, where they placed camping chairs on a blanket outside during a 'mini vacation'.
The family are thought to have briefly vacated their house over a mold infestation, and are now staying in the campground.
However, an insider has claimed that the mom-of-five is 'struggling monetarily' amid her housing issues.
'Tori has been struggling monetarily speaking. The mold situation is real, but it has been difficult for her to find a place to stay during it because her financial situation is not great,' a source told .
'Tori is doing her best to make things work and take care of her kids.
'Tori is staying in an RV with her kids as a mini vacation rather than a living situation, but her financial troubles are real.'
The actress previously revealed that her family had been on a 'spiral of sickness' for months, after which they discovered 'extreme mold' in their home.
In a lengthy post shared on Instagram in May, showing her children spending time in hospital, the Scream 2 star began: 'Here we are again at Urgent Care. We've all been on this continual spiral of sickness for months. Sick. Get better. To get sick again.
'Used to think… well that's what happens when you have young kids in school. They just continually bring sicknesses home. But, when it gets to the point where they are at home sick more than being in school we had to reassess what was going on.
'Kids will be kids but when you have your youngest (10 and 6) so sick they are sleeping all day and say they feel dizzy even standing I knew something bigger was going on.'
'Enter Mold inspection! Thx to Sean at Pacific Scope Inspections who came out and discovered extreme mold in our home,' she continued. 'The pieces all started to fall into place.
'Has anyone ever been thru Mold Infections? You just keep getting sick, one infection after another. Respiratory infections. Extreme allergy like symptoms too and like my poor Finn skin rashes as well.
'We now know that when the house was labeled a health hazard and not live able that wording was FACT. We now GET IT! It's hard to just uproot a huge family especially in midst of all feeling so sick and in bed. But, we now will vacate the home asap [sic].'
Discussing their housing plans, Tori added: 'Looking for an @airbnb or @vrbo or hotel till we can even grasp what to do. We are just renters so looks like moving is in our eminent future as well. Grateful we have renters insurance. We'd be lost how to tackle this without.
'Has anyone been thru Mold sickness? The deeper dive I do online sadly I see how common this is [sic].'
Metro.co.uk has contacted Tori's reps for a comment.