We've all been firmly in mode for a while now, with the excitement peaking tonight for Saturday's Grand Finals.
The 2023 event is, of course, off the back of Sam Ryder's incredible performance last year which saw him come second after Ukraine's Kalush Orchestra.
Since Eurovision could not be held in Ukraine because of the ongoing war with Russia, the which sees both cultures showcased on the international stage.
All this week we've been lucky enough to be madness in Liverpool, from parties on the train to catching up with some of the acts, including and.
(Not to mention to the, and getting for Baileys cocktails and a DJ set.)
We were also given the grand tour of backstage at the M&S Arena to see how exactly it's all put together, and the hundreds of staff working tirelessly to ensure things go off without a hitch for both live semi-finals and the Grand Final – which is watched by millions each year.
After meeting outside the arena, hiding from the heavy rain that exploded without warning on Thursday afternoon, we were brought through security and around the back of the building, where we were greeted by food and coffee fans ready to keep staff, guests and performers fed as they put their all into making the shows ones to remember.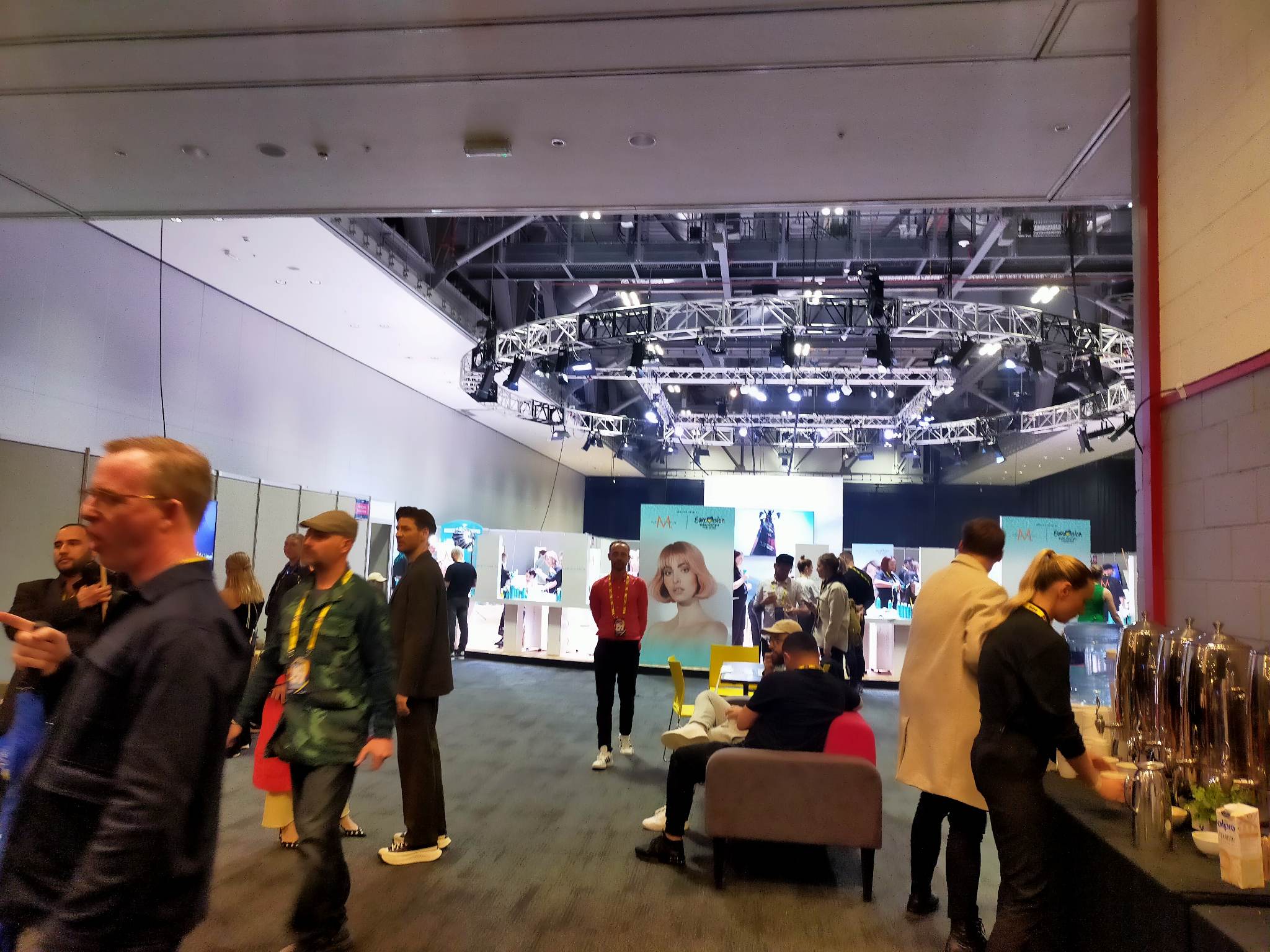 Our tour guide, who usually works for BBC Radio Lincolnshire but had spent the last two weeks in Liverpool prepping for the massive show and was absolutlely buzzing about it, revealed that the tour we were going on now was given for the first time to King Charles – so, you know, casual.
We were first brought into a long, wide corridor where people milled about or relaxed on sofas, which is where the acts and their delegations – which can include staff, friends or family members – spend their time before shows when they're not rehearsing or getting ready.
Heading underground in a lift, we were then greeted by a pop-up salon: this year's sponsors Moroccanoil had 28 different hairstylists on the go, with every effort having been made to have stylists who between them spoke the language of every act.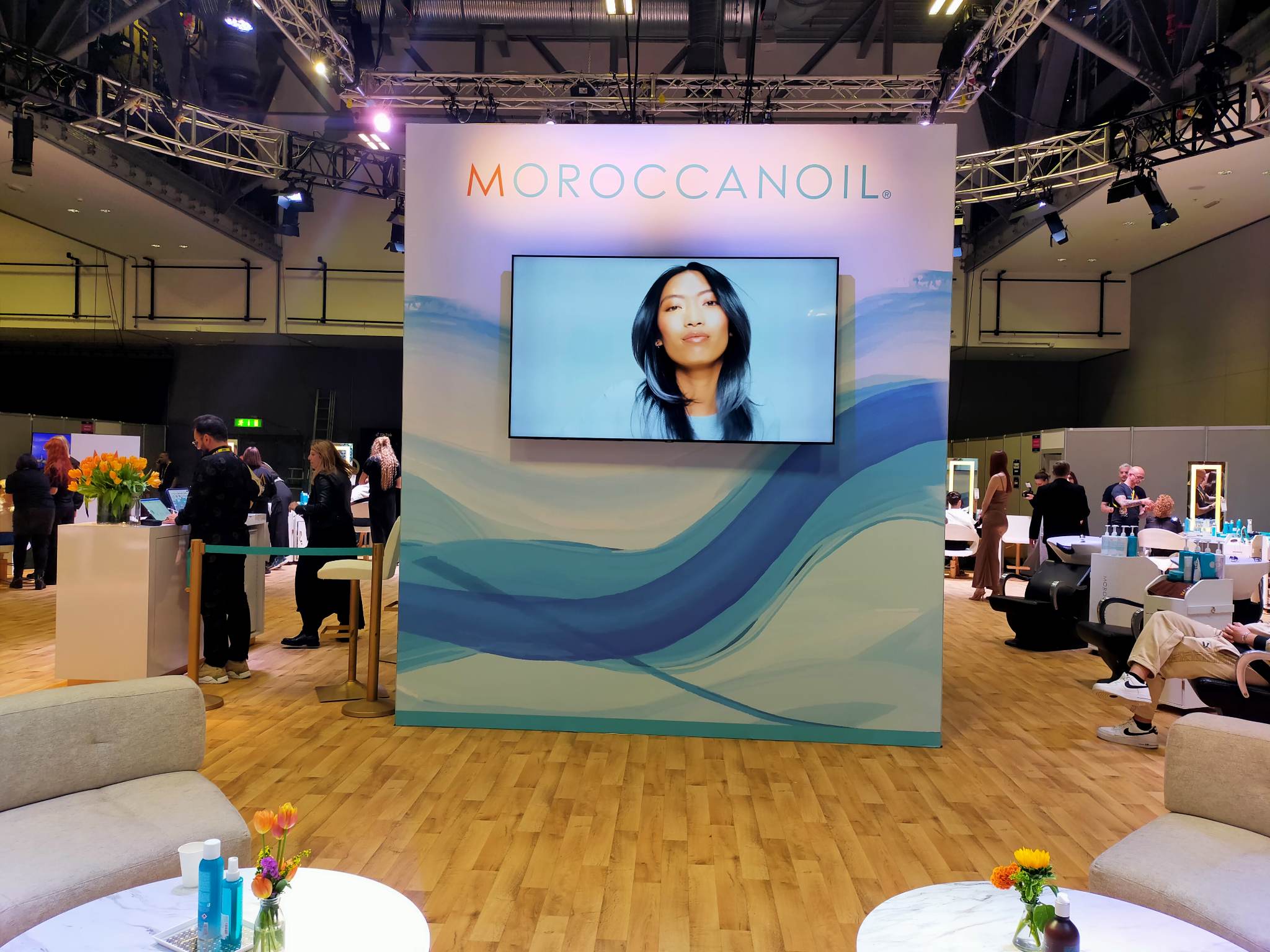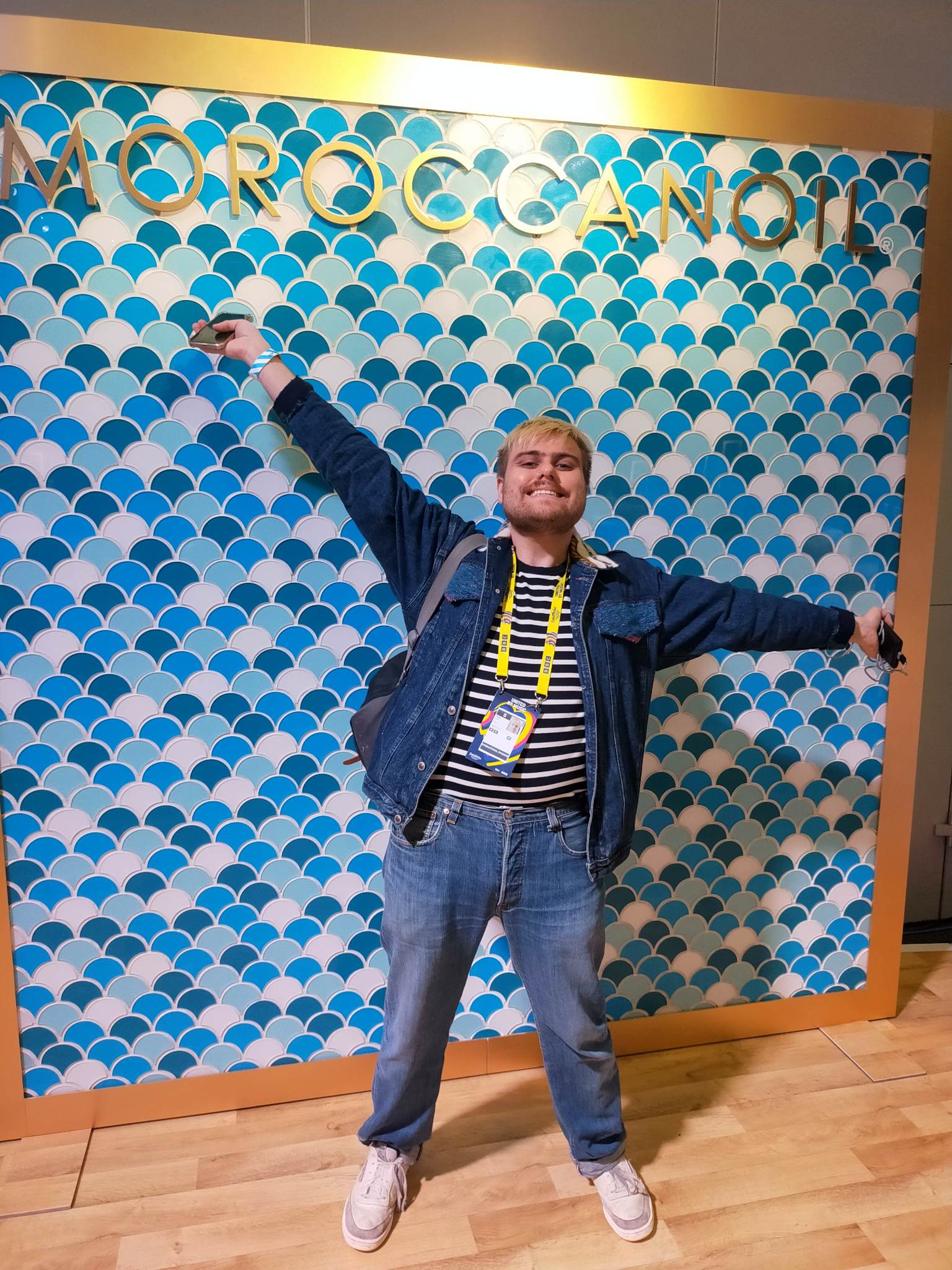 We learned, in the large room with the pop-up circular salon acting as the centrepiece, that they had 1,000 litres of hairspray, 100 hair pieces, 5,000 hair pins and 3,000 makeup brushes.
'And that's just for Rylan,' one of our guides joked.
Also in this room, which was clearly the busiest and main bubble of activity, we saw dressing rooms that the acts – and other stars – would use.
The arena had 26 dressing rooms on the go, with our guides explaining that before countries were eliminated during the semi-finals, acts would have to share the use of dressing rooms by swapping in and out when they were in use, before finally, only those through to the Grand Finals would have sole use of their own room.
We caught a glimpse of BBC presenter Rylan Clark's dressing room, and in an insight into Eurovision humour, noticed his name was not on the door, as it had been replaced by a sign bearing the name Peppa Pig.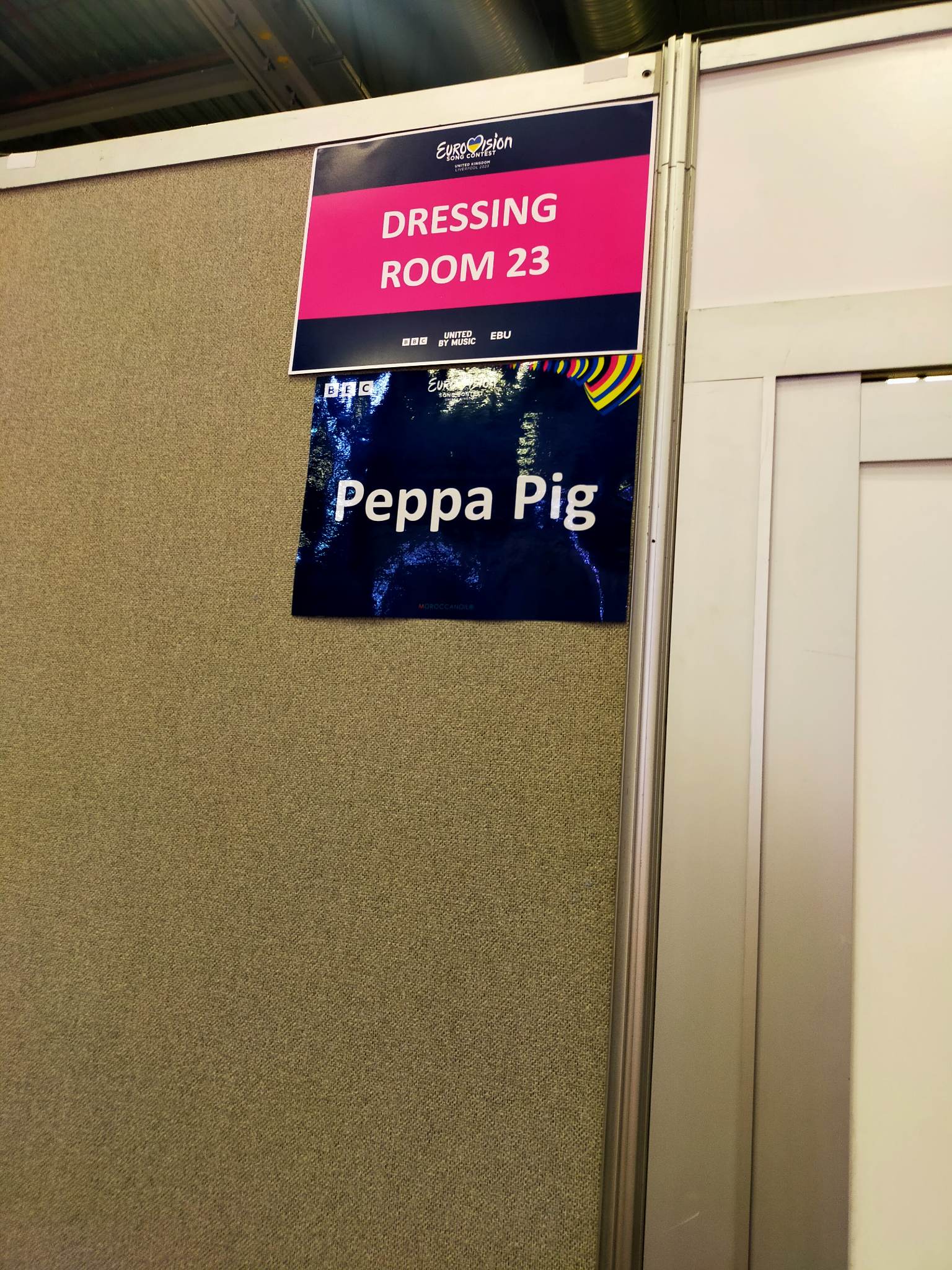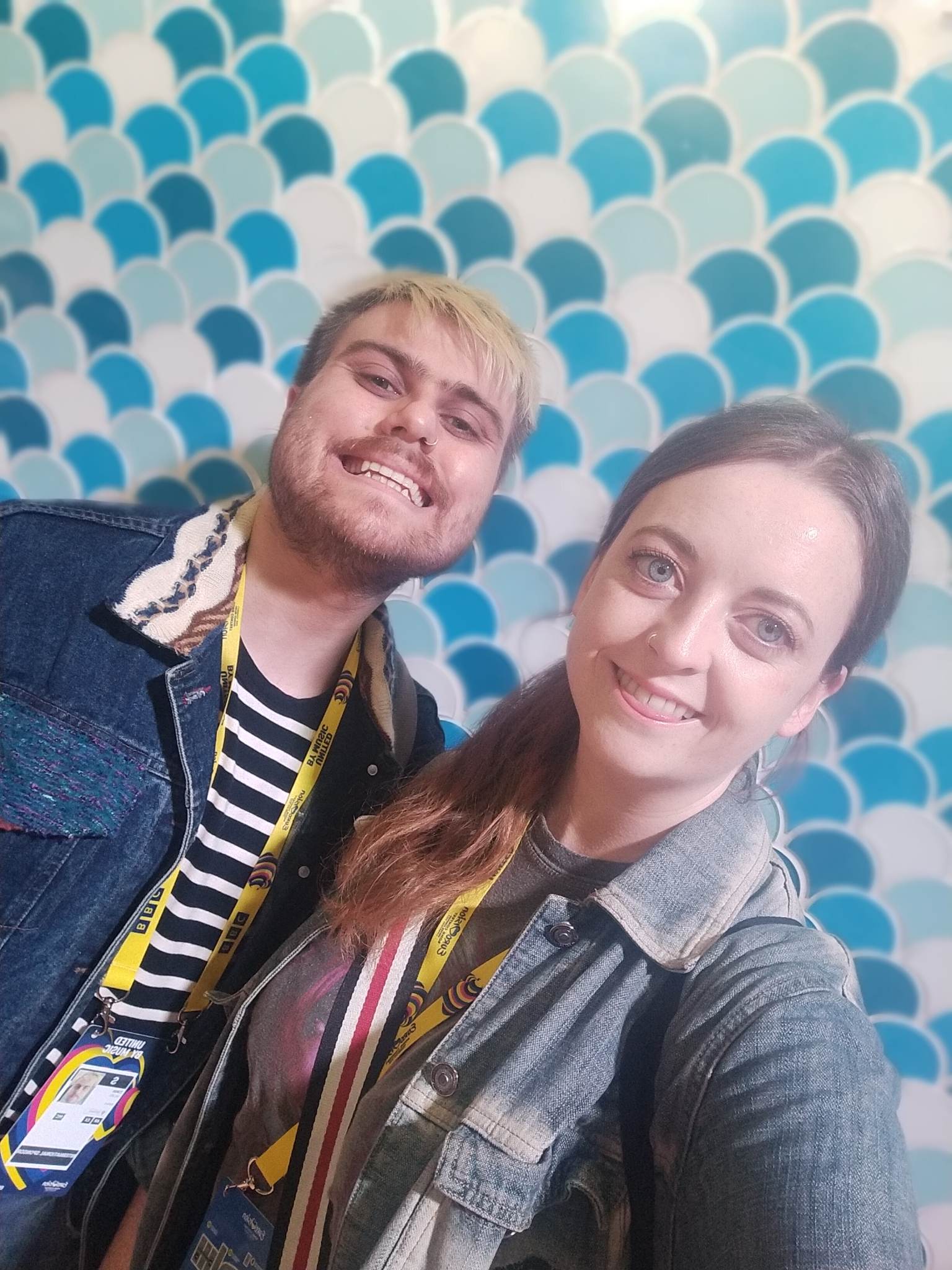 During the second night of the semi finals, the famous cartoon pig mae a bonkers surprise appearance during the interval as she left a conga line through the M&S Bank Arena.
And Rylan told fans watching from home via a voice-over: 'That's Peppa Pig, wh now has my dressing room. My dressing room was removed today, it used to say Rylan, now says Peppa Pig.'
We are happy to confirm that this was not a joke – her name was there, clear as day. Poor Rylan.
As well as getting to explore the salon, including gorgeous props including baby blue phoneboxes and glittering walls, we also got to meet a very special guest – six-month-old spaniel puppy Iggy, who was being trained as a security dog.
Iggy proved the main event of the room, with everyone coming over for a picture and a cuddle, even as the Eurovision acts walked casually around us – we even caught a glimpse of Graham Norton, looking very busy indeed as he prepared for a quick cameo on Thursday night's show.
We were led deeper into the arena and got to see the side of stage, where acts wait nervously for their turn to impress the audience and voters watching from across the world.
With so many countries competing, and up to six people on stage for the set – not to mention staff having just 40 seconds in between acts to get everything in perfect position before cameras roll live on the stage again – organisers have developed some tricks to keep everything running as smoothly a possible.
And it's nothing fancy – just six coloured boxes, found in various areas of backstage.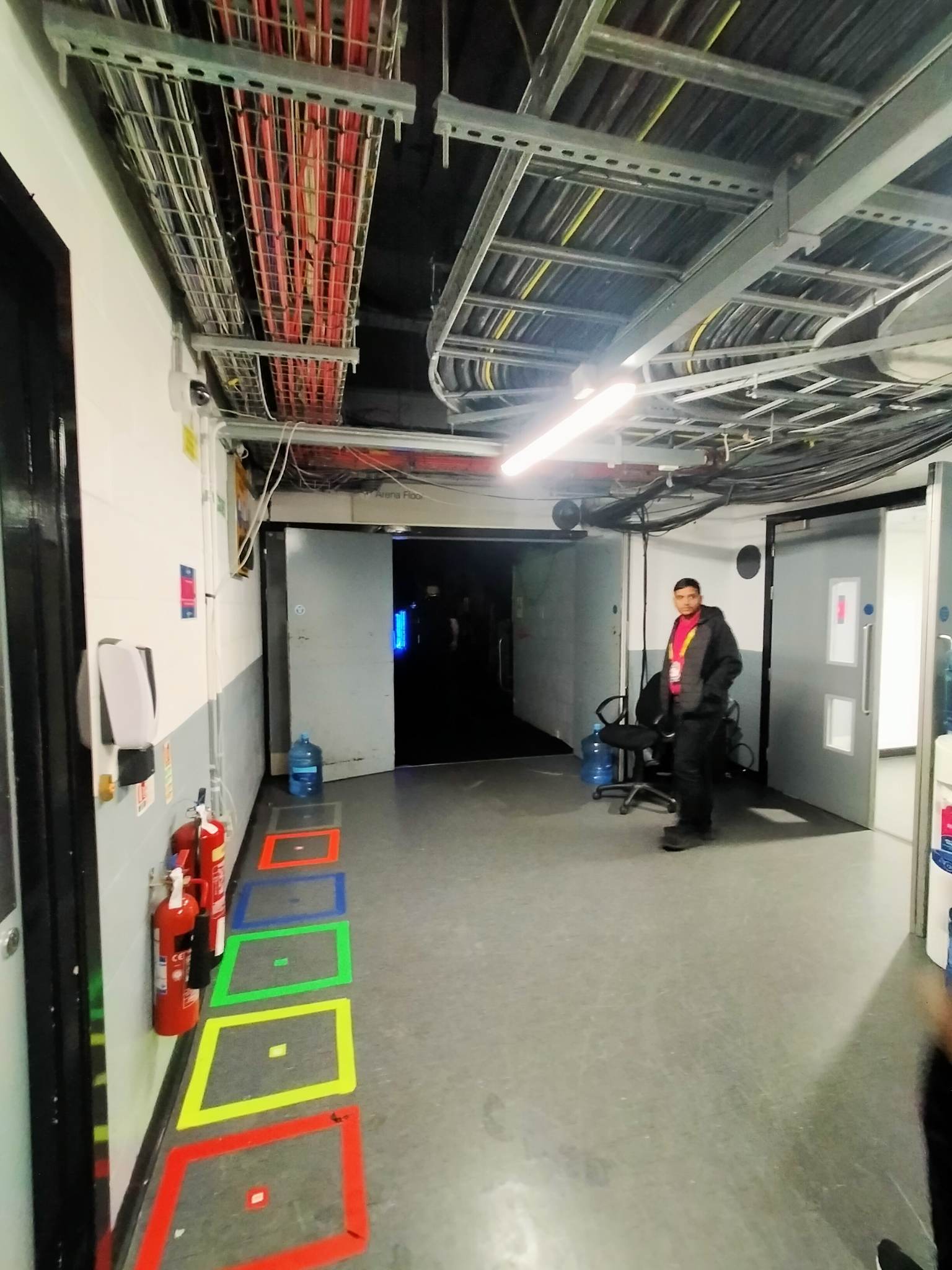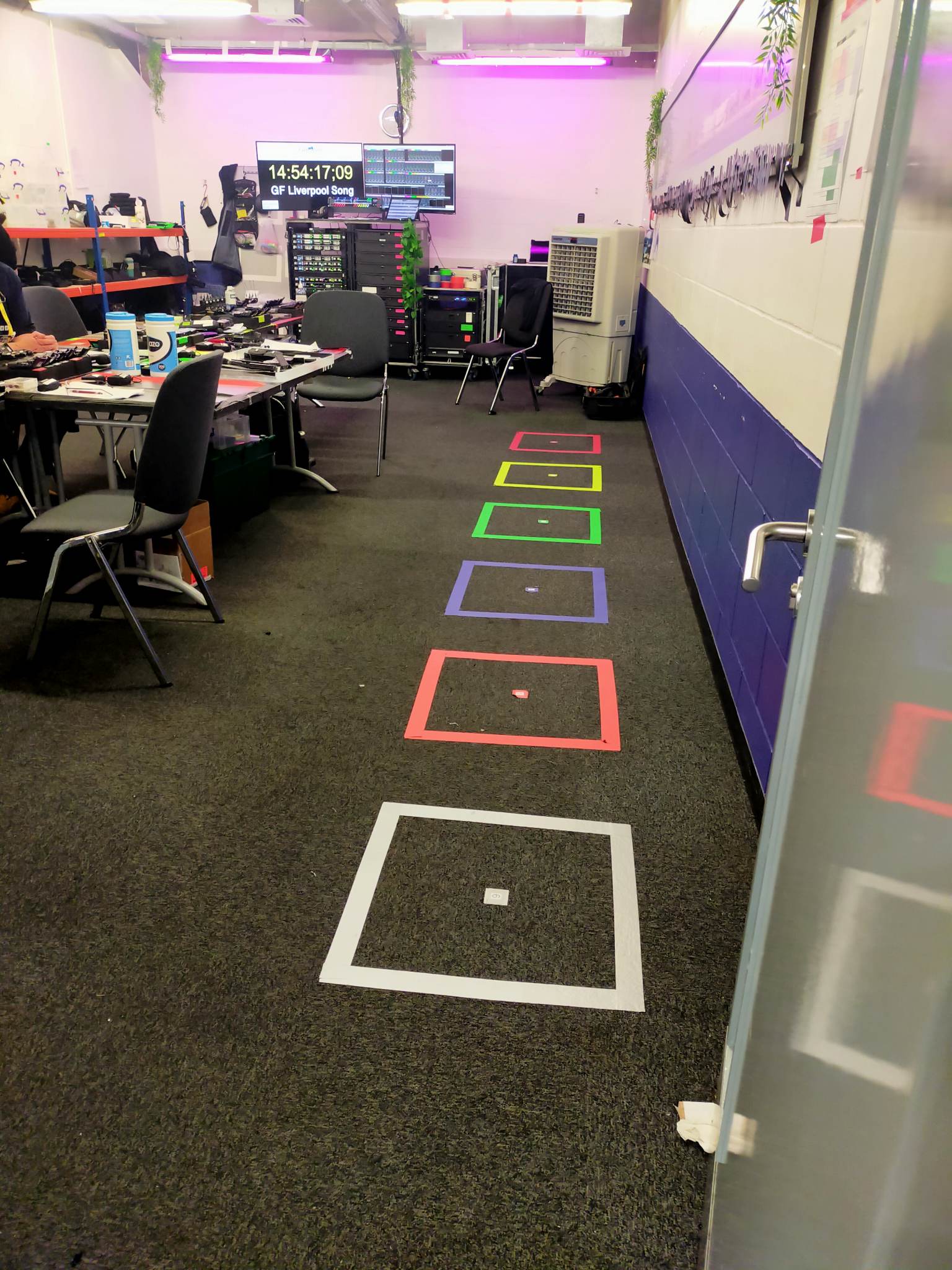 Each country is assigned a colour, as there are so many acts taking place and crew would not be able to learn each of their names and the names of every person they have on stage with them, so to keep things simple they stand in the box of their colour so crews know everyone who is meant to be there, is.
We were then shown to 'the hottest room in Liverpool' – not a club, but literally the hottest room in Liverpool, chock full of computers, which controls everything on stage but the sound.
The set-up of the stage this year is incredible, with massive screens absolutely everywhere, even the stage floor itself, and all the magic happens in this small, warm room.
Our tour guide spoke proudly of the work that had gone into hosting Eurovision, and how it was important to ensure it felt like a celebration of Ukraine – backstage Ukrainian flags hung from walls and doors, and Ukrainian camera equipment company Opertec is heavily involved in the show.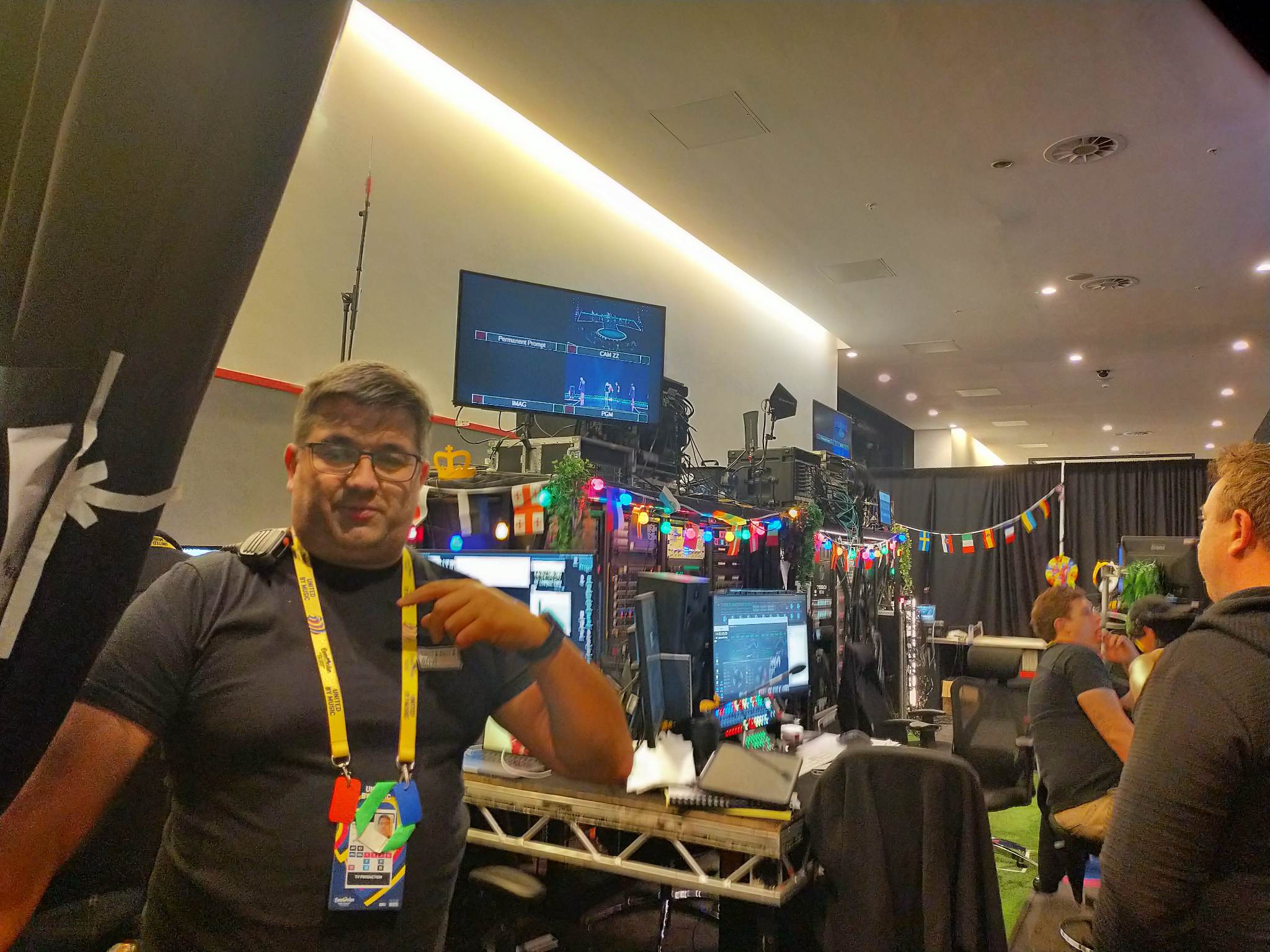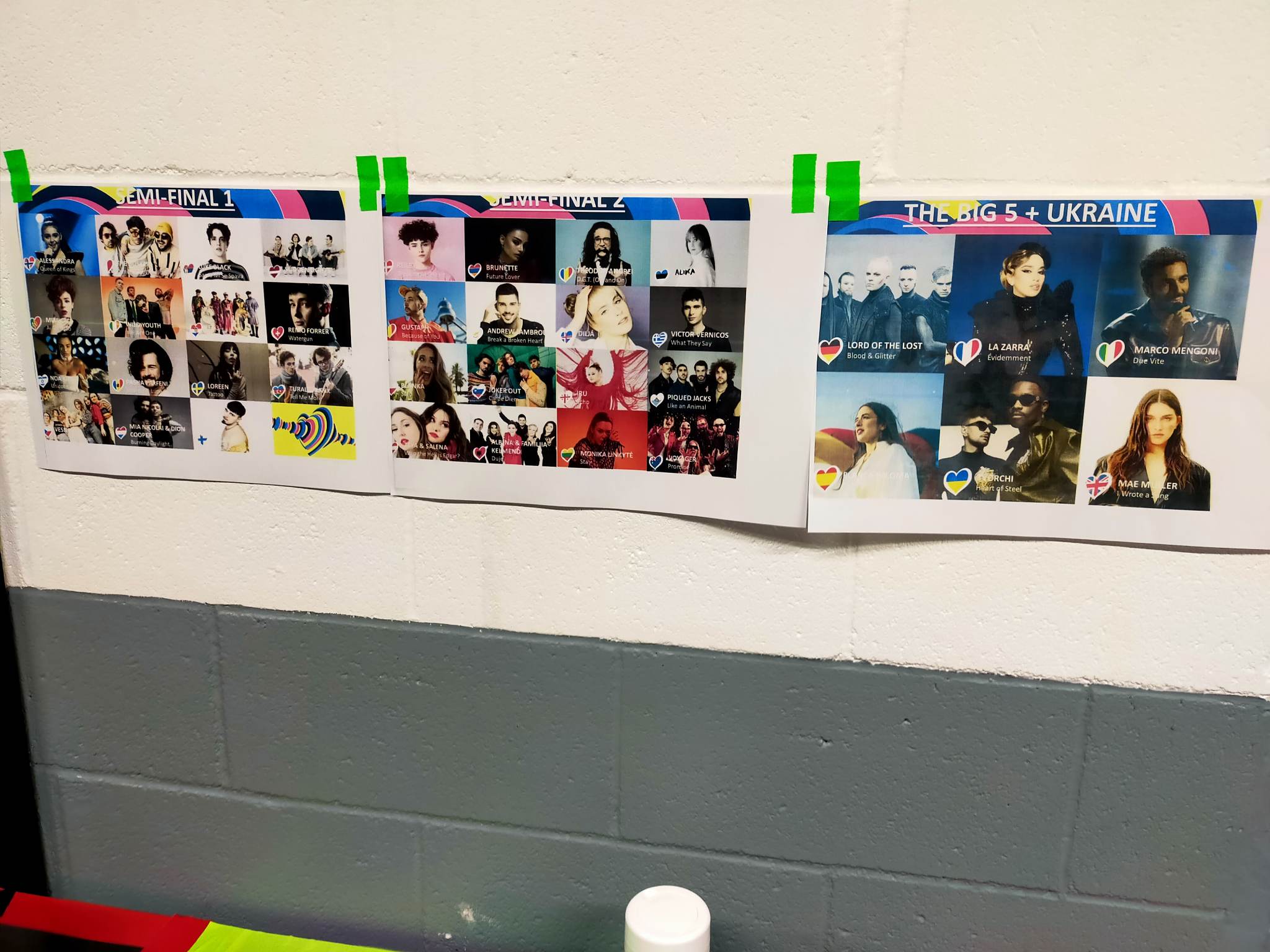 However, as our host pointed out, 'They would have been here anyway as they're the best in the business.'
The lighting department was equally impressive, as it should be – there are 23,700 individual light sources at Eurovision, and as our guide put it, 'half of all lighting on stages in the UK is in that room.'
Incredibly, some people working on the lighting for one of the biggest live events of the year are in fact college students – we can only imagine how that will look on the CV.
In among all the serious hard work and impeccable organisation, we caught glimpses of other aspects of Eurovision, such as the Progress Pride flag draped over doorways.
(And a googly-eyed giraffe pasted to the door, which was just class.)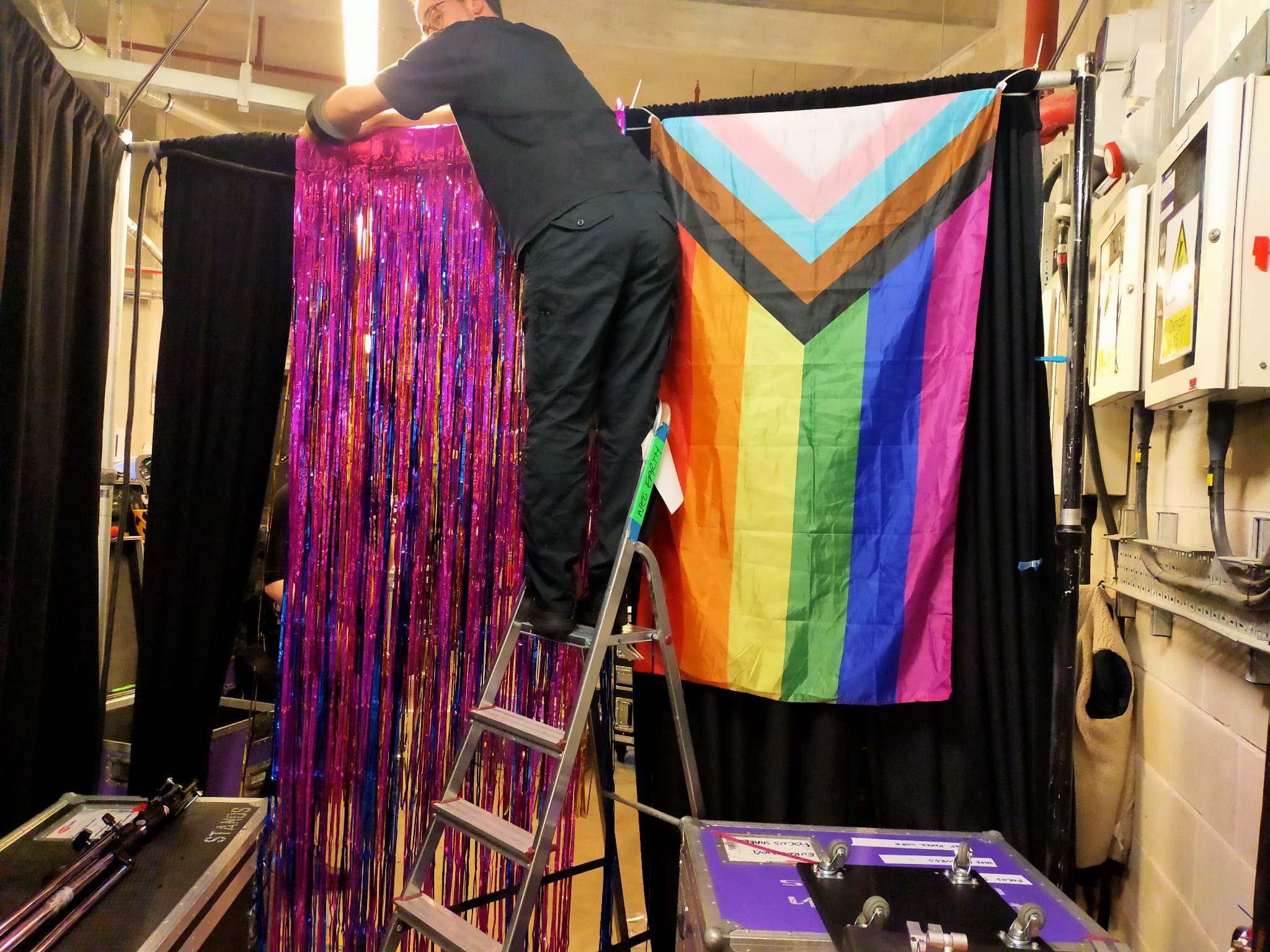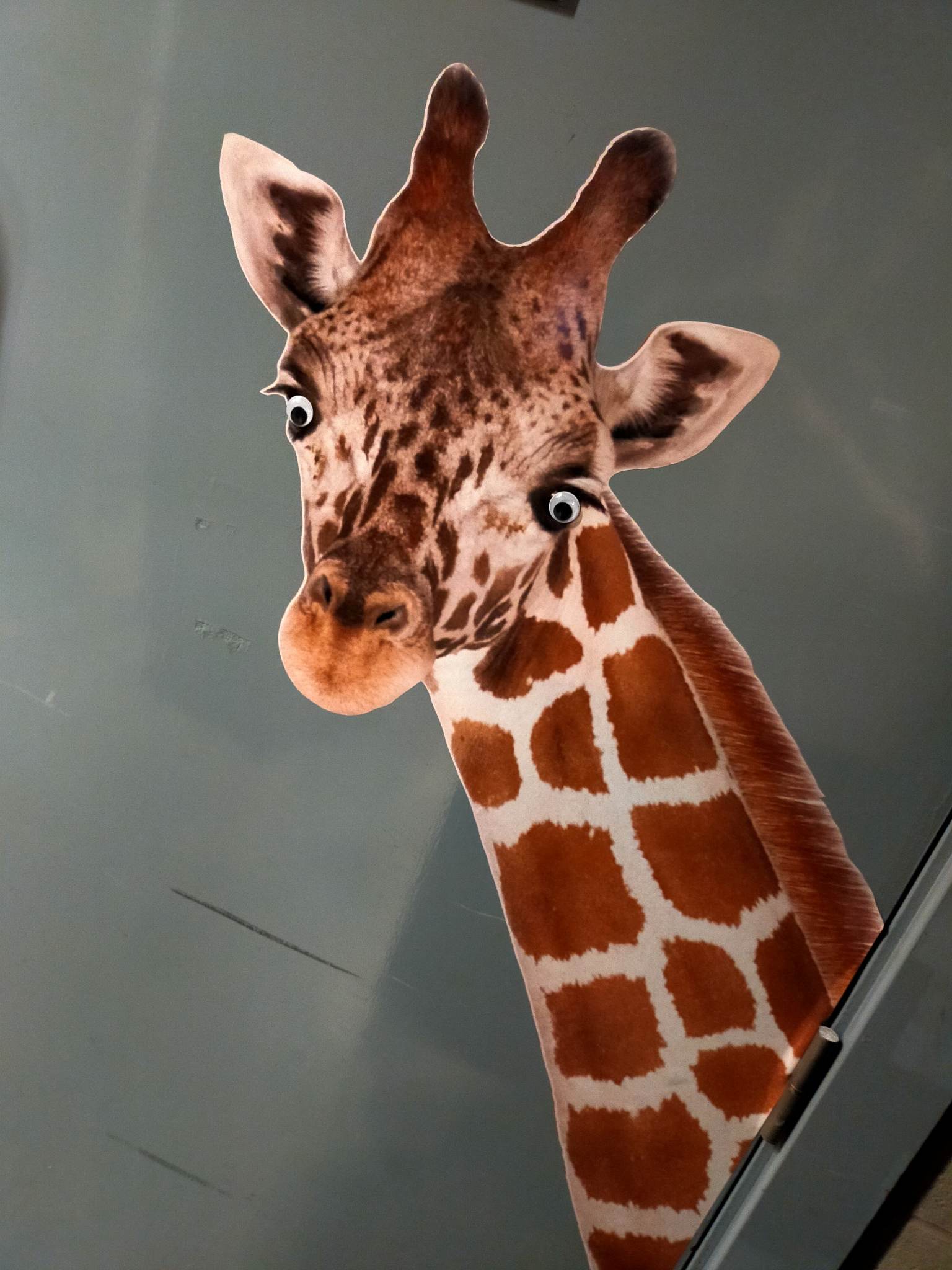 The only thing we didn't get to see waws the stage itself, as the acts were currently doing closed rehearsals for that night's live semi-finals – and there were surprises in store that we couldn't know about just yet.
It's jaw-dropping to see first-hand the amount of work that goes into hosting something as massive as Eurovision – the sheer number of staff involved in all aspects from lighting, security, hair and makeup.
Liverpool has already been majorly praised for how smoothly things are running and how the entire city seems to have got on board with celebrating Eurovision.
It will almost feel strange once the contest is over and the staff and acts pack up and leave the city, and the M&S returns to playing host to different shows eveery night.
But thanks to the immense hard work of everyone involved, Eurovision 2023 in Liverpool is not one likely to be forgotten any time soon.