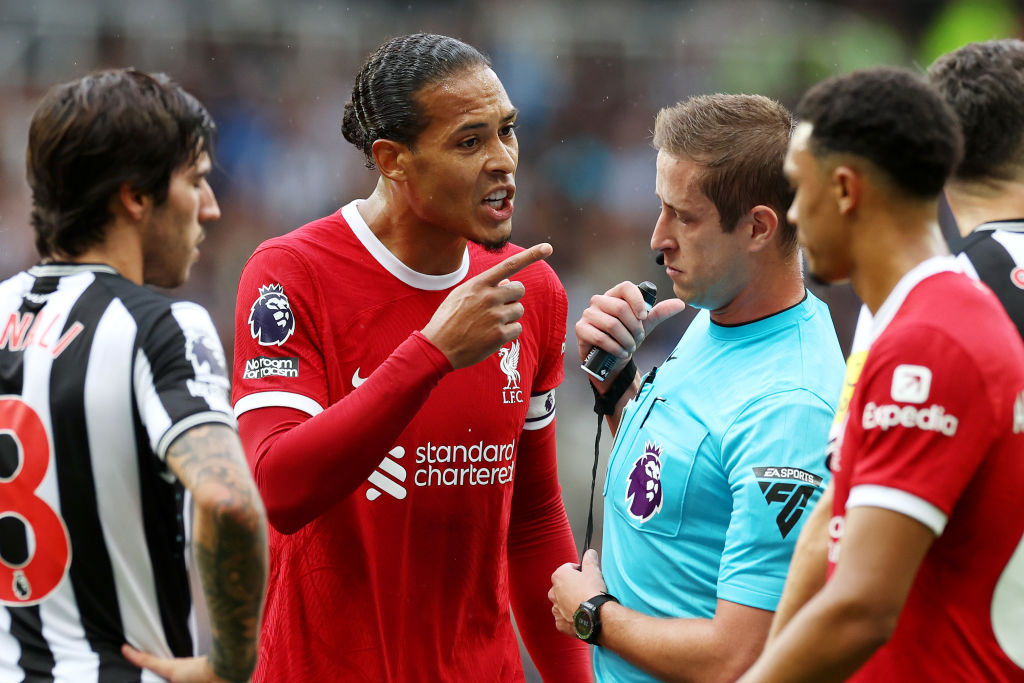 Liverpool captain could face further punishment by the Football Association over his reaction to being sent off against Newcastle, according to reports.
The Merseysiders appeared to be on the ropes at St James' Park on Sunday when, just three minutes after conceding the game's opening goal, for clattering Alexander Isak and denying a clear goalscoring opportunity.
Newcastle had opportunities to put the game to bed, with Miguel Almiron forcing a particularly brilliant save from Alisson, before came off the bench to stun the home crowd with a late brace that secured an unlikely 2-1 victory for the 10-man visitors.
Van Dijk was sent off in somewhat contentious fashion, with manager adamant the challenge was not worthy of a red card.
Both the Liverpool manager and his skipper were livid at the time, with Van Dijk spending a long time on the pitch arguing his case before finally heading down the tunnel several minutes later.
According to , his actions – and initial refusal to leave the pitch – could land him in hot water with the FA and incur an additional punishment for confrontational behaviour.
The 32-year-old will definitely serve a one-match ban which will see him miss next week's home match against Aston Villa, but Liverpool will now be sweating over whether any further action is taken.
Van Dijk pointed his finger in the face of referee John Brooks, who recoiled, and also appeared to use foul language as he initially refused to leave the pitch.
When he eventually did so, he also berated the fourth official Craig Pawson and seemed to shout 'f***ing joke' – which potentially falls into the category of 'improper conduct' towards the officials.
Former referee Mike Dean believes Van Dijk's behaviour crossed a line and could warrant further punishment depending on what is written in the referee's report afterwards.
He told : 'Van Dijk disagreed as he unleashed a verbal volley on fourth official Craig Pawson, which was out of line.
'Depending on what is written in the referee's report, Van Dijk may find himself in further trouble with the football authorities.'
Klopp, meanwhile, felt the red card was very harsh, saying afterwards: 'I don't think it is a red card. It's pretty much no contact, very little, and it's on the way to the ball, but what can I say? The decision is like this, I cannot change it and I don't want it. It's just, would I give this in a training game? Definitely not. There are reasons why I am not a ref and they are.'
, . ,  and .