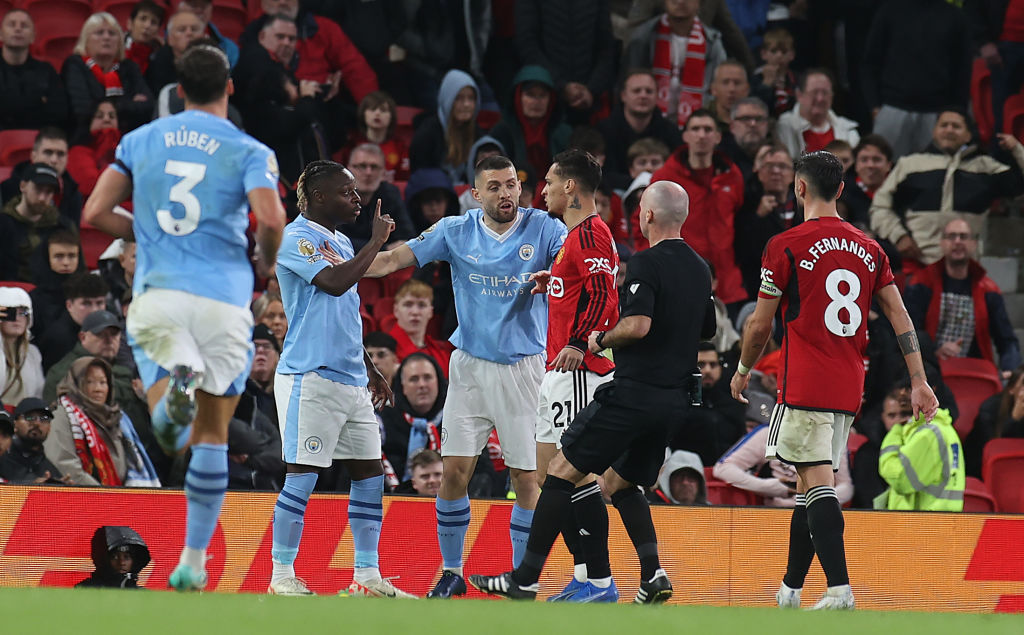 winger was labelled 'embarrassing' for an 'absolutely ridiculous' kick out at 's Jeremey Doku late in the game at Old Trafford on Sunday afternoon.
The champions comfortably beat their local rivals 3-0 in a one-sided derby, thanks to a brace from and a third goal from Phil Foden.
The first half was relatively competitive but City completely dominated after the break and the hosts could do little to make an impression on them.
Late in the game there was some aggression on display from some United players as their frustrations grew, with captain Bruno Fernandes demonstrating petulance, then Antony came off the bench to do the same.
City winger Doku skipped past the Brazilian and the United man aimed a wild kick at him, to the anger of the Belgian who squared up to Antony as a result.
Despite his allegiances to the red side of Manchester, Neville was backing Doku in the situation and sounded disgusted with the attitude of Antony.
'He's right, Doku, he's absolutely right,' Neville said on Sky Sports after Doku retaliated. ' just had a kick at him, absolutely right Doku.
'United have lost their discipline, it starts with their captain.'
On seeing the replay, Neville added: 'That's absolutely ridiculous, I'd just send him off, it's absolutely ridiculous from Antony. It's embarrassing.
'They lost their discipline in the last 10 minutes and became a shambles.'
It was a chastening afternoon for Manchester United as they were brushed aside by the champions, with club legend Roy Keane saying the Red Devils are a long way behind in every way.
'It's different levels,' he told Sky Sports. 'The United players are just short in every aspect. Technically and tactically. It's a long way back for this team.'
, . ,  and .