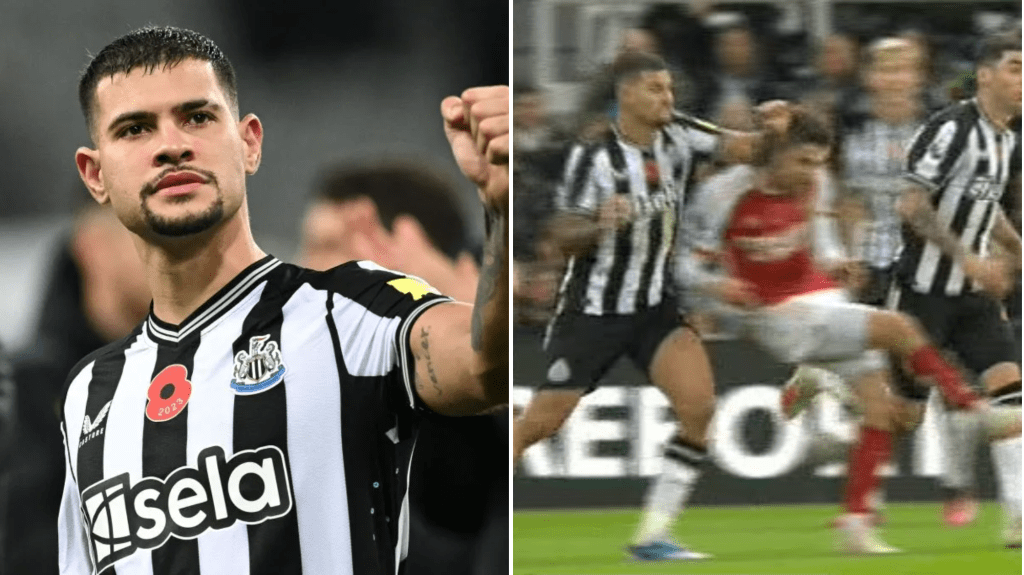 A supposed leak of VAR audio from Newcastle's fiery win over earlier this month appears to reveal why Bruno Guimaraes was not sent off despite smashing into with his elbow.
The match at St James' Park provided a host of controversial incidents, with 's winner requiring a lengthy VAR check over three different infringements while both Guimaraes and could have seen red.
Gordon's goal was the main subject of focus on the latest Match Officials Mic'd Up programme, with audio from the exhaustive VAR check released to show .
VAR Andy Madley was unable to find a conclusive angle to determine whether the ball had crossed the line before Joe Willock crossed into the box, while they were also unable to establish a point of contact on the ball in order to check for offside.
The third potential infringement was a possible push from Joelinton on defender Gabriel Magalhaes, though both the VAR and assistant VAR did not feel there was sufficient contact to overturn the on-field decision of goal.
While the VAR conversations regarded the two potential red cards for Guimaraes and Havertz were not shown, PGMOL chief Howard Webb did concede that .
'A couple of situations that in the cold light of day, analysis that we go through, going forward we would expect red cards in both of those situations,' said Webb.
But now VAR audio allegedly from the Guimaraes incident has L***ed online via the , with PGMOL refusing to comment on the audio despite being given the opportunity to do so by .
In the clip, Madley and assistant VAR Stuart Burt, as well as on-pitch referee Stuart Atwell, can all be heard discussing the Guimaraes elbow. Atwell says he 'has not seen' what happened, before the two VAR officials both analyse the incident and decide it does not merit a red.
Madley begins the discussion over the offence, saying: 'I'm just going to check potential serious foul play. He goes into the player… so he lifts his arm up because he's going into the defender, for me.
'Just have a look at this for me Stu (AVAR) as well mate. So he sees the player, he puts his arm up and there's a glancing blow on the side of his head but for me that's not used as a weapon.
'That's not violent conduct. Are you happy with that as well?'
Burt replies: 'Yeah, it's not nice but I don't think it's any more than a yellow card mate.'
Madley then adds: 'Yeah, it doesn't reach the threshold. Stuart (Attwell – referee) it's check complete, check complete.'
The Premier League's Independent Key Match Incidents Panel reviewed the decisions and voted 3-2 that Guimaraes' arm to the head of Jorginho should have resulted in a red card, while they were unanimous that Havertz should have been sent off.
, . ,  and .