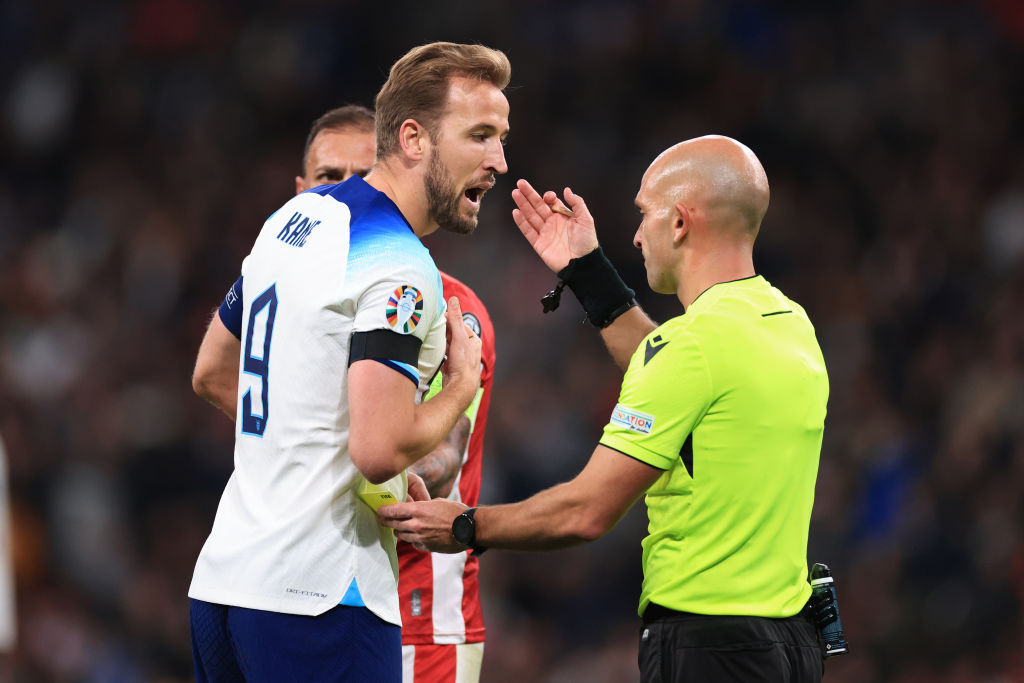 Players and pundits were left in disbelief after captain was shown a yellow card for diving against Malta.
The Three Lions were in action on Friday night at in a dead rubber fixture having already qualified for .
Gareth Southgate's side took an early lead thanks to an own goal from Enrico Pepe and looked set to double their advantage when Kane was fouled in the box by Henry Bonello after the goalkeeper sloppily gave away possession.
But instead of pointing to the spot, referee Luis Miguel Branco Godinho, blew for a free-kick and booked the Bayern Munich striker for simulation.
Kane was baffled by the decision, as was most of Wembley, with VAR not overturning the on-field decision.
While one could argue that the 30-year-old was looking for the foul, there is no question there was contact, a point several former England stars made.
'When I first saw it, I thought it was a penalty and when you slow it down you see the contact,' former Tottenham striker Jermaine Defoe said on Channel 4.
'Harry's very clever in that he sticks his left leg out a little bit to make the contact but I don't think it's a yellow card.'
Ex-Chelsea midfielder Joe Cole agreed, adding: 'Harry's bought it. The goalkeeper's made a wreck and he's come out.
'What Harry's done is go, "go on, go on, hit me – conatct, I'm going down". In the rules of the game it's a penalty. I think the referee is rash, he got that one wrong.'
Former Manchester City defender Joleon Lescott said: 'I definitely don't think its a yellow but if he gives a pen I'm not debating.
'But the fact that he's dragged his left leg a little bit and the keeper's tried to put his hands away, there's definitely contact.
, . ,  and .