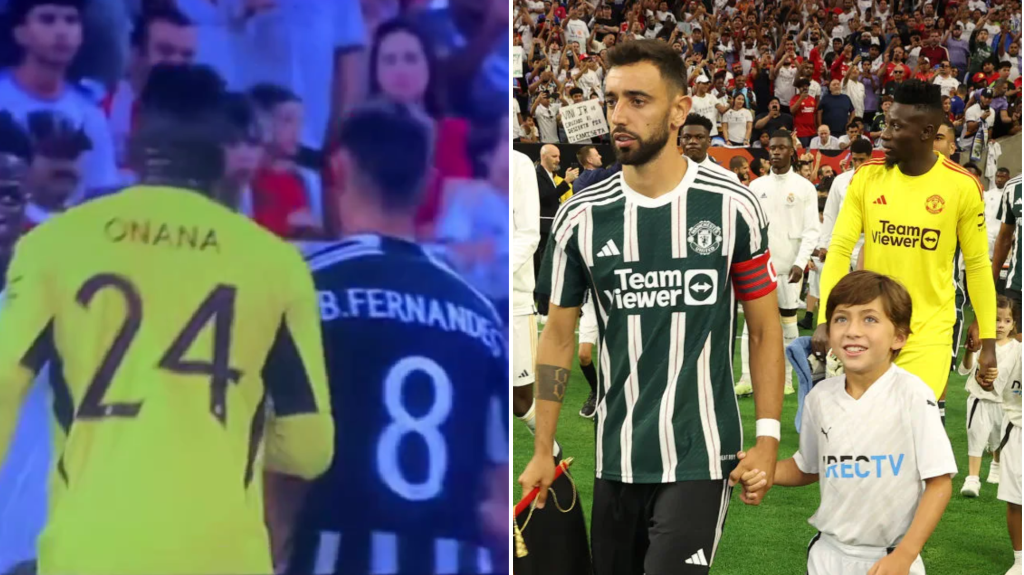 has hit out at suggestions he ignored new team-mate during the side's recent defeat to .
The Portuguese midfielder, who has , has been and was criticised for an incident in Thursday's 2-0 friendly loss to Real.
In the 35th minute, the Spanish giants were awarded a corner and Onana was marshalling and cajoling his team-mates to get them into position to defend the set-piece.
Fernandes did not appear to pay too much attention to the Cameroonian goalkeeper, with the two brushing shoulders, and that prompted criticism on social media.
One clip of the incident went viral on Instagram alongside the caption: 'Captain Bruno doesn't want anyone to correct him or advise him. Bruno completing ignores new signing Onana.'
But Fernandes has now directly responded to the video clip and accusations on social media, saying they do not accurately portray what happened and he had, in fact, taken up the position asked of him by Onana.
Replying to the post in question, Fernandes said: 'Nice how you could see me ignoring him when I was going to the place he was telling me to be positioned in the corner.
'Nice try to make it look bad.'
United were beaten 2-0 in Houston with summer signings Jude Bellingham and Joselu both getting on the scoresheet for Real and the Red Devils are next in action against Borussia Dortmund in Las Vegas late on Sunday night.
Speaking about taking on the captain's armband, Fernandes said: 'Obviously, it's a great honour. The first time [I wore the captain's armband] was in the Champions League against PSG. I was getting a little bit surprised by Ole [Gunnar Solskjaer] but obviously, I said to him at the time it's just such an honour for me.
'I still have the armband and the shirt from that game because I wanted to keep it for me because this is something that is not for everyone.'
He added: 'And it's something that has to make you proud, has to make you understand that you are in a place where everyone would like to be: playing for Man United. Having the chance to have the armband and having that responsibility is such a big honour.'
, . ,  and .