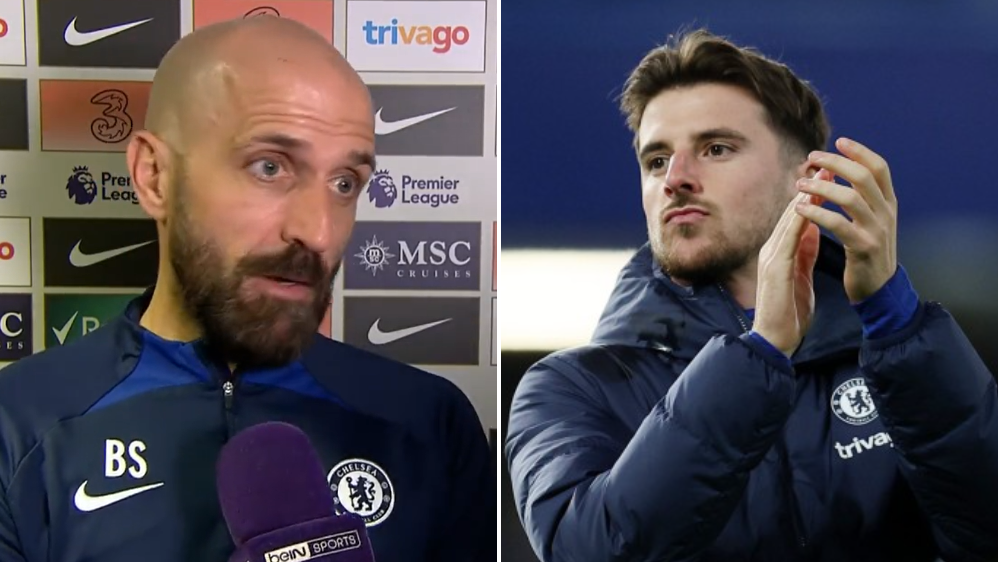 's interim manager Bruno Saltor has promised his contract stand-off won't harm his chances of earning first team opportunities while he remains at the helm.
Mount has missed the last six games through injury and was also forced to pull out of 's England squad ahead of the recent qualifiers against Italy and Ukraine.
, but remained on the substitutes' bench throughout despite his side struggling to break the deadlock in a game that eventually petered out and ended in a goalless draw.
Despite his lack of involvement, Mount took to the pitch at the final whistle to applaud the increasingly frustrated home crowd who could be forgiven for losing faith in the new ownership, who are on the lookout for a new manager and struggling to agree a new deal to tie one of their most influential and popular players to a long-term deal.
Asked why Mount wasn't use last night, Bruno said: 'He was available but he's coming back from an injury and it's always challenging when you're bringing a player back from an injury.
'He can play in different positions he's a great player. We love him, he's a leader, he loves the club you can see it. He's an important player for us and he will have minutes for sure.'
Asked, meanwhile, whether he would still be in charge for this weekend's match against Wolves, the Spaniard added: 'I'm expecting to go home, I'm expecting to assess the game, I'm expecting to keep working until the club decides and I'll try to be the most professional I can and try my best at the players are doing.'
As against Villa on Saturday, which turned out to be Graham Potter's last game in charge, Chelsea missed a host of glorious opportunities with Kai Havertz and Joao Felix particularly culpable.
Asked why his side are suffering a crisis in confidence in front of goal, Bruno added: 'Obviously they are executions, executions and they are in front of goal. They are human beings and the confidence has to be there.
'Sometimes when goes in, after there is a consequence.
'We just need to keep helping the boys and they've been through a lot, it's been a tough season for them.
'As I said they are human beings, still I know they miss chances. What they could effect the most was the attitude and the effort.'
, .
, 
 and .