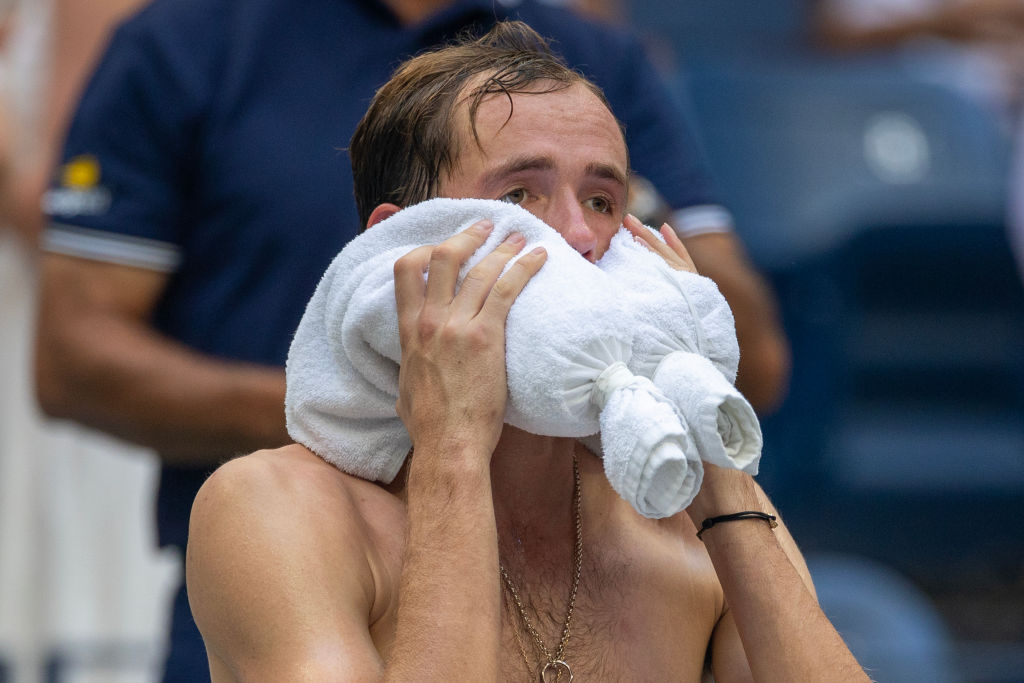 has warned a player is 'going to die' after he overcame hostile conditions to beat fellow Russian Andrey Rublev to advance to the semi-final of the .
The champions of two years ago was forced to call for the doctor twice during a straight sets 6-4, 6-3, 6-4 victory during which temperatures on court reached 37C.
With humidity levels rising to 43%, Medvedev claimed there were occasions when he struggled to be able to see the ball and believes organisers of the tournament are taking dangerous risks with the health of participants.
At the peak of his struggles during the match, Medvedev turned towards a television camera during the match and said: 'One player is going to die and they're going to see.'
'It was brutal,' Medvedev said afterwards in his post match press conference. 'The only good thing I see in these conditions is that both suffered. It's tough for both of us.
'There were some ups and downs. At the end of the first set I couldn't see the ball anymore. I played with sensations, tried to run, tried to go for it, tried to hit the ball. We were tired all the time. It was super tough to win.
'I have no skin left on my nose. Here it's red but it's not because of the sun, it's not like you're burned.
'I just saw Andrey in the locker room and his face was very red so I guess it's the same. That tells everything, like we left everything out there.
'I'm just pretty exhausted. I did a couple of interviews there and straightaway it was tough. I was with an ice towel there.
'Everything was foggy, like I couldn't see clearly. Because the match is over, the adrenaline is not there anymore.
'I was a little bit shaky. Then I come to the locker room. I sat there for 10, 15 minutes, did a quick ice bath, changed and went to eat.
'But I had my sugar levels go up. I started sweating, my head started turning. I said to my team, 'Please bring me any food'.
'I was sitting there sweating like hell with the air conditioning on. They brought some food and then I felt better.'
, . ,  and .