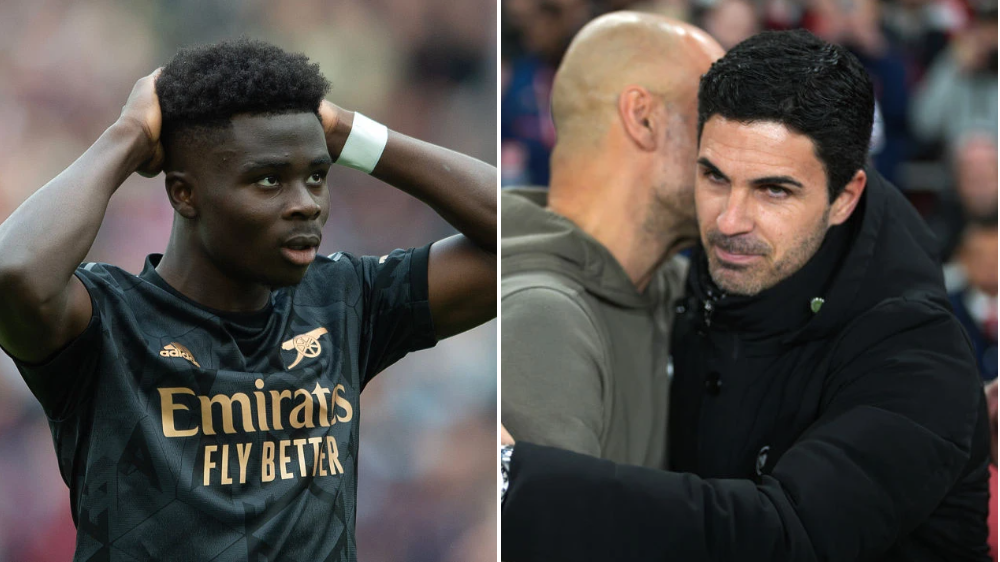 David Seaman has warned that his missed penalty at will not be forgotten if Arsenal fail to win the title.
The Gunners, still at the top of the league, at the Stadium on Sunday after blowing a two-goal lead for the second match in a row.
The result has dented Arsenal's hopes of lifting their first Premier League trophy in 19 years with Mikel Arteta's now just four points ahead of Manchester City, who have a game in hand and host the north London club at the Etihad on April 26.
In the 2-2 draw, before West Ham equalised but the England international missed from the spot and fired well wide.
Saka, who has enjoyed a fantastic season for Arsenal, .
Former Arsenal goalkeeper Seaman, reflecting on Sunday's result, told his : 'You know what, the West Ham result feels worse than the Liverpool one.
'They were supposed to have learned their lessons from last week. That's what was really annoying.
'When you look at the defending for the penalty, I don't know what Gabriel Magalhaes was thinking. It's frustrating.
'Bukayo Saka's penalty is a deciding moment in the game. If we don't win the league, that will be remembered as a pivotal point.
'The first half an hour we were fantastic. But we didn't go up a gear, we went down a gear. We took our foot off the gas and it's disappointing, but it's still not over (the title race).'
Asked if he felt Arsenal – who were eight points clear earlier in the season – were 'bottling' it, Seaman said: 'They've not got the experience, is what I'll say.
I hate that [people are saying Arsenal are bottling it]. I heard Jim White say that on the radio, I turned it off.
'They're not helping themselves, that's a fact… the main focus now has got to be hopefully getting a victory against Southampton.
'It's a great time to play Arsenal now, we've had a little blip and a little wobble. Hopefully Manchester City have a little wobble!
'It's frustrating, but they are still in it. They go to Manchester City and we don't know what is going to happen.
'They're not going to batter us. It's two teams playing decent football. They're not going to batter us, they're not. They better not… if they do, they will be no more podcasts!'