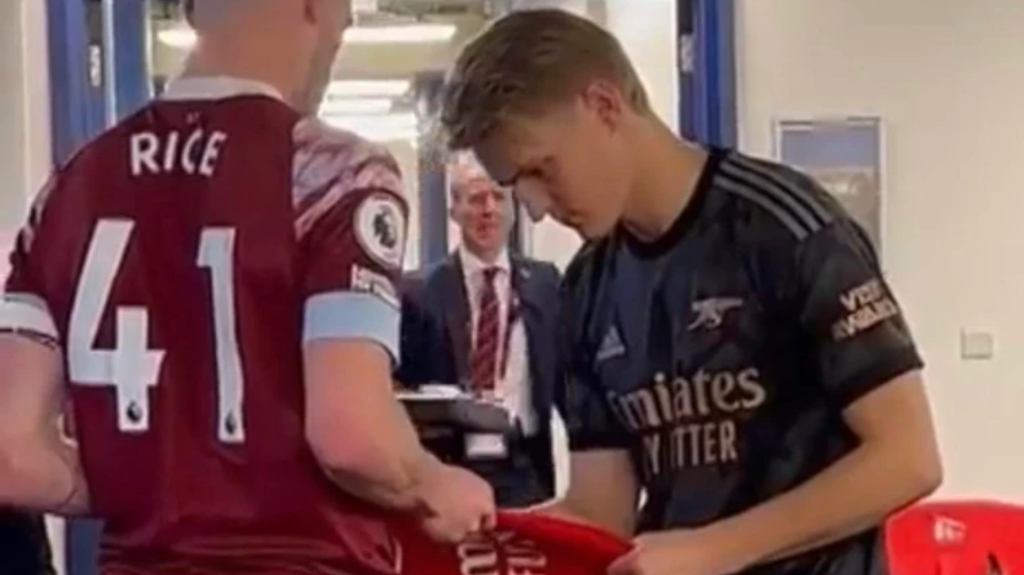 has been spotted picking up a signed Arsenal shirt from amid rumours he may join the club from this summer.
The international midfielder has been strongly linked with a move to Arsenal and met up with Gunners captain Odegaard after Sunday's 2-2 draw.
The picture of Odegaard handing Rice a signed shirt went viral with Arsenal fans hoping the club will secure the 24-year-old's signature at the end of the season.
despite interest from fellow Premier League clubs Manchester United and Chelsea.
The Hammers are expected to sell Rice at the end of the season due to the fact he is unwilling to sign a contract extension at the east  club.
and  – having already made plans regarding where Rice would fit in his system at the Emirates.
The Gunners are going to have to pay a huge fee sign him, though, with the  reporting that West Ham will use  as a price guide.
Arsenal legend Paul Merson and feels he is worth closer to £60m.
Jack Wilshere, meanwhile, has backed Arsenal to complete a deal for Rice this summer, .
as he told Metro.co.uk: 'I can't really see Declan Rice leaving the Premier League.
'West Ham aren't doing great at the moment but Declan loves West Ham. I was at the club with him when he was a kid coming through – he is a great guy and a great player.
'We all know he needs to go to a top club. I can't see him going outside of England, but he should go to a top-three or top-two club. I'd like to see Declan at Arsenal to be honest.'