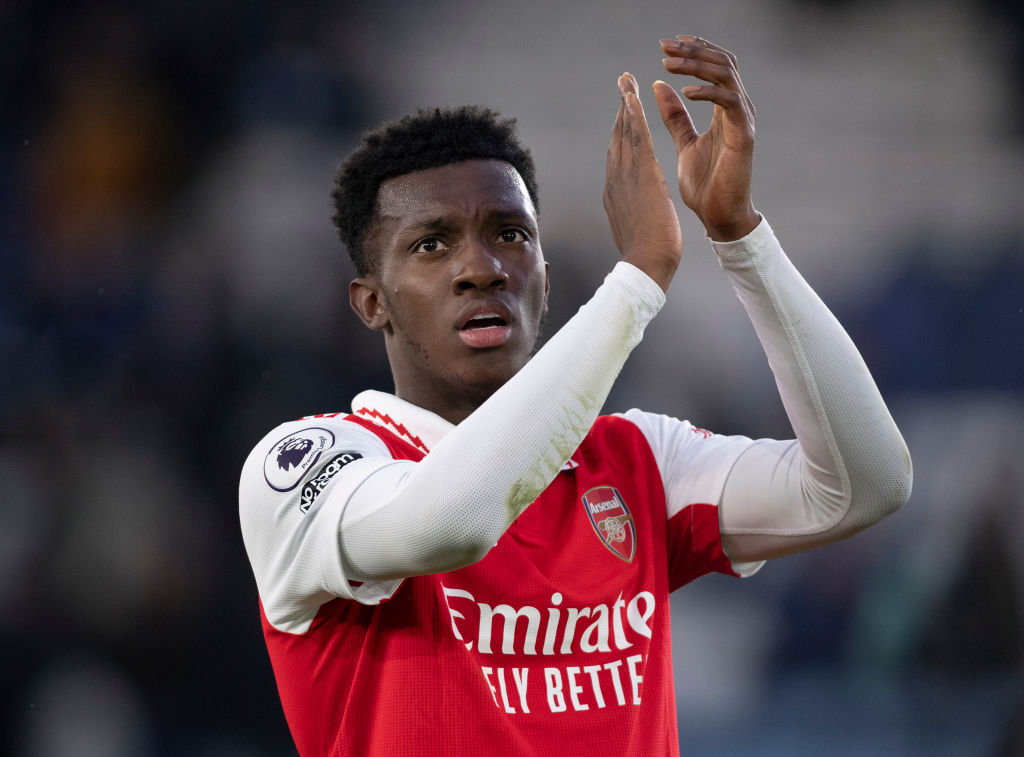 Eddie Nketiah captained Arsenal in their friendly against Monaco on Wednesday and revealed a post-match chat with in which the Frenchman said how proud he is of the young striker.
The Gunners beat the Ligue 1 side on penalties at the Emirates and the 24-year-old was delgihted to wear the armband for the first time, even in a non-competitive fixture.
The Under-21 international has been at the club since 2015 so knows the legendary former boss well and they caught up after the game between two of Wenger's old sides.
'I was speaking to him in the changing room after and he's really proud of me,' Nketiah told . 'I'm really grateful for everything he did for me for my career, and it's great to have such a legend here and see a new statue outside.
'He just told me to keep going. He thinks my game's come on a lot since [he departed]. He's really proud of me. Obviously, he's seen me develop and watched me from when he first gave me my debut up until now.
'Like I said I'm really grateful and it's really good to see him around.'
On leading the team out at the Emirates, Nketiah said: 'It was an amazing experience. Obviously it was my first time, so I'm grateful to the coach for trusting me, and my teammates.
'It was really a special moment for me to lead the team out in front of my family, my friends and also our wonderful supporters.'
Nketiah made 30 Premier League appearances last season, although just nine of those were in the starting XI, with Gabriel Jesus first choice as central striker.
However, he may get a chance to impress at the start of the coming campaign as the Brazilian is out injured and will miss the beginning of the new season, as confirmed by Mikel Arteta on Wednesday.
'Unfortunately he had a little procedure this morning,' Arteta said after the match against Monaco. 'He had some discomfort in his knee that has been causing some issues and he had to go and resolve it.
'It's not something major but he is going to be out for a few weeks I think. It's a big blow because we had him back to his best, especially the way he played against Barcelona (in a pre-season victory last month).
'He was in good condition and we lost him but he's been feeling some discomfort in the last few weeks and we had to make a decision. The best one was to protect the player and get him back as quickly as possible.
'It's something related to the previous injury he had and the surgery. He had some irritation in the knee and we had to get it resolved.'
, . ,  and .