goalkeeper Mary Earps has insisted that she will continue to push for more visibility and ensure Nike produce replicas of her goalkeeper shirt in future.
Earps earned the Golden Glove award for a series of outstanding displays at the recent Women's where the Lionesses fell to a 1-0 defeat against in the final despite her heroic penalty save.
Throughout the tournament, however, fans of the player were unable to buy her shirt after the sportswear manufacturer failed to make them available for purchase due to a 'commercial decision.'
with Nike eventually announcing after the tournament that 'limited qualities' would be made available for sale but, for Earps, it is evidence that more still needs to be done. 
'I feel really strongly that there's a large group of people who are not being served by our main sponsor,' the 30-year-old told ITV News.
'It's a really damaging message to send to young kids. And that again, just ties into my passion for football, my passion for goalkeeping. I feel really strongly about you know, making goalkeeping cool and make it accessible to people.
'I never expected to make any sort of change. I just guess I wanted to feel like a little bit heard and I wanted also the fans to know that I have really been trying hard and fighting for them. I do think that's a responsibility when you do have, you know, some success it's important to use your voice for good and not evil.'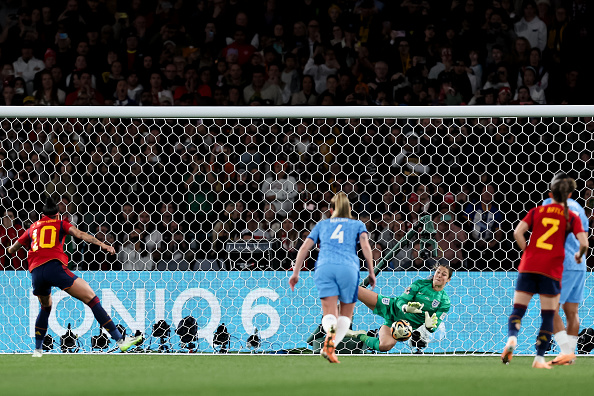 Earps also revealed that the women's team will resume their dispute with the Football Association regarding performance-related bonuses after the squad agreed to pause discussions on the eve of the World Cup in Australia.
The Lionesses are said to be unhappy about the removal of FA bonuses after it was announced that players would receive individual payments directly from FIFA following the tournament.
It is reported that the FA deem FIFA's new payments to be a suitable alternative but that is not a view shared by the players who said they were 'disappointed that a resolution has still not been achieved' in a joint statement prior to the World Cup.
'Nobody wants to fight with anyone,' Earps added. 'Everyone's here to all sing off the same hymn sheet and or push the game in in the right direction. And I'm sure if we all want that we'll all have a positive conclusion.
'We're due to meet up really soon. And I think that'll be now everyone's had a little bit of time to rest and digest and process we can pick up those conversations and move forward as a collective.'
Sarina Wiegman's side are set to face Scotland in their first match of the newly formed UEFA Women's Nations League on September 22.
, . ,  and .