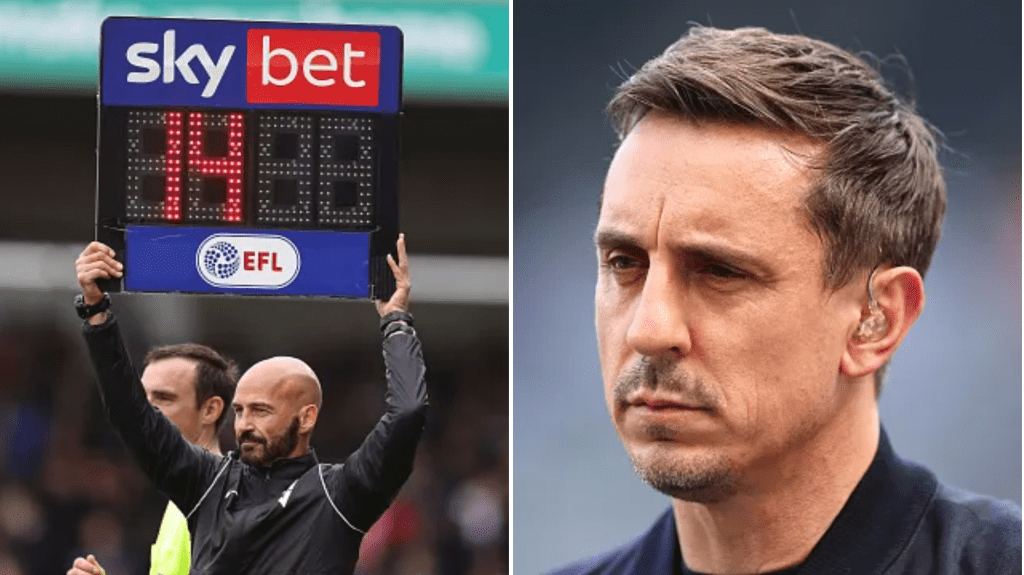 legend Gary Neville says he agrees with 's 'damning' verdict of the new rules regarding stoppage time in football.
From this season onwards, referees in the  and EFL will adopt a more stringent approach to added time, with the clock stopped for all goal celebrations, substitutions, injuries, penalties and red cards.
This was seen at the Qatar World Cup last December and at the ongoing , with huge amounts of stoppage time added on at the end of both halves.
33 of the 35 matches on the opening weekend of the EFL lasted longer than 100 minutes, while the Community Shield lasted 103 minutes in total, with .
, saying: 'There are too many games, the schedule is overcrowded, and it's at a dangerous level for players physical and mental well-being.
'The FA have recommended for next season: longer games and more intensity. We just want to be in good condition on the pitch to give 100% to our club and fans. Why are our opinions not being heard?'
Neville has now added his voice to the concerns, saying on : 'I thought Raphael Varane's tweet was quite damning. It was a calm, calculated, measured analysis of the situation.
'I didn't watch the Community Shield, but I watched Salford City [the League Two club Neville co-owns] on Saturday, and there were nine minutes of added time at the end of game which I couldn't believe.
'I thought it should've been about four or five. It wasn't just that – they played three added minutes on the nine and ended up playing 12.
'It's not right – in our group chat [for Salford owners], all of us said, "This is not right". We were winning 2-0, so we weren't panicking that we would lose the game.
'There will be massive problems – Pep Guardiola has reacted after the Shield, which you would expect [after losing], but Varane's response was a very calm and measured put-down of this application of the rules. I think they'll change it very quickly.'
The rule change has bene made in an attempt to crack down on time wasting in football, with many games not actually seeing anywhere near 90 minutes of on-pitch action.
According to , on average Premier League games last season lasted a total of 98 minutes and 14 seconds, but the ball was only in play for 54 minutes and 46 seconds of that – meaning just 55.8% of a match has any actual football.
, . ,  and .