legend Gary Neville says the Glazers' ownership of the club has hit an 'all-time low' following Old Trafford's omission from Great Britain and Ireland's European Championships bid.
Despite being the largest domestic stadium in Britain, Old Trafford was left out of the ten-stadium shortlist for the 2028 bid.
The likes of the Etihad, Villa Park and 's unbuilt new stadium were all named.
Old Trafford was last expanded in 2006 and the agreement to do so was made before the Glazers completed their £780m takeover of the club in 2005.
Since, the Theatre of Dreams has been left to rot and is no longer considered by UEFA standards to be fit to host the biggest matches.
In recent years, there's been leaking from the roof and ticket machines often do not work.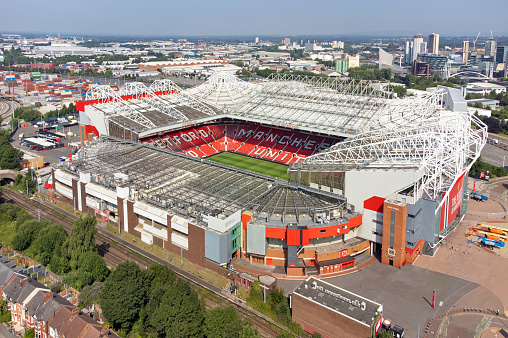 The Americans are currently studying offers to sell the club, though there's a fear that they will only agree to selling a minority stake in order to remain at Old Trafford.
But Neville has urged them to go after hitting an 'all-time low' with Old Trafford's omission.
'The Glazer family have, for years, been warned about a lack of investment in Old Trafford,' Neville told the Daily Mail.

'They have overseen a decline for 20 years in which it has gone from being one of the best stadiums in the world to one that can't even get into the top 10 in the UK and Ireland.
'This is an all-time low. That it is not in the best 10 to host a tournament is a joke
'There has been no investment. It is a rusty stadium. This is a dereliction of duty. It is shameful.' 
Potential investors have been told the cost of renovating Old Trafford will come in at around £1.2billion and that is currently the favoured option.
However, knocking down the arena and building an entirely new stadium could be the better long-term option.
This would cost around £2billion but be better financially in the long-term.
, .
, 
 and .