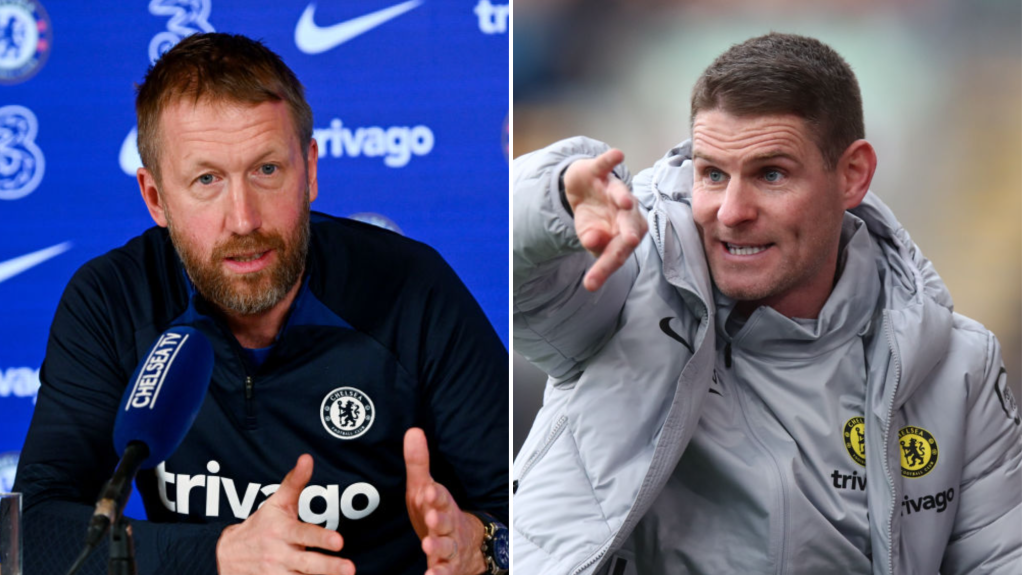 has confirmed that are in discussions with over highly rated coach Anthony Barry, though the west Londoners may try to delay the move.
New Bayern boss is eager to be reunited with the 36-year-old, who was brought to Stamford Bridge by Frank Lampard in 2020 but impressed the German enormously when he took over the reins a year-and-a-half later.
Barry remained at Chelsea after Tuchel's exit, forming part of Potter's backroom team, but he is thought to be .
Potter has now confirmed that the two clubs are in talks, though hinted at the possibility of Chelsea trying to delay any switch until after their Champions League quarter-final with Real Madrid – with the winner facing either Bayern or Manchester City in the semis.
Asked for the latest on Bayern's swoop for Barry, Tuchel said at his pre-match press conference on Friday: 'Well, Anthony's in discussions at the moment, the clubs are in discussions around his situation.
'So he's not with us at the moment, I think it's the best thing while that's getting resolved. But at the moment there's nothing to report, it's just between the two clubs.'
Asked how long he expects things to rumble on for, and whether it is causing disruption, Potter replied: 'I don't know, I have no idea. As I said it's between the clubs, it's not something that I'm involved in.
'Obviously I have huge respect for Anthony and what he's done here. Fantastic coach, fantastic person.
'But these things happen in life and in football. We've got a really, really good staff here that can fill in and fill the gap if you like. Whilst I always say there's not a direct replacement for anybody, but the collective can solve the problem.'
Probed further on whether he has spoken to Barry to convince him to stay, Potter continued: 'Well of course I've spoken to Anthony! I'd like the conversation to be private.
'As I've said, he's someone I respect a lot, he's given everything for Chelsea, he's been a fine member of staff, he's a great guy.
'I also understand that human beings have lives, they have families, they have aspirations, they have different things. So it's about respecting that.'
Asked whether a potential Champions League semi-final against Bayern – and the prospect of Barry arming the Germans with detailed knowledge of his tactics – is also a factor in discussions, Potter added: 'Again, it's club to club, so it's not for me [to say]. But obviously that's something that I'm pretty sure is in the conversation for obvious reasons.'
, .
, 
 and .