insists he is more than capable of handling the abuse that has come his way recently while he also explained why a move away from did not materialise over the summer.
The centre-back's inclusion in the latest squad was criticised after making just one substitute appearance in the so far this season and he was mocked mercilessly by Scotland fans in Tuesday's , in which he scored an own goal.
Afterwards, manager Gareth Southgate blamed the English media, pundits and even supporters for the treatment and scrutiny Maguire currently faces and .
Maguire has now addressed the mockery he has been subjected to in recent months and insists it is not affecting him mentally, while he is happy to keep taking the heat if it means his team-mates are spared of the same kind of treatment.
'Well, it pretty much takes the pressure away from my team-mates and puts it all on myself! It makes them play better, for sure,' Maguire told reporters after the 3-1 win over Scotland.
'I would not say I am a person who struggles with pressure mentally. I have been through a lot in the last couple of years and I have been Manchester United captain for nearly four years.
'You take a huge lot of responsibility and everything that comes with it – and that is a lot of bad as well as good.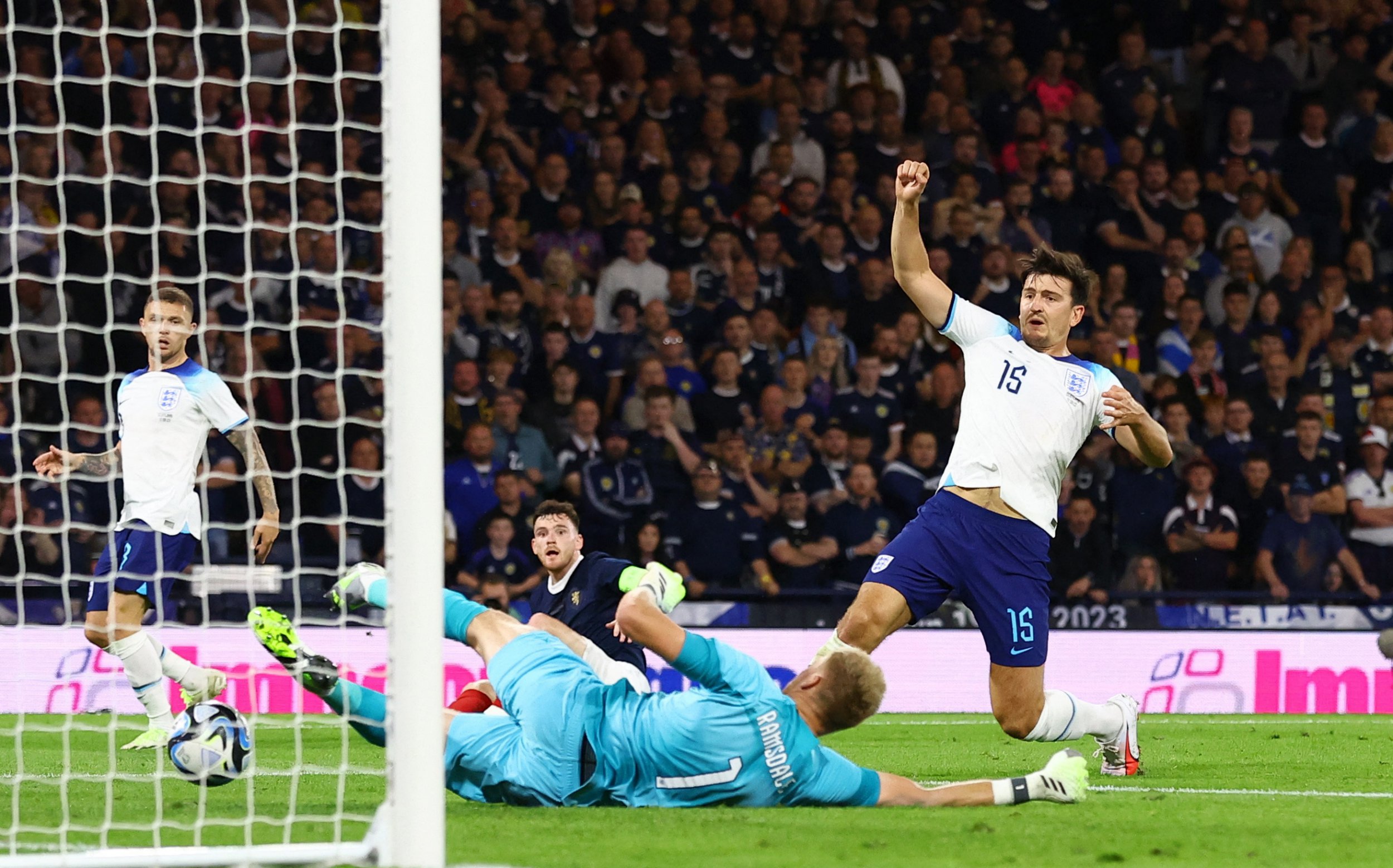 'But it was a huge honour (to play for England against Scotland). It was a hostile environment – when you hear the national anthem and the way they disrespect that – and they piled pressure on myself. I would not say I am used to it, but I can deal with it.'
Maguire came close to leaving United after West Ham had a £30million bid accepted but talks broke down over personal terms, though the 30-year-old is happy to fight for his place at Old Trafford.
Asked about the failed West Ham move, he continued: 'How can I put this? We just didn't come to an agreement and they were happy for me to stay and I was happy to fight for my place. I want to do that and every time I train or play I will give everything.
'I considered everything (in the summer) and I know, at the moment, when I have not started a game in the first four of the season, the story comes to me.
'I finished off last season with two very strong performances for England and I have played in all five matches to help put us where we are in qualifying, so I need to keep performing when I get chosen.
'Listen, at club football, I want to play games, I want to play football. The first four weeks were hard because it was one game a week and the manager (Erik Ten Hag) didn't select me, but we have lots of games coming up now and I am sure I will play lots of games.'
, . ,  and .