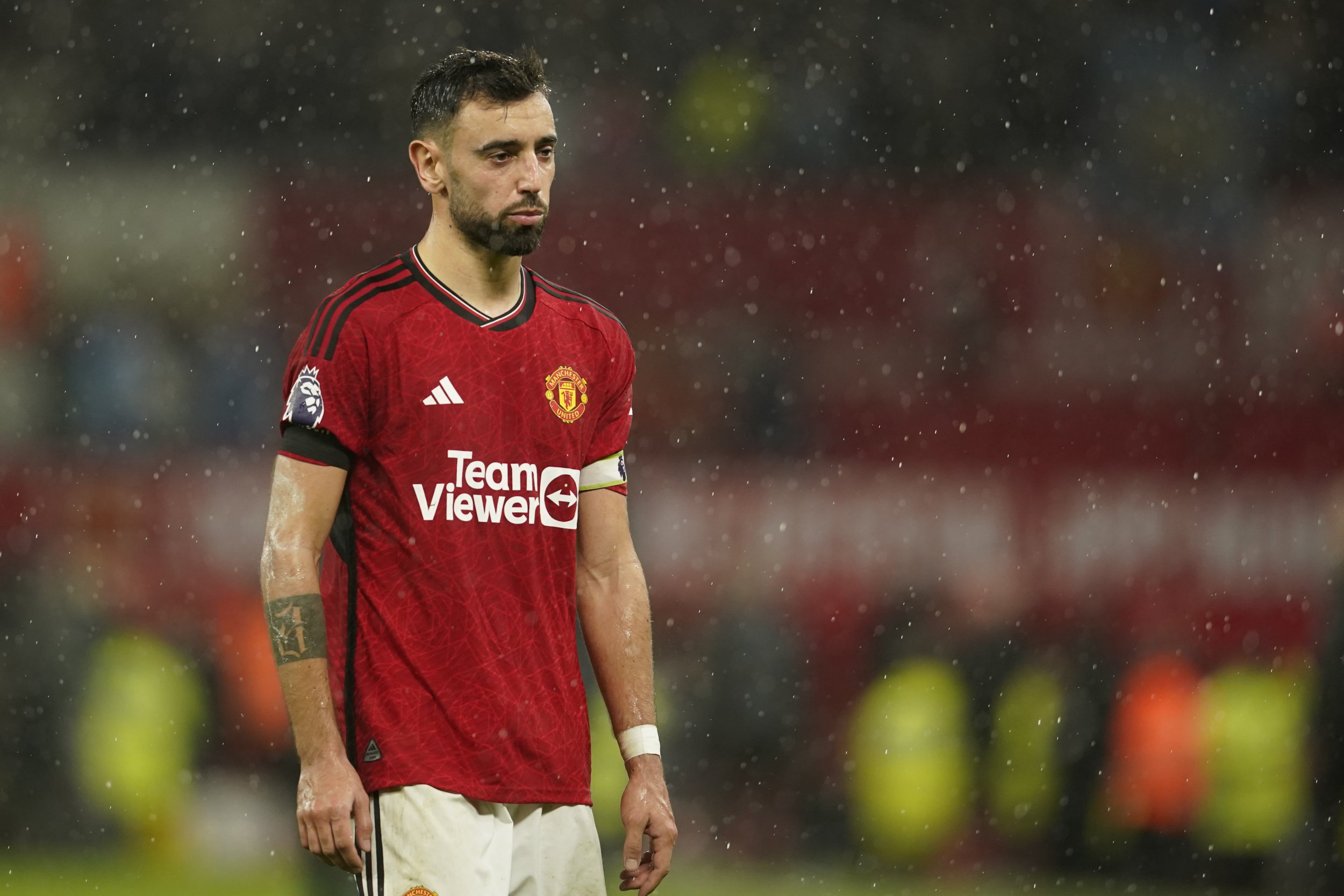 feels captain is setting a poor example and has blamed him for kicking out at Jeremy Doku.
United winger Antony in the 3-0 defeat to Manchester City.
Gary Neville described the incident as 'ridiculous and embarrassing' and felt that United's loss of discipline was directly related to captain Fernandes.
Wright appears to agree with Neville as he debated Fernandes' role as United captain with fellow pundit Owen Hargreaves on the The Kelly and Wrighty Show.
Hargreaves started the conversation by saying: 'You don't change the captain mid-season. He's already made his mind up, it just makes it difficult for himself, Erik ten Hag, if he does that.
'I understand why he did it against Harry Maguire [but] he's probably their most consistent player, Bruno.
'But the problem is, back in the day, and we all go back to our day, Roy Keane, Gary Neville, these guys were proper captains, it's not like that any more, the guys are not going to lead in that way. You want them to but they don't.
'[Ten Hag] gave it to Bruno because he's their most consistent player by a long shot but yesterday [Ten Hag] played him out of position. Why would you play him on the right wing to track back?
'They got overloaded and he never tracked back once on that right side. Play him as a No.10 and drop another player. I think his frustration came a lot from not having any influence on the game.
'I understand where the guys are coming from, I don't disagree to an extent, but he's still their most consistent player, and you probably give the captaincy to the most consistent guy.
'I know he looks moody but I think he tried to kick out to show the fans he cares but it doesn't come across in the right way and it frustrates a lot of people.'
Wright then shared his opinion and said: 'He does that a lot, he closes down on his own as well, that's a signal to players who you're playing with that he's playing for the crowd, when you see people just going on their own and you don't see anyone else backing up.
'You kind of feel like he's looking out for himself, that's what you think when someone does that.
'For you to chase off and try to close down when they've got good possession, especially like City or a team like that, you coming out of position pulls somebody else out of position, so actually you're easier to go through.
'To try to prove to fans that you're working hard by doing that is not a good thing.'
Hargreaves added: 'Wrighty makes a great point, Roy Keane used to do tackles that got the crowd up, Gary Neville used to do tackles that got the crowd up and it would galvanise the team.
'Now someone goes on their own and it's, 'what's he doing?'.
Wright, meanwhile, added: 'For Bruno sometimes, he just goes off and they're not ready. It's not good for the team.
'Watching Antony come on and his contribution was to kick out at [Jeremy] Doku like that, but the example of the captain is seeping in. That's the captain doing it.'