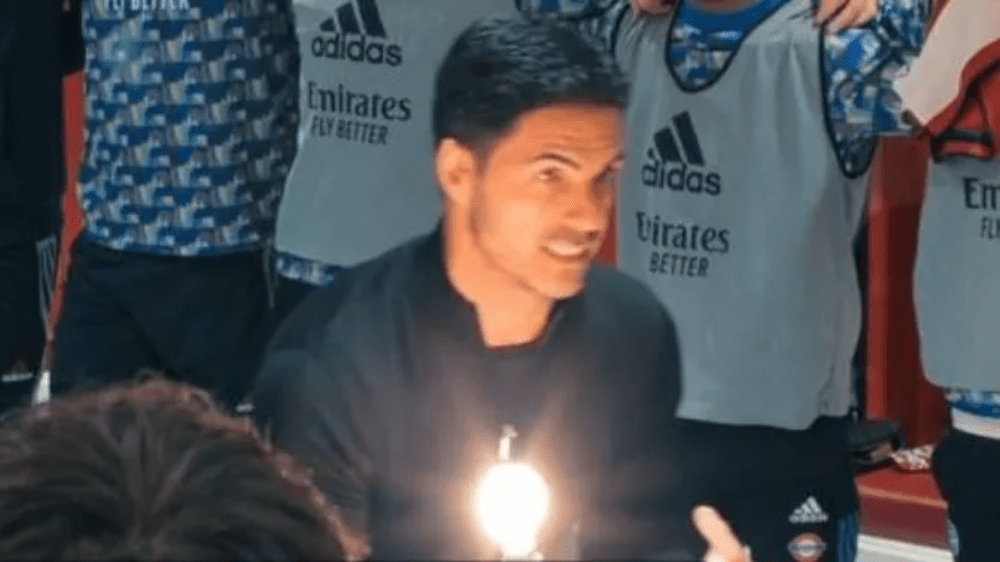 defender admits he was left 'surprised' by Mikel Arteta's 'very different' team talks before matches.
The 23-year-old joined the Gunners for £21m from side Spezia in the January transfer window last term.
Kiwior has made 10 appearances for Arsenal so far, including two this season, as he came off the bench against before starting against Fulham.
The Poland international has now opened up about life in north London so far and spoke about Arteta's unusual team talks, which were captured in the .
One team talk saw Arteta bizarrely use a lightbulb to motivate his players before a match against Brighton in April 2022, getting his players to make a circle around him as he urged them to create energy and electricity.
'(Thomas) Edison invented the light bulb,' Arteta said. 'Today I want to see a team that is connected because a bulb by itself is nothing. I want to see a team that is connected with each other and that shines.
'Because at the end is electricity, that through heat creates light and life. Because if not it would be f****** dark if this guy doesn't have the idea to do that.
'What makes us special is our attitude, and today I want you to play with that attitude. Go out there, f****** turn the light on, and play football. Let's go!'
Kiwior, speaking to about Arteta's team talks, said: 'It's very different to what I was used to.
'Coming here, it's the first time I've seen this final meeting before going out on the pitch look like it does here. It's certainly something new.
'I was quite surprised that something like this was even possible, that a coach could come up with these concepts to shape our attitude to the game through all sorts of competitions and challenges to focus our minds.'
Kiwior is loving life under the Spaniard as he added: 'I'm going to say what all the other players say – that the relationship and co-operation is extremely good, and his tactics as well.
'He is able to convey what he means very well. Even if I wanted to say something negative, there is nothing negative to say.'