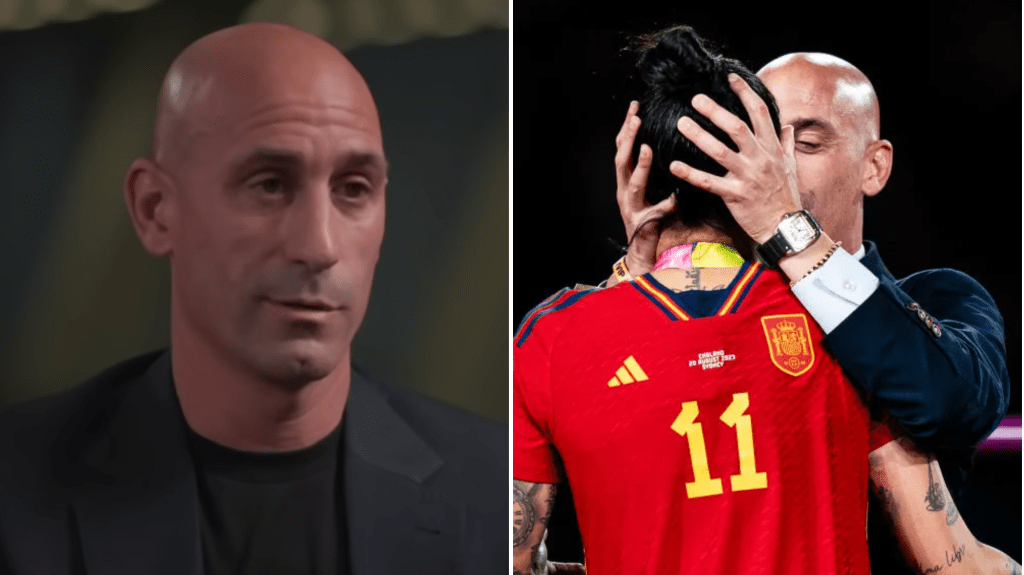 repeatedly refused to apologise directly to during an explosive interview with , though he has said sorry to Spain's Queen Letizia for his 'vulgar' actions in the stands.
The 46-year-old finally announced on Sunday evening that he had resigned as president of the Spanish football federation following criticism for kissing Hermoso at the final presentation ceremony last month.
Rubiales initially tried to cling onto his role and , but pressure mounted when Hermoso, 33, filed a legal complaint last week and stated that the kiss had not been consensual.
On Friday, a prosecutor filed a complaint against Rubiales for sexual assault and coercion with Spain's high court following Hermoso's testimony, with the former journeyman defender during an interview on TalkTV's Piers Morgan Uncensored.
The full interview with Rubiales aired on Tuesday evening and despite conceding that his behaviour was inappropriate, the ex-president says he has not directly apologised to Hermoso and refused repeated requests to do so.
Asked if he would now apologise to Hermoso personally, Rubiales told Piers Morgan Uncensored: 'So what happened is bad for everyone.
'We had Jenni lifting me. We had the fleeting kiss, two tenths of a second, but what was created from that is crazy. So what's left for me is to defend my dignity. So it's not about that Piers, it's about humility.'
Asked three further times by Morgan to say sorry, and then probed on why he refused to do so, Rubiales replied: 'So what we had is a spontaneous act, a mutual act, an act that both consented to, which was driven by the emotion of the moment, the happiness, so I maintain that that is the truth of what happened.'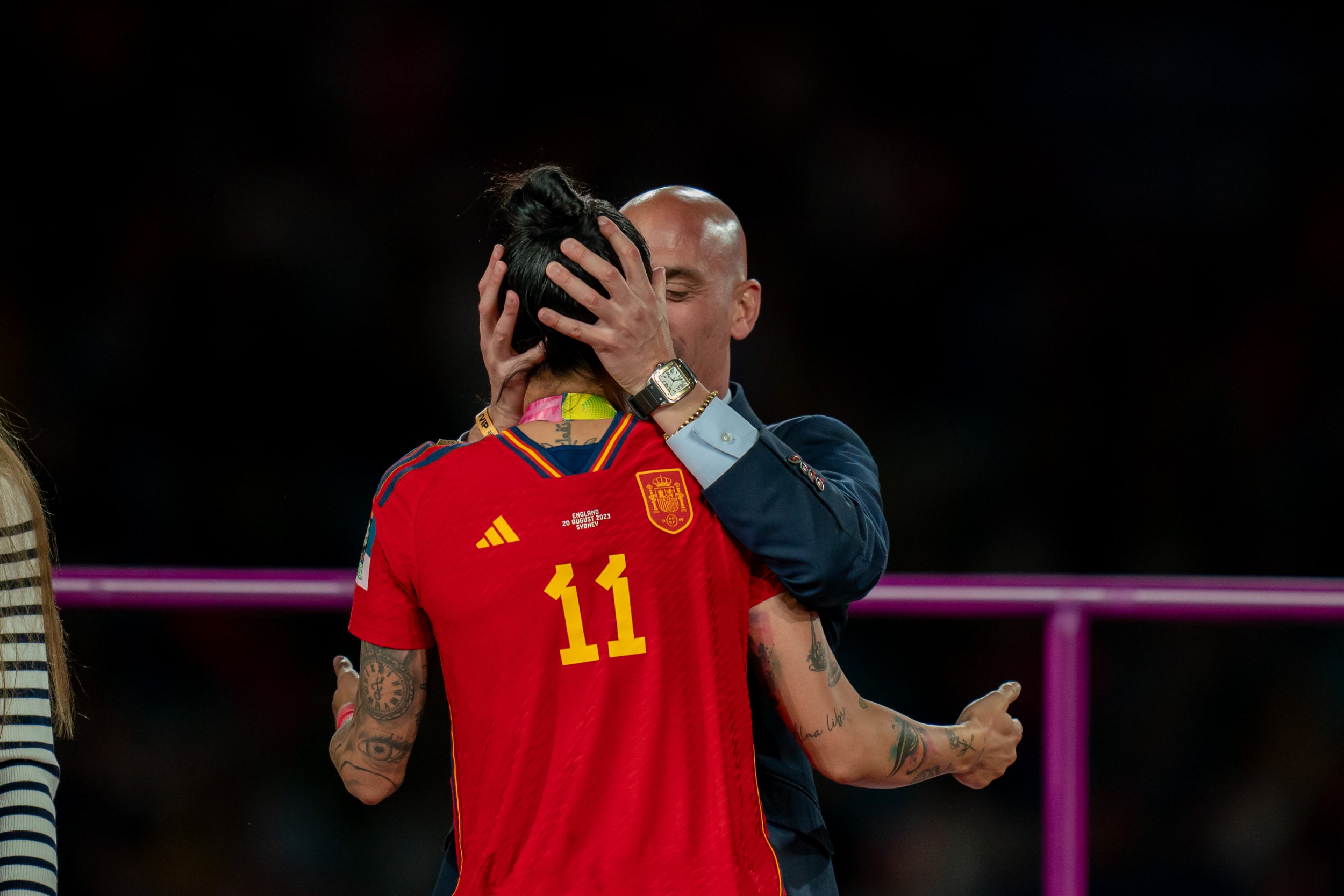 Rubiales also hit out at suggestions he had tried to pressure Hermoso's family into backing his version of events and appearing in his apology video, saying: 'I have never pressured anybody into anything.'
Speaking about the kiss, he continued: 'I have said it from the beginning I made a mistake, and I apologised in a sincere manner. I was very happy, I felt like another player. But being the president of the association, I have apologised unreservedly, that is not the actions of the president of the association.'
He went on: 'It was a mutual act, she came towards me, very happy. She lifted me up, she lifted me up in the air… we were both emotional. When we hit the ground, I had a quick conversation with her. We congratulated each other.
'I gave her a quick peck. I asked her, can I give you a quick peck, which is normal in our country. I think she gave me one or two slaps in my side, she was laughing, and that was it. No intention. Of course no sexual connotation of anything. Just a moment of happiness, just great joy in that moment.'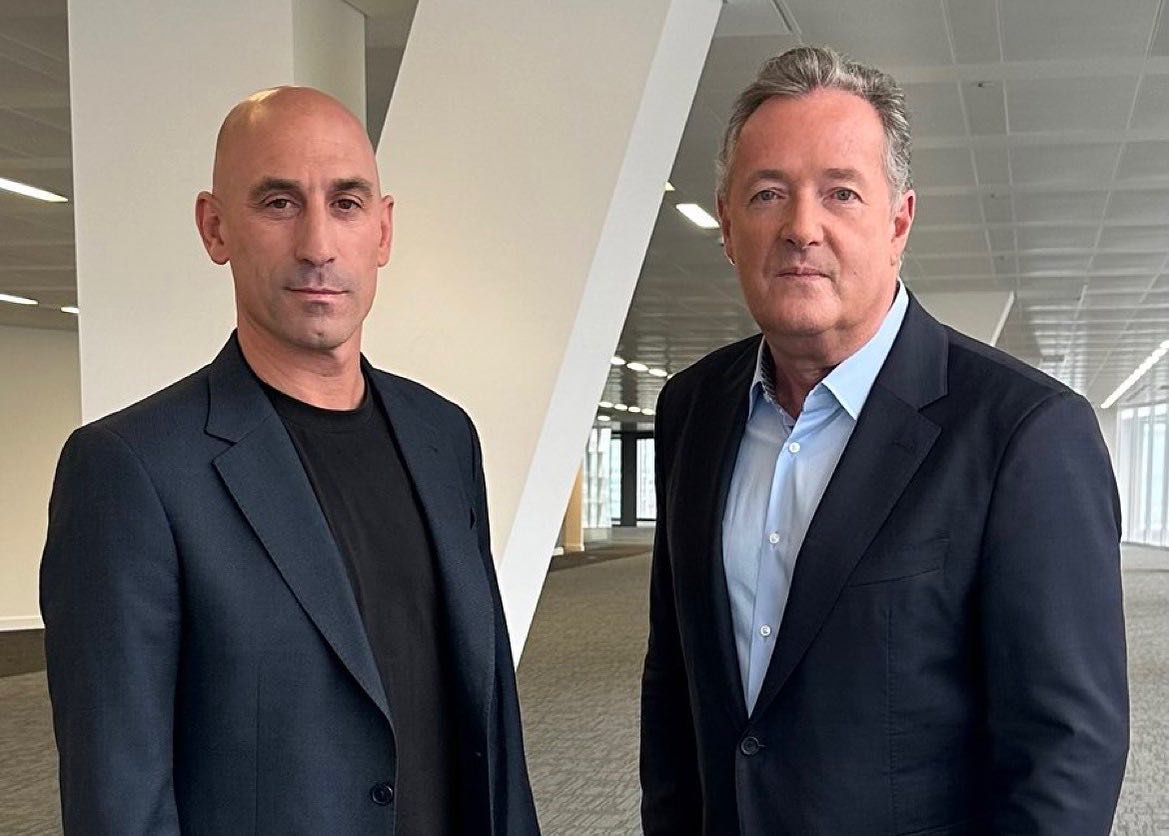 He added: 'A lot of people have seen this still image. A lot of people have seen still images of that, or indeed the kiss, which lasted two tenths of a second. It was a moment of fusion. In fact just before that, Jenni lifted me off the ground, she didn't ask me, it was just a moment of happiness, of fusion.
'This has turned out to be a snowball created by spurious arguments and people. My intentions were noble, enthusiastic, 100% non-sexual, 100%, I repeat, 100%.'
Rubiales did confirm that he had apologised to Spain's Queen Letizia after being spotted grabbing his crotch a few seats down from both the monarch and her 16-year-old daughter as he celebrated Spain's win.
'For this I am truly ashamed, more from an internal perspective than anything else. There are no excuses,' he said.
'In Spain, with guys as well as women, there's an expression which would probably translate to something like, "Oh my genitals". So this vulgar expression, basically what it means is: "Bravo, well done". When the final whistle went, Jorge Vilda looked at me and said, "This is for you", gesturing quite strongly. I gestured back and said, "No, no, this is for you, this is for you", for all the suffering we have had.'
, . ,  and .