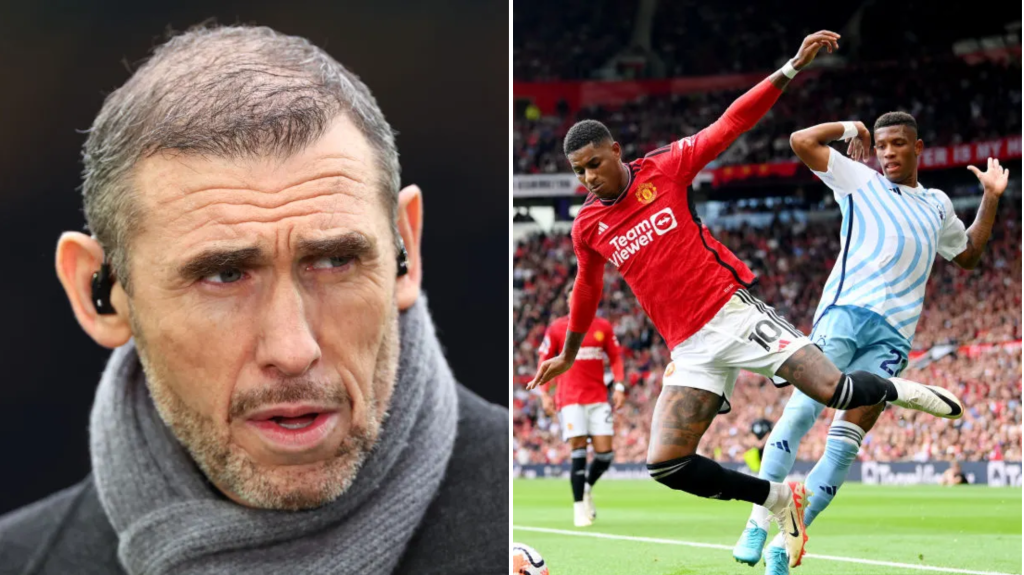 Martin Keown 'could not believe' that were awarded a penalty in their dramatic win over on Saturday.
Having been 2-0 down after four minutes, United rallied to beat 10-man Forest at Old Trafford, with goals from Christian Eriksen and and a late penalty from Bruno Fernandes.
The decisive spot-kick was awarded after referee Stuart Attwell adjudged Danilo to have fouled as he chased the ball into the box.
Though there was definitely contact, it was fairly minimal, with the decision – and VAR's lack of intervention – dividing fans and pundits.
Arsenal legend Keown was left incensed and questioned the officials' capabilities, referring to former VAR man
'I wondered whether it is a moment where you think: "Did they [the VAR officials] actually see it?",' he told .
'We had that revelation from Mike Dean that there was a moment where he wanted to protect the referee. Well is this the same thing?
'I cannot believe that the officials have come to that decision and awarded a penalty.
'I look forward to the day where the officials can communicate their decisions to us, and explain their workings out in the VAR room.'
Forest manager Steve Cooper was equally unimpressed with the penalty decision, though chose not express his full opinion.
'The modern referees are top ones – they really take their time over things,' he told BBC Match of the Day.
'It was the opposite today. I'd love to talk more and say what I really think, but I can't do that.
'I'm not going to talk too much about the decisions because I don't want to get myself into trouble, but the only thing I was surprised about was how quickly the decisions were made at that moment in time.'
, . ,  and .