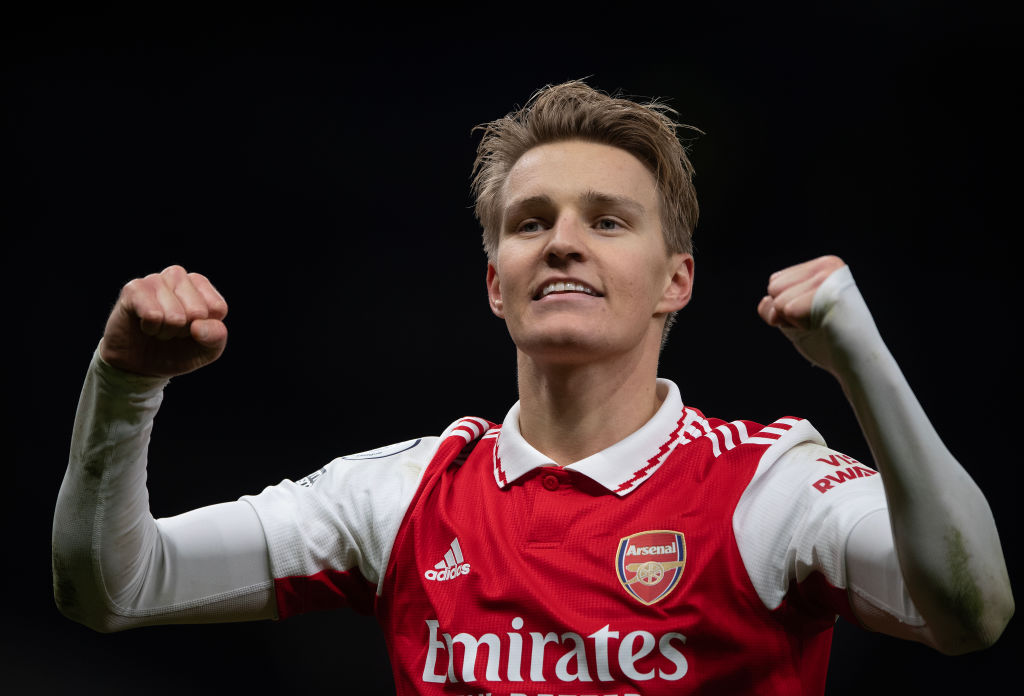 has hailed January's north derby victory over as his 'best day' at Arsenal and says 'it's always nice to beat them'.
The Gunners, top of the league and 22 points above sixth-placed Spurs, defeated their rivals 2-0 at the Tottenham Hotspur Stadium on January 15.
Odegaard scored in that victory and picked it as one of his favourite eight since joining Arsenal in 2021.
'It's up there as my best day at the club!' Odegaard told the Arsenal . 'It's always nice to beat them.
'The year before we had a tough day there and a lot of things went against us, but this year was different. We had that feeling going into the game.
'We played so well in the first half and dominated everything. I scored myself which was nice – I think it's my best goal for the club so far, due to the meaning and importance of it.
'Celebrating with our supporters afterwards was brilliant! I remember running across the whole pitch to celebrate with them – I think they enjoyed it, and we did as well!'
Odegaard also massively enjoyed both of this season's wins over AFC Bournemouth, naming both victories in his favourite eight games at Arsenal, having arrived at the club two years ago.
Speaking about the 3-0 win over the Cherries in August, in which the Norway international netted twice, Odegaard said: 'It was a nice day, and I was really keen to score.
'In the first game, I had a big chance against Crystal Palace but I missed, so I really wanted to get on the scoresheet and I did twice.
'I think scoring goals is a lot about feeling and confidence, and sometimes you just need a game like this where you score one or two goals and then it comes a bit easier afterwards.
'I had a very good feeling from pre-season, with the signings we made and the games we played then.
'I felt from the beginning we were at a much higher level than the year before, so to start well was important and good for the momentum.'
Bournemouth went 2-0 up at the Emirates in the reverse fixture in March, with the Gunners only claiming three points thanks to a 97th-minute winner.
'It is the craziest game I've been involved in here,' Odegaard added. 'I think it's impossible to describe the feeling when we got the winner late on after fighting so hard, and the struggle we went through to win it in the last minute.
'At that time I just remember being exhausted, mentally and physically. When Reiss scored, I remember going down on the floor and celebrating and seeing the staff coming onto the pitch.
'I don't think I've ever seen the Emirates like that, I can't explain the feeling. It was a crazy, beautiful moment.'