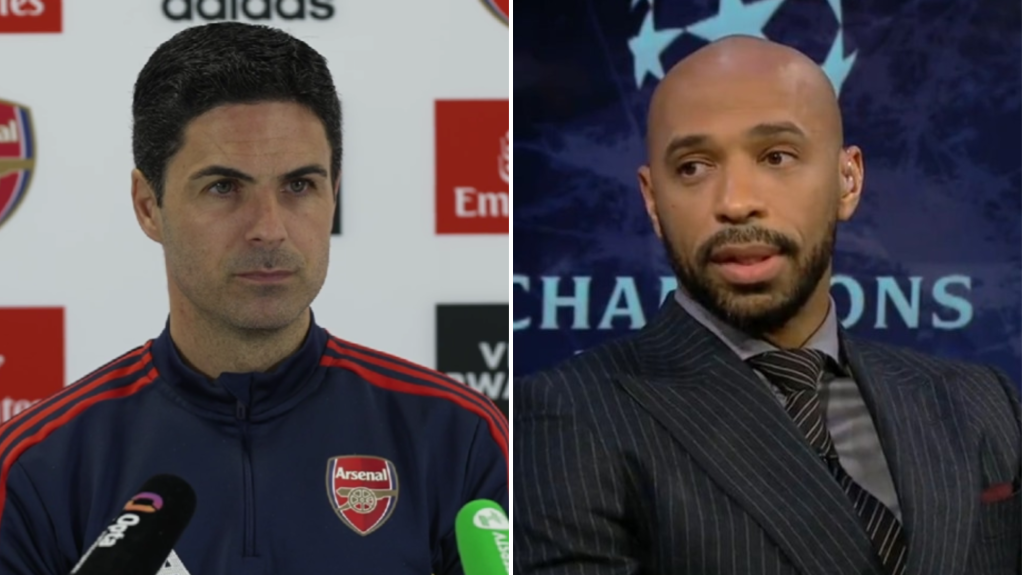 Mikel Arteta has given 's claim that Arsenal are 'too emotional' short shrift, though did concede that in order to be more ruthless it helps to take emotion out of the equation.
Despite slipping up in draws against Liverpool and – both times forfeiting two-goal leads – the Gunners can go seven points clear of if they beat Southampton at home on Friday night, albeit having played two more matches than their nearest challengers.
Arsenal legend Henry feels there is no need for his old club to panic yet, though was disappointed with the nature of their collapses at Anfield and the Stadium and feels they of the occasions.
He is keen for the side to regain 'control' and 'stay calm' in difficult moments, though Arteta did not seem to think emotion played a particularly big factor in the side's recent draws and the contests could have been very different if they were more clinical when 2-0 up.
Asked if Henry's comments were fair, he replied: 'I don't know, it's just an opinion.'
Probed further on whether his players need to remove the emotion from matches in order to be more ruthless, he continued: 'Well, you have to be. When you have a big situation to score a goal you have to put it in the net, because the margins are so small.
'And you have to defend much better than we did, especially the second goal and how the first one was produced. But this is as well individual situations that can happen in football.'
Responding to claims his side might be 'bottling' the title race, Arteta said: 'These are opinions in the end and we have to respect that.
'When you set the standards and expectations really high, after you have to maintain them, and to win every game in the Premier League is extremely difficult.
'It's not like we lost five games in the last six and we are in this situation, it's that you draw two matches and you play two very difficult fixtures away from home.
'But when you are there you are expected to win, to win, to win, because there's a necessity to get the Premier League in this championship you have to win almost every single game. That's the demands and you have to accept it.'
Asked if City's experience will be a key part of the title race, Arteta replied: 'I wouldn't like to compare the teams.
'We have to focus on what we have. The reasons why we have dropped those points – I think they were two different games in my opinion, the games would have changed like that [clicks fingers] if you score the penalty.
'So the margins are so, so small in this league and they have to go your way to get the result you want, and sometimes the result you deserve.'
, .
, 
 and .