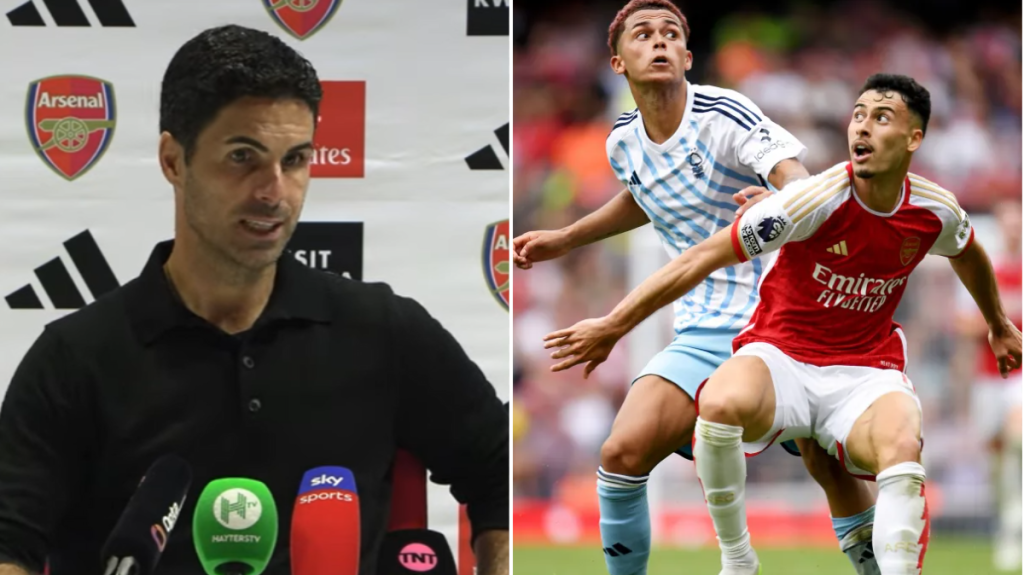 Mikel Arteta was thrilled with 's contribution during Saturday's win over but warned the Arsenal winger he must maintain those standards if he is to retain a place in his sides' starting XI.
The Brazilian was a near constant thorn in Forest's side during what was an ultimately nervy 2-1 opening day win for the Gunners.
Martinelli created Eddie Nketiah's opening goal with a sensational piece of skill and consistently had the beating for former full-back Serge Aurier.
The 22-year-old was equally effective in a defensive capacity, helping his full-back before he was withdrawn during the closing stages.
Arteta had been unhappy with Martinelli's contribution during last week's friendly against Monaco but was delighted to see the forward return to his all-action best.
He said: 'That's Gabi – he needs to be alive, he needs to be energetic, he needs to take chances and go for it.
'Something I really liked today and that I didn't like too much two weeks ago (against Monaco), was that he was going to give the ball away, and he tracked back, because this was the defining moment.
'When Gabi is doing that backwards and then forwards, he's one of the best players and one of the most dangerous today. When he's playing a different rhythm, no.'
Arteta was also full of praise for Eddie Nketiah who he insisted merited a place in the starting line-up on the back of his response in training to not starting last weekend's Community Shield win over Manchester City.
The Arsenal manager said: 'Delighted for him because he's a role model. He's a player that was so disappointed with the absence of Gabby [Jesus], and not to play a final. What he did when he came on the field in the final, was that he changed the game, that's number one.
'And the second one, the way he trained this week, he was telling me: "gaffer, if I don't play, you are blind.". A lot of players come and say: "ah, why am I not playing?", and you have to try and explain.
'Other players tell you the reasons why they deserve to play, this is exactly what Eddie does. This is exactly what he did and then he goes onto the pitch, and he performs as well. It's a clear example and a very good example for everybody.'
, . ,  and .